Description
This Workshop Includes Your Very Own Assessment, Report and Debrief valued at $599


Introduction to the DISC & Motivators Combined Report
DISC & Motivators:
Research shows that most successful people share the common trait of self-awareness. They recognize the situations that will make them successful. This makes it easier for them to find ways to achieve objectives that resonate with their passions. Human beings can be complex characters — driven by their primary needs, who is influencing them, and what motivates each emotion and behavior they often choose to use.

The DISC report helps you interpret how you do what you do in terms of the amount of life energy you invest in the way you behave, based on your needs. The Motivators report helps you interpret why you do what you do in terms of the amount of life energy you invest in the way you behave, based on your values.
Those who understand what motivates them best are far more likely to pursue the right opportunities for the right reasons, and to attain the results they desire. Individuals who are properly aligned with regard to their personal value system and motivators will achieve more by accident than a misaligned individual can do on purpose.
By combining DISC and Motivators, you can not only apply what you've learned about your needs (via DISC), but you can also align your work in ways that reflect what matters most to you (via Motivators). This combination allows end users to maximize and/or eliminate tasks that may work for or against their value base. Knowing what matters most to us will enhance our performance by helping us attain better behavioral and emotional alignment with those jobs and opportunities about which we are most passionate.

With this personalised and comprehensive DISC & Motivators combined report, you have tools to help you become a Better You.
DISC measures observable behaviour and emotion
Motivators shows the values that drive behaviour and emoton
When our DISC and MOTIVATORS are in alignment, we have personal synergy. When our DISC and MOTIVATORS are not in alignment, we experience personal conflict or tension.
DISC Styles
Disc is a simple, practical, easy to remember and universally applicable model. It focuses on individual patterns of external, observable behaviours and measures the intensity of characteristics using scales of directness and openness for each of the 4 styles:
Motivators

The motivators assessment identifies the reasons that drive an individual to utilise their talents in the unique way they do. Motivators will help you understand your own drivers, providing a clear course on how to maximise your performance by achieving better alignment with what you do.

This Workshop includes your Very Own DISC & Motivators Assessment & Report.
You will complete the assessment on-line prior to attending the workshop. You will also have a 1:2:1 debriefing of your own report and how to apply the information. The workshop itself will provide you with an overview of DISC & Motivators principles and how to interpret and apply them in everyday life.
The DISC & Motivators Workshop Helps You Unlock 3 Keys to Your Success
Understand your own style so you can Leverage your Strengths and Avoid your Weaknesses
Identify Other People's Styles
Adapt your own behaviour so you can treat people the Way THEY Want to be Treated
Phil Badura is a Certified DISC & Motivators Trainer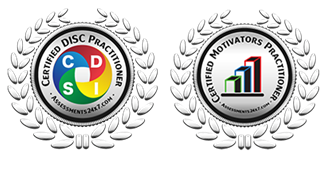 Please email one of our coaches if you have any questions:
philbadura@actioncoach.com
michellelilley@actioncoach.com