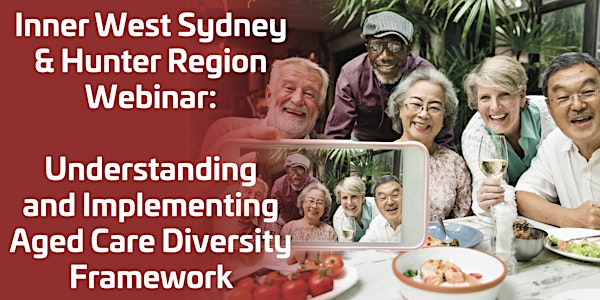 Understanding and Implementing Aged Care Diversity Framework
Older people with diverse needs may face additional challenges when they attempt to access and after accessing the aged care system.
About this event
The Aged Care Diversity Framework identifies 12 diverse clusters of older people that aged care providers should consider in the design and delivery of support services?
What are the key characteristics of the 12 groups that may affect access and service provision?
What underlying themes connect the 12 groups?
What strategies can providers implement to appropriately address the different and additional access and response needs of people from the diverse groups?
This two-hour session (also run as two, one-hour sessions) explores these questions. It provides guidance on how providers can promote understanding of the framework with their teams and improve their responsiveness to diversity. This session is suitable for all levels of staff.
This webinar will run over 2 weeks (1 hour each). It will be held through ZOOM on:
1st Session: Thursday 26 May from 10AM - 11AM (AEDT).
2nd Session: Thursday 2 June from 1PM - 2PM (AEDT).
If you have any questions or would like more information, please contact:
Inner West Sydney
Inner West Sector Support Development and Training Coordinator
Marina Antonas | 0408 490 011 | marina.antonas@eccnsw.org.au
Hunter Valley
Hunter Valley Sector Support & Development Manager
Janette Robinson | 0437 606 862 | jrobinson@integratedliving.org.au