Unconditional Self Love Mastery - S. Kensington, London Intimate One Day Retreat for the Heart, Mind, Body and Soul - Deep Self Love, Mindfulness Meditation & Qi Gong

Saturday, 9 May 2015 from 12:00 pm to 6:00 pm (British Summer Time United Kingdom Time)
Event Details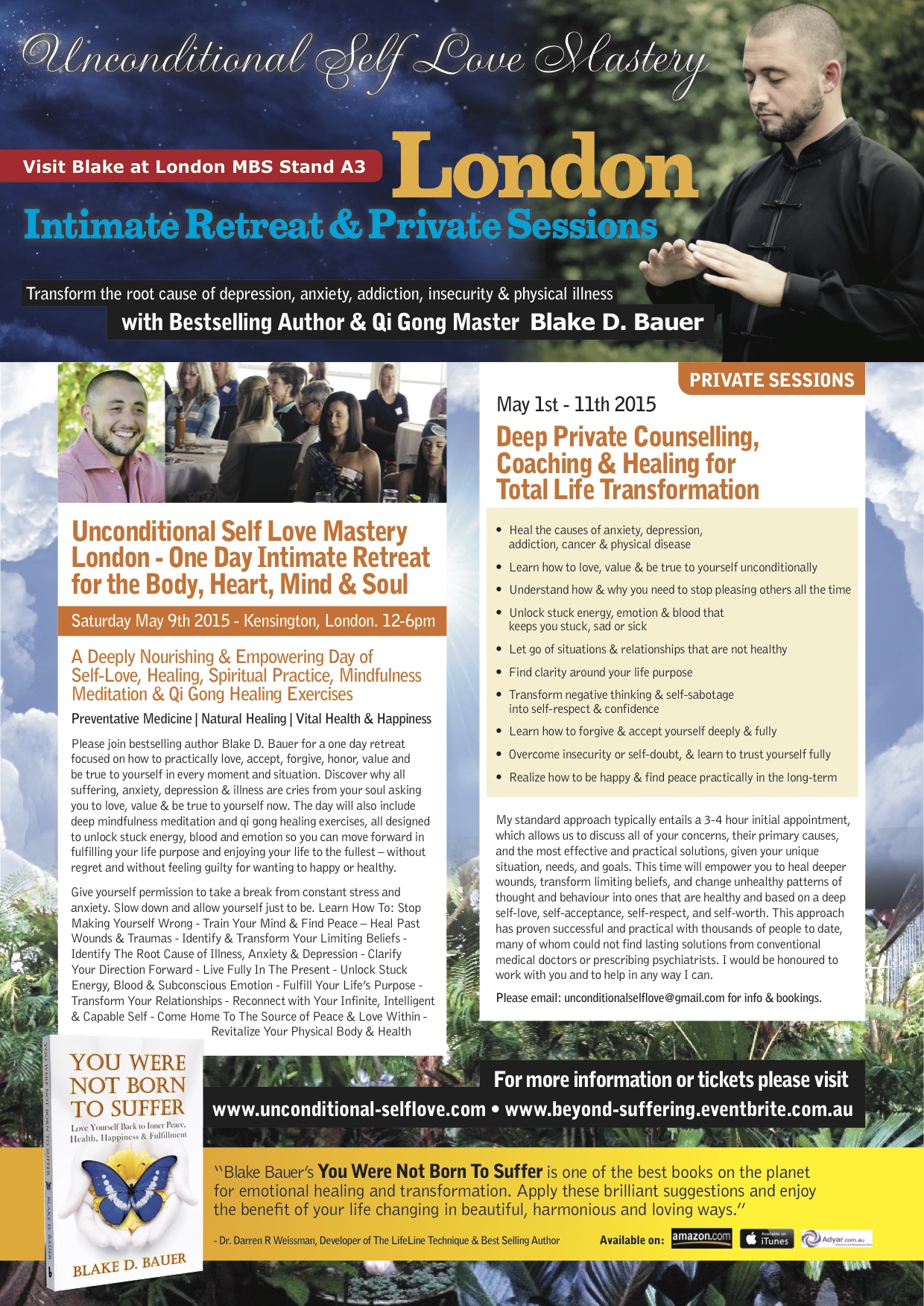 Unconditional Self Love Mastery
London Intimate One Day Retreat
for the Heart, Mind, Body and Soul
With bestselling author, counsellor and teacher
Blake D. Bauer
Deep Self-Love | Mindfulness Meditation | Qi Gong Healing Exercises
*** Very Limited Spaces ***
Saturday May 9th 2015
12pm - 6pm
Evolve Wellness Centre
http://www.evolvewellnesscentre.com/location/
10 kendrick mews
south kensington
sw7 3hg
A Deeply Nourishing & Empowering Day of Self-Love, 
Mindfulness Meditation & Qi Gong Healing Exercises
Preventative Medicine | Natural Healing | Vital Health & Happiness
Please join bestselling author Blake D. Bauer for a one day retreat focused on how to practically love, accept, forgive, honor, value and be true to yourself in every moment and situation. Discover why all suffering, anxiety, depression & illness are cries from your soul asking you to love, value & be true to yourself now. The day will also include deep mindfulness meditation and qi gong healing exercises, all designed to unlock stuck energy, blood and emotion so you can move forward in fulfilling your life purpose and enjoying your life to the fullest – without regret and without feeling guilty for wanting to happy or healthy.
Give yourself permission to take a break from constant stress and anxiety.
Slow down and allow yourself just to be.
Learn How To: Stop Making Yourself Wrong - Train Your Mind & Find Peace – Heal Past Wounds & Traumas - Identify & Transform Your Limiting Beliefs - Identify The Root Cause of Illness, Anxiety & Depression - Clarify Your Direction Forward - Live Fully In The Present - Unlock Stuck Energy, Blood & Subconscious Emotion - Fulfill Your Life's Purpose - Transform Your Relationships - Reconnect with Your Infinite, Intelligent & Capable Self - Come Home To The Source of Peace & Love Within - Revitalize Your Physical Body & Health
FOR MORE INFORMATION PLEASE VISIT
www.unconditional-selflove.com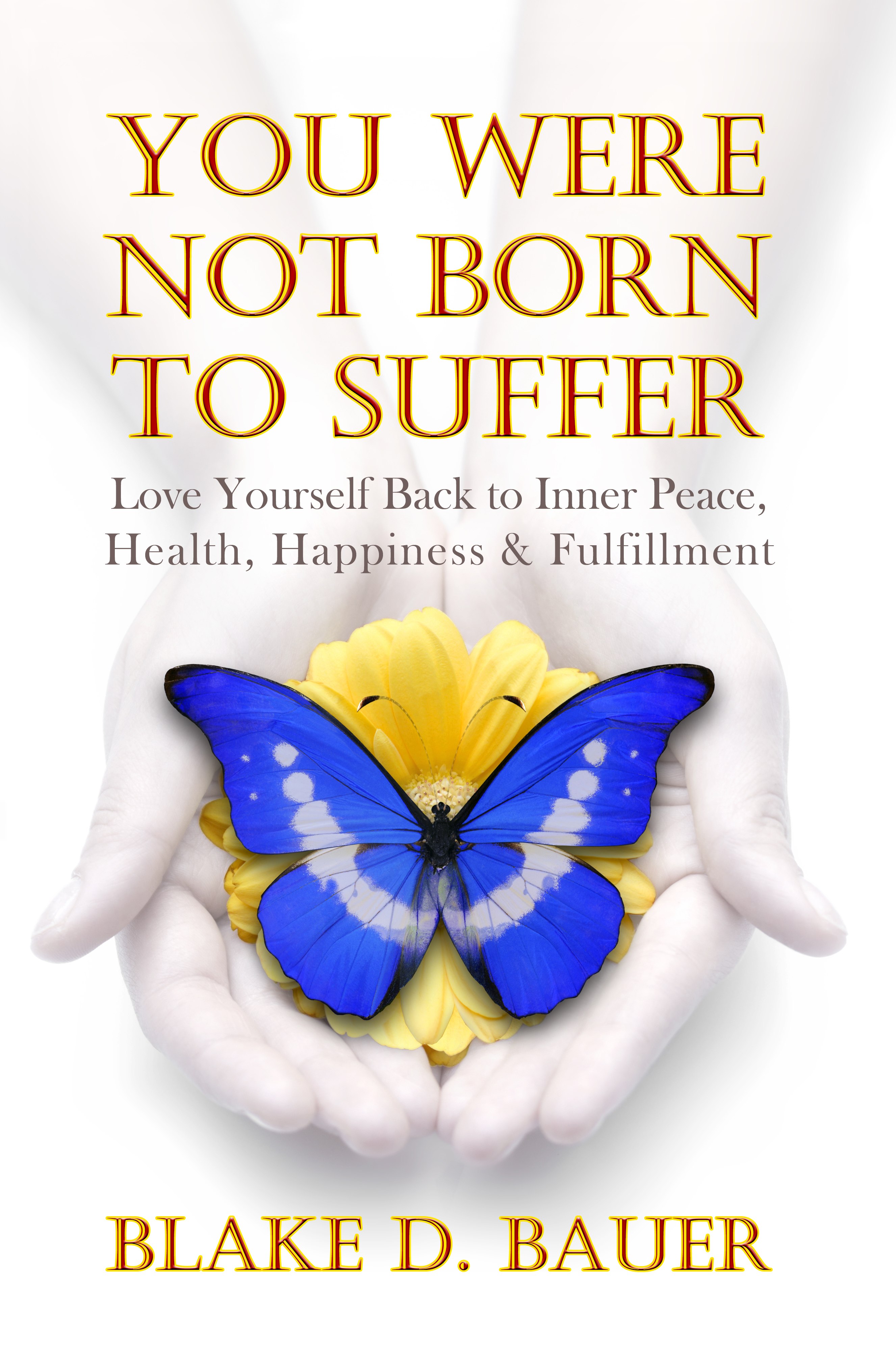 Introduction to
You Were Not Born To Suffer
 At what point do we finally declare that we have suffered enough? When do we finally proclaim enough misery, enough sickness, and enough settling for less than we are worthy, deserving, and capable of?
            Must we face a life-threatening illness, financial ruin, the destruction of our relationships, or the deep depression, anxiety, and insecurity that result from living in denial or fear? Must we constantly numb ourselves with alcohol, antidepressants, drugs, food, and material possessions?
            What is it that defines the moment when a person wholeheartedly asserts that he or she deserves the best in life and thus will not accept anything less? When is enough truly enough? And if not now, then when?
            As I am sure you can relate, I saw a great deal of suffering as a child. In fact, I watched many of my own family members unintentionally destroy themselves, their lives, and their loved ones. I saw a lot of sadness, anger, and pain in the eyes of those around me. I saw people who didn't smile nearly as much as they would cry. I saw people who weren't happy or satisfied with their jobs, their relationships, or the lives they had created.
As a young man I had no idea I was just like all of these people. I didn't know I was already heading down the same self-destructive path they were on. Instinctually, what I did know was that I wanted something different. Deep in my heart I somehow knew it was possible to create a fulfilling life that I loved even if no one was going to show me how to make it happen.
For most of us growing up, our role models do not embody the peace, health, or happiness that we all, deep down, know to be our destiny and our birthright. Rather, we witness a significant amount of misery, disharmony, and unhealthy compromise. Both literally and metaphorically, we look up to people who settle for less than they are worthy, deserving, and capable of.
Personally, in my own heart, I knew I did not want to end up like that. I don't believe any of us do. Deep down, I believe we all come into this world knowing that we were not born to suffer. I believe that in our heart of hearts we all know that life is meant to be lived and enjoyed with purpose, awareness, respect, and love.
Fortunately, we live during a time in human evolution when more and more of us are reconnecting to this inner knowing that we temporarily lost touch with. All across the globe, humanity is remembering extremely empowering inner truths that we've been ignoring for way too long.
We're remembering that we were born to love life and to live our lives to the fullest, with love for ourselves, love for other people, and love for our world, because life was meant to be a deeply wonderful and beautiful experience, not one that is defined by fear, misery, isolation, sickness, poverty, and war. 
Life undoubtedly brings with it struggles, but it's how we choose to address these challenges that ultimately determines the quality of our daily lives. How we approach our psychological, emotional, and physical pain, therefore, either leads us toward inner peace, health, happiness, and fulfillment or into depression, anxiety, anger, and regret.
Thus, each day we are given a choice.
Do we remember that we did not come here to suffer? Do we remember that we deserve the best in our relationships, our careers, and our health, and that we have everything we need within us to claim this? Do we remember that we deserve to be treated with kindness, love, and respect both by ourselves and by others?
Or, do we settle for a half-lived life? Do we compromise ourselves and abandon our soul's inner calling? Do we betray our inner truths and constantly allow other people to dishonor, take advantage of, and disrespect us?
Looking at this choice objectively, it doesn't seem like much of a choice at all. I would wager my life that every person who reads this would choose the first option and honor it all the time if they knew that everything would work out along the way.
Unfortunately, however, most of us do not value ourselves deeply enough yet to claim the high quality of life that's waiting for every single one of us. We haven't cultivated a strong enough faith and trust in ourselves, in life, in the universe, or in God to wholeheartedly go after what we want and love in life.
As a result, most of us just settle for less than we're worthy, deserving, and capable of, and then we suffer for it.
But life doesn't have to be this way.
Believe nothing. No matter where you read it, or who said it, even if I have said it, unless it agrees with your own reason and your own common sense.
My Inspiration
             You Were Not Born to Suffer was born out of my personal quest for two things in life. The first was liberation from my own psychological, emotional, and physical suffering. The second was my unquenchable desire for the truth—the truth about life, the truth about myself, and most importantly, the truth about my life's destined purpose.
Who am I? Why am I here? What is the purpose of life, and of my life in particular? How do I heal myself and find freedom mentally, emotionally, physically, financially, and spiritually?
How and where can I find lasting inner peace, vital health, happiness, fulfillment, and true love? How can I thrive every day rather than just get by and survive? How can I create a joyful, successful, and prosperous life without settling for anything less?
After over a decade of answering these questions, while professionally supporting thousands of people internationally to do the same, the empowering insights I've discovered form the foundation for the pages that follow.
I was not completely aware of it at the time, but as a young man I suffered quite deeply within myself, mostly psychologically and emotionally, but also physically at times. My early life, like many of our lives, had presented its fair share of painful experiences and confusing situations.
On top of the challenging experiences I encountered as a growing child, I created a significant amount of pain for myself as a teenager in my attempts to run from, deny, and numb myself both to the pain within me and also to the painful situations around me. By the time I was eighteen years old I had set in motion a domino effect that had caused my world to crumble. I had been suspended from high school on three different occasions. I had been arrested for drug possession three different times. I was also asked to resign as a captain of my high school football team three games into my senior season after being arrested for driving under the influence of alcohol.
Around this same time, I was also unfaithful to my high school girlfriend while largely under the influence of pharmaceutical drugs for which I did not have a prescription or a valid need for taking. Even though I loved and cared for her very deeply, I unintentionally broke her heart through my unconscious and self-destructive behavior.
As a teenager, I was completely out of control. I created a significant amount of pain not only for myself but also for those people closest to me. I had no idea that I was running from myself, my life, and my painful past. I didn't know I was denying, avoiding, and numbing myself to the psychological and emotional pain that lived within me which I had never healed from my childhood and earlier teenage years.
Consequently, just before graduating from high school, I had broken my own heart wide open and lost the two most important aspects of my lived reality: I lost the girl I loved, and I also lost the game of football I loved. At this point in my development, these two aspects of my life comprised the majority of my identity, or my ego, and within a very short period I had unintentionally pushed them both away. In retrospect I came to see that through these events I had lost my sense of self, or who I thought I was. I didn't know this then, but I had experienced what is most often referred to in psychological and spiritual thought as a "death of self," where the idea or the image of who we think and believe ourselves to be is completely shattered.
Reflecting back on it now, as hard as this time in my life was, I'm so grateful for what I experienced, because it set in motion the birth of my true self as well as the discovery of my life's destined purpose. Without the pain I had experienced as a child and the further pain that I created as a teenager, I would not be in a place today where I'm able look back on this part of my life with a deep understanding of the purpose it served in the unfolding of my destiny.
I now know that I had to lose myself in order to heal myself and truly find myself.
Moving forward after high school, I left home for college still carrying with me my largely unconscious psychological and emotional pain. I went away to college because it was expected of me both by my family and also by my local community.
The larger majority of the people graduating from the high school I attended were going on to college. I had no real idea of who I was or what I wanted to do with my life. I just unconsciously went with the flow.
I began taking business and advertising classes, thinking I wanted to make a lot of money, as money seemed to be a very important aspect of life, if not the most. My family and the community I was raised in valued money and making money greatly, and I had developed an unconscious drive to live up to excessively high financial standards and expectations.
As so many of us do, I unconsciously believed that money alone equaled both success in life as well as freedom. And so my initial intentions during my first year of college were driven by a desire for financial wealth above all else. 
It wasn't too long, however, before I realized that my motives were ultimately empty and meaningless, and that underneath my "normal" outer life circumstances, I was extremely lost and suffering quite deeply within myself.
After my second year of studies I finally found the courage to leave college, step into the unknown, and follow what became an unquenchable desire to heal myself on all levels of my being.
Intuitively I knew in my heart that life wasn't meant to be as empty or painful as I was experiencing it to be. I just knew without doubt that there was a way out of my suffering and confusion into a clear and joyful state of being.
At the same time I also held a deep knowing that my life had a meaningful purpose and that I would find it if only I searched long and hard enough for it. Somehow I just knew that I could create a passionate and fulfilling life for myself where I was truly at peace, healthy, and happy each and every day.
My search for truth, healing, and clarity of purpose led me to a number of alternative universities and learning institutions. I also continued my studies privately with various spiritual teachers, psychotherapists, traditional shamans, herbalists, and energetic healers. I formally studied at two different schools for acupuncture and Oriental medicine while simultaneously working with and for a group of Chinese medical doctors. I also visited a number of physicians, alternative healers, and therapists to help me understand, transform, and heal things in myself that I struggled to understand, transform, and heal on my own. I attended a variety of trainings, lectures, workshops, and retreats that focused on alternative healing techniques and spiritual disciplines. I intensively studied and practiced various forms of meditation, qi gong, yoga, and tai chi on a daily basis for years.
I became so passionately hungry to understand myself and my life. I read book after book on spirituality, religion, God, philosophy, psychology, biology, physics, enlightenment, the evolution of consciousness, nutrition, alternative medicine, and various forms of energetic healing. All I wanted was to free myself from my psychological, emotional, and physical suffering and find a clear purpose in my life.
Throughout these years following my decision to leave behind a "conventional" career and life path, I began to retreat more and more from the outer world and travel deeper into the depths of my own being—into my body, my mind, my heart, and my soul. Like a wounded animal in deep need of healing, I isolated myself from friends and family. Organically, I came to live like a monk and focused for hours each day practicing the various self-awareness and self-healing practices that I had studied and learned. My search for truth, freedom, and clarity of purpose became the focus of all my time and energy.
After roughly six years of concentrating solely on these pursuits I had gratefully reached a certain level of clarity, peace, and joy within myself. Through studying the various healing modalities and spiritual practices that I had so intensively, I learned a great deal about healing myself and consciously creating a healthy, happy, and fulfilling life.
Eventually I came to see that everything I had learned in my own quest for well-being, purpose, and freedom directly transferred over and gave me deep insights into how I could support and guide others in their own healing processes, as well as in their own search for true meaning and purpose in life. I found that as I discovered deeper levels of peace, health, joy, clarity, and passion within myself I naturally became inspired to support others to find and create the same for themselves. In fact, I realized that nothing moved me more than connecting with another human being openheartedly and honestly with a genuine intention to help.
As time progressed, I found more and more purpose in sharing what I had learned with others to help them heal and transform their own lives in positive and fulfilling ways. I came to feel that there was really nothing more important in life than being at peace, healthy, happy, fulfilled, purpose driven, loved, and loving, and so I felt both inspired and also responsible to share with other people what I had been blessed to discover within and for myself.
By this point in my journey I felt that I had, for the most part, found my life's purpose in supporting other people to heal themselves, discover their own life purpose, and find inner freedom. However, at the core of my being, I still was not as clear or as motivated within myself each day as I wanted to be; I could feel there was still more to my unfolding destiny that I was not aware of.
In my heart I was certain that one day I would clearly discover my purpose for living—the true reason why I was born and the reason why I was on this planet. At this stage I knew I had not totally grasped what this was yet, but I also knew that one day soon I would indeed find the one thing I was born to wake up every morning for and focus all of my energy on without doubt and without any form of external direction whatsoever.
I am very grateful to say that the book you now hold in your hands represents me finally finding what I was looking for.
Toward the end of 2008 I was transitioning into sharing with and teaching others what I had discovered and learned on a full-time basis. I was living in Boulder, Colorado, USA, and I had just begun building a private practice with the intention of supporting others to heal themselves and consciously transform their lives.
<span style="line-height: 1.6em; background-color: transparent; font-family: 'Helvetica Neue', Helvetica, Arial, sans-serif; font-size: 13px; text-
Have questions about Unconditional Self Love Mastery - S. Kensington, London Intimate One Day Retreat for the Heart, Mind, Body and Soul - Deep Self Love, Mindfulness Meditation & Qi Gong?
Contact Blake Bauer Teachings
When & Where

Evolve Wellness Centre
10 Kendrick Mews
sw7 3hg South Kensington
United Kingdom


Saturday, 9 May 2015 from 12:00 pm to 6:00 pm (British Summer Time United Kingdom Time)
Add to my calendar
Organiser
Blake D. Bauer is an international bestselling author, counsellor, and alternative medicine practitioner. He is considered my many to be a modern mindfulness, meditation and Qi Gong master. Blake's work has helped thousands of people to improve the quality of their life, health and relationships - many of whom could not find lasting solutions from conventional medicine, psychiatry or religion.
Based on his training with spiritual teachers, healers, and masters from all over the world, Blake practices and teaches various forms of meditation, qi gong, qi gong energy medicine, and dao yin (a health and longevity yoga). Blake's formal education also includes traditional Chinese medicine, five-element Chinese medicine, nutritional medicine, herbal healing, psychology, past life regression therapy-hypnosis, and various other forms of traditional healing and alternative medicine.
Bringing together the most effective spiritual practices and holistic approaches to health and wellbeing, Blake's work and teachings have successfully guided thousands of people internationally toward greater happiness and freedom.