UMA Girls Winter Holiday Program 2021
About this event
UMA Girls Winter Holiday Program 2021
**iFLY Indoor Skydiving Excursion - Tuesday, 29th June**
Date: Tuesday, 29th June, 2021
Time: 10:40 am - 5:30 pm
Age: 10-16 years of age
Cost: $70 per person (including entry & fly fee + bus fee)
**Digital Addiction & Social Media Workshop - Tuesday, 6th July**
Workshop facilitated by Sr. Calisha Bennett (Speaker, Identity & Success Coach)
Topics include: Digital addiction, impacts of digital use, risks & dangers of social media, self reflection & others.
Activities, lunch & short Islamic reminder also included on the day.
Date: Tuesday, 6th July, 2021
Time: 12:30 pm - 4:30 pm
Age: 10-16 years of age
Cost: $40 per person (including Lunch)
Location: UMA Centre - SIC Hall
For any enquiries, please TEXT: 0424 578 266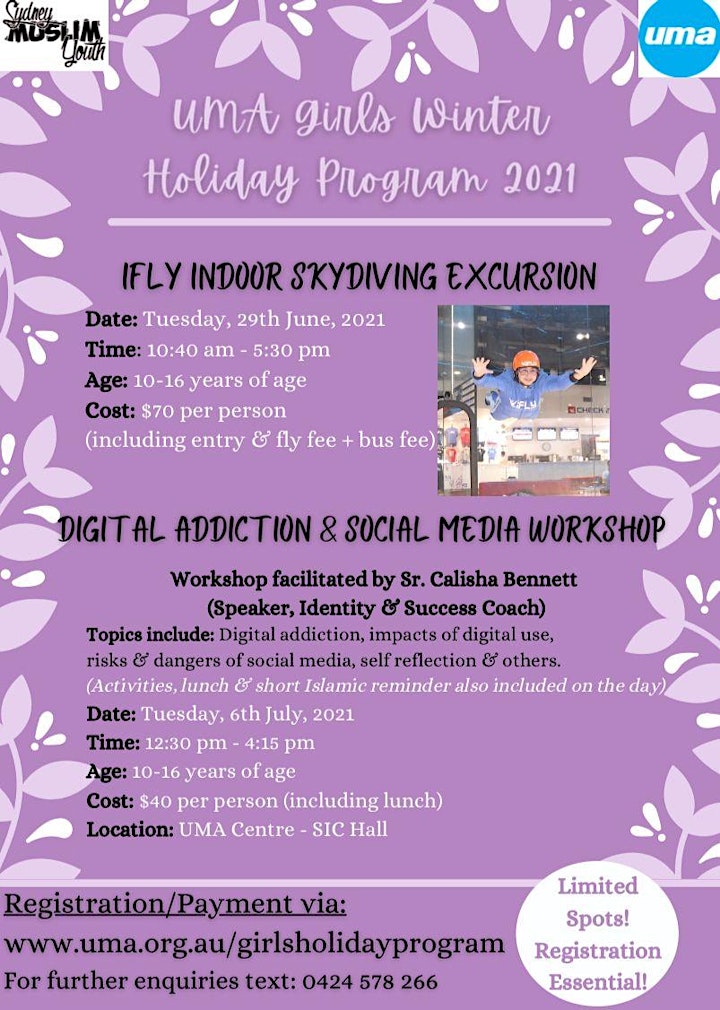 Organiser of UMA Girls Winter Holiday Program 2021
UMA Centre was established in 2002 as an alternative venue for the Muslim youth to socialize and to take part in many educational, recreational and religious activities. It is currently Australia's largest Islamic youth centre that caters for the growing needs of the growing Islamic community within the country.
Over the years the UMA centre has provided and continues to provide many services and products to ensure today's youth are equipped with the skills to be well educated, confident and outstanding members of the Australian community. Some of the main community initiatives that have been developed over the years UMA include:
The UMA has recognised the need to ensure that young people have a secure, well-run and self-sustaining venue for healthy and constructive sport, leisure and recreational activities. It has also provided Muslim youth with specific services to ensure they are exposed to a setting that is Islamicly friendly and an environment that is conducive to the sunnah of the Prophet Muhammad (pbuh).
The centre offers its members and the wider community with a range of quality services that includes but is not restricted to the following:
Professional Men's Gym: Offers a range of training equipments at minimal price to attract the youth to a friendly Islamic environment.

Indoor and Outdoor Sport Activities

Martial Arts and Boxing

Educational Classrooms

Counseling and Career Advice

Lecture theaters

Function Hall

Offices