Ultimate TGR Wealth Creation Conference (Special Offer With 95% Booked Out)

Friday, 16 September 2016 at 9:00 am

-

Saturday, 17 September 2016 at 8:30 pm (AEST)
Event Details
Explode Your Wealth & Personal Success
By Unlocking The Modern-Day Secrets, Tools & Techniques
From 10 Of Australia's Top Wealth Creation Masters

Who Should Attend This Event?
If you can say YES to any of the following you need to be at this event to survive and thrive in our new economy...


You want Financial Freedom and the ability to do what you want – when you want.
You want Multiple Passive Sources of Income that make you money even when you are sleeping.
You want to Secure Your Financial Future or that of your family.
You want to be able to Afford The Nice Things In Life and not have to worry about cash.
You're a Job-Owner looking for the BEST ways to generate extra cash in this new economy (without the risks of leaving your job or high costs of starting a traditional business).
You're a traditional 'bricks and mortar' Business Owner looking to double or triple your cash flow, accelerate your new customer acquisition rate or 'bolt on' some new income streams or new channels to sell your products.
You're a budding Internet Entrepreneur looking for the best high reward / low risk strategies to make money online and / or help others "take their business online".
You're a fan of the book Think and Grow Rich(TGR), and you'd like to develop the 'millionaire mindset'

for success and unlock the limitless potential inside you.
Why Should You Attend This Event?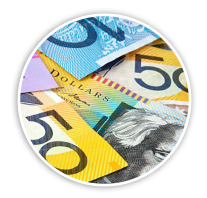 Over 2 momentous days, TEN of the 'highest paid' entrepreneurs in Australia will show you how they generate massive cash flows of $10K, $20K, $30K and even $50K or more per month with their proven strategies, allowing them to live the lifestyle that most can only dream about. 
This is your opportunity to acquire the motivation and 'Specialised Knowledge' you need to get ahead fast, because just like them, you can build enormous wealth, too!

Whereas our nationally famous "Ultimate Property Conference" events are for all property investors seeking financial freedom through property, this one-off conference is for everyone looking for the best ways to attain financial freedom in anything but property.
2 Days In The Company Of These ELITE Level Money-Masters Will Give You:

New Wealth creation ideas to Boost your income way beyond what you think is possible, as you discover multiple and different PROVEN ways to make money from home.
New Wealth creation ideas to Make a new life of freedom and empowerment as you walk away with PRACTICAL STRATEGIES to make money immediately.
New Wealth creation ideas to Eradicate your personal debts by having the power to make a lot more money than you are spending.
New Wealth creation ideas to Pay for that luxury holiday with money-making strategies you can Act upon straight way.
New Wealth creation ideas to Create a stack of savings to secure your long term future… as you stop trading your time for money.
New Wealth creation ideas to Give you the independence and freedom that is your birth right – to live your life by your design and not have to answer to anyone.
Event Host: Stuart Zadel - CEO At Zadel Property Education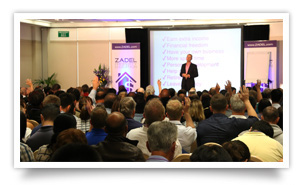 Formed in 2007, Zadel Property Education Pty Ltd (ZPE) is an Australian wealth education company, providing free and paid workshops in six major capital cities across the country.
ZPE provides access to specialist education and delivers expert insights into systems designed to achieve results in the current Australian market. These systems aim to provide the foundation for your success in the new economy, primarily through property, as well as shares and mindset.
ZPE has a 2020 mission to inspire greater financial awareness within the wider Australian community, and has implemented 5 Inspiring Goals to support this evolution of this mission:
Inspire A Community Of 1,000 Financially Abundant Australians –

will you be next?

Inspire 100,000 People Live At Our Events –

65,707 attendees

Inspire Through The Distribution Of 1,000,000 Books –

Currently 590,837 distributed

Inspire The Contribution Of $1,000,000 To Worthwhile Causes –

$434,191.60 contributed

Inspire The Planting Of 1,000,000 Trees In Australian Soil –

27, 006 (ZPE) + 18,149 (Clients)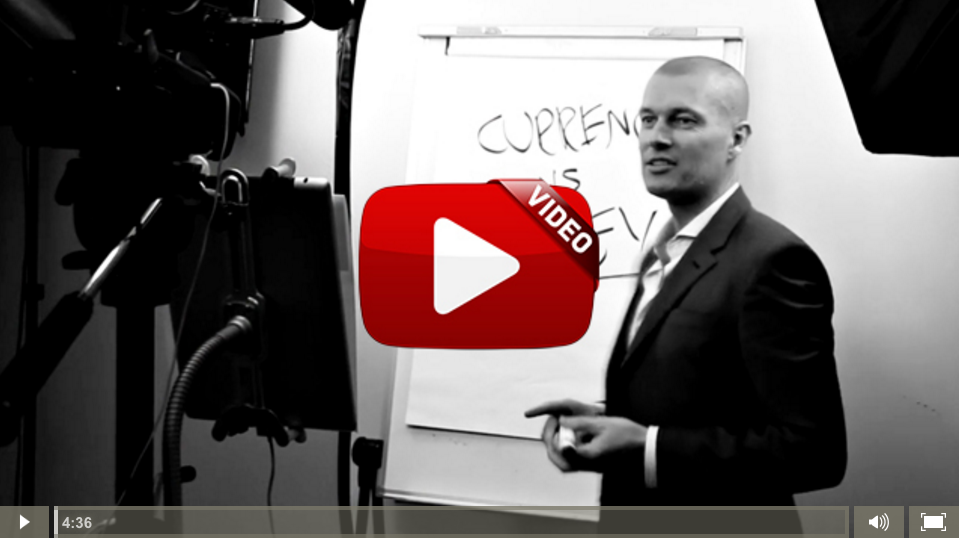 I Have A Special Offer For You:
For a limited time only, you can secure 1 TICKET (valued at $497!) for a measy $47 donation (100% of proceeds will be contributed to one of our Worthwhile Causes)

By clicking on the Order Now button above (scroll up to the top of the page)

** Only 23 Seats Left As Of Tuesday 30th August **

Which Wealth Creation Masters Will You Meet At The Event?

Daniel Flynn – "Managing Director and Co-Founder of Thankyou"

From 'one single idea,' he turned his dream into reality through a powerful social enterprise that spawned $2.5 million in project donations in over 16 countries. What exactly did he do?
Matt and Liz Raad – "Website Investors and Online Entrepreneurs"

This couple gave new meaning to the 'buy, renovate and hold' strategy and turned websites into massive cash-generating portfolio of what we call 'online real estate.'

Bret Thomson – "Copywriter, Coach, Speaker, and Conversion Specialist"

The man behind some of the most successful marketing campaigns in Australia is joining in to teach you how to nail that BIG IDEA that has eluded even the best writers and conversion strategists in the land.

Brett McFall – "Marketing, SEO and Online Business Coach"

He's known as 'The guy who sold a $29.95 book on eBay for $8,105'. And before a live audience of 300, he helped beginners in online business raise $50,000 in only 72 hours. Can you believe that?  
Matt and Amanda Clarkson – "World Leading eBay Experts"

This couple capitalised on eBay's revenue-generating potential. Currently, they have 3 eBay businesses and have expanded into multiple global selling platforms. Their recipe for success you'll learn too!

Sam Cawthorn – "Public Speaker, Author, and Philanthropist"

Meet 2015's Entrepreneur of the Year and Young Australian of the Year. An author with a bestseller in tow, he will teach you how to become a sought-after speaker and get your message out to the world.

Naomi Findlay – "Internationally Renowned Renovation Expert"

Australia's Rapid Renovation Expert, Dr. Naomi Findlay PhD, is an internationally renowned renovator, award-winning property stylist, adult educator and Interior Designer.

Stuart Zadel – "Best-selling Author and Wealth Educator"

Best-selling author, publisher, business and life coach, thought leader and mentor, public speaker, health expert, and CEO of Zadel Property Education – you name it! Stuart is an industry veteran with an inspiring story to share – and how his run-ins with life's challenges put him to where he is now. 


What People Said About Our Master Mind Team Of Experts?

"Matt and Liz, you have been an amazing influence in our lives, and actually the saving grace for us in one of our darkest financial seasons. The strategies you have taught us have helped create 6 figures in revenue. We probably would be bankrupt without your training and help. Thank you so much!"

Leoni, Gold Coast, QLD for Matt and Liz Raad

"You are the most extraordinary person that I've ever met. Your courage and will to overcome adversity is commendable. I truly feel privileged to have witnessed such amazing talent. You are changing the world one person at a time. You've changed me."

Senior Editor, Google for Sam Cawthorn

"I was stuck in overwhelm before this seminar as I started creating a website by myself. Brett gave me important information and ready-to-use tools to enable me to get results quickly. Don't lose more of your precious time worrying. There is a way, and thanks to Brett, I now know that."

Teresa, QLD for Brett McFall

"To anyone who is considering one of Matt and Amanda's programs, the best advice I could give would be to really just take action and do it. This lifestyle is going to give me and my family more options, time and freedom!"

Tim for Matt and Amanda

"I recommend Naomi to all of my friends and colleagues when they are either looking to renovate or sell to maximise their return on investment. Naomi has a passion for design that is infectious and it made me feel excited about our renovation for sale as opposed to overwhelmed! Love your work Naomi!"
Lisa for Naomi Findlay


After spending the weekend with you and your amazing team, I now see that this is only the beginning,  and that life is quite literally what you make it. I've never been able to say the two simple words – I CAN – with so much meaning as what I do now. I'm slowly starting to realise the potential of the human brain and what you are able to achieve with the right mindset. Words cannot fathom my gratitude towards you and your team, and the good you are doing the world over is truly inspirational.

Carolyn, QLD for Stuart Zadel
Book 1 ticket (valued at $497!) for only $47 BY CLICKING THE Order Now BUTTON ABOVE (scroll up to the top of the page). 100% of proceeds will be contributed to one of our Worthwhile Causes.

** Only 23 Seats Left As Of Tuesday 30th August **


What Will You Be Learning From This Inspiring Event?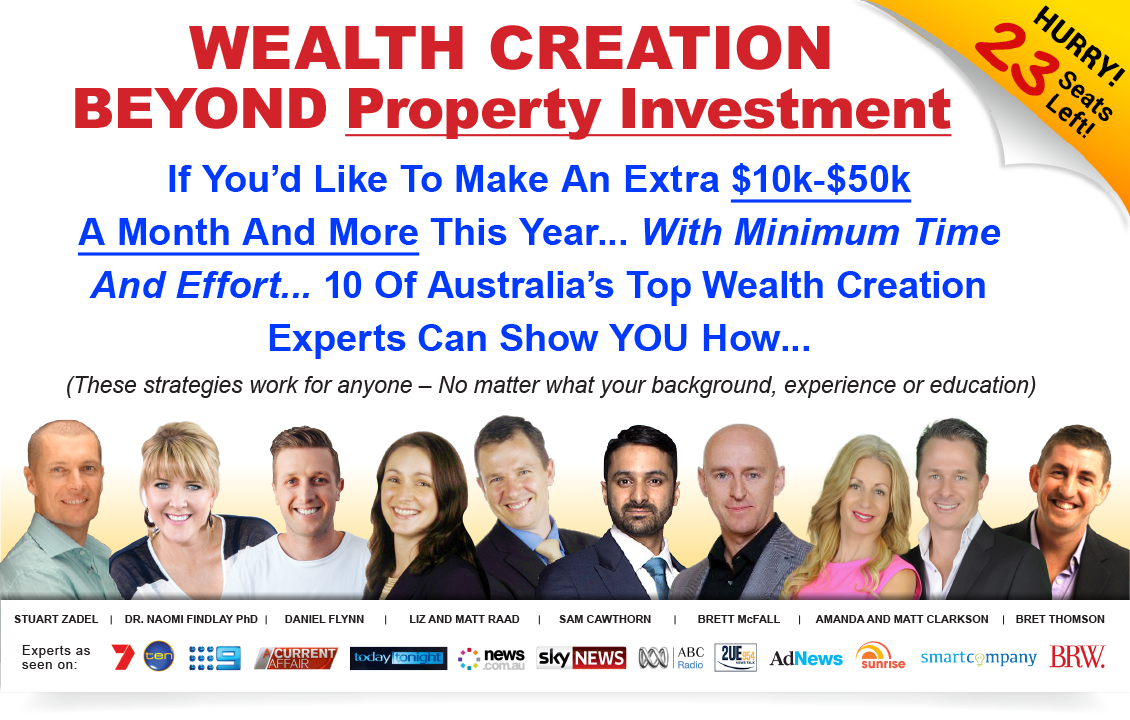 (1) Daniel Flynn:

"How to turn your dreams into reality through that one potentially life-changing idea you've always had"

(2) Matt and Liz:

"How to build an online real estate portfolio through acquisition of revenue-generating websites"

(3) Sam Cawthorn:

"How to position yourself as a sought-after speaker and bring your influential message out to the world"
(4) Brett McFall:

"The 3-step secrets to starting a profitable business even if you're a beginner"

(5) Bret Thomson:

"The secrets to doubling your website conversion and generating new leads and sales - on demand"

(6) Matt and Amanda:

"The new ways of making money on eBay, capitalising on the concept of the online shopping revolution"

(7) Naomi Findlay:

"How to renovate property for wealth with the rapid renovation formula"

(8) Stuart Zadel:

"That one secret thing that it takes to be wealthy; and the reason why you're not wealthy yet"


A Message From Stuart Zadel

Dear Wealth Seeker,

A life without money and freedom is no life at all, right?

A life where you are living pay-check to pay-check and swapping your time for money can be a miserable existence. Living like this limits your options. It makes your life a grind. It sucks the joy out of your life. And you're always left with the feeling – there must be something more than just surviving. Have you ever felt that way? I know I have.

You know there must be more to life – and that 'the good life' is somewhere out there, waiting for you to discover it – but it never seems to come.

To make matters worse, your traditional financial safety nets are eroding away as we speak... which makes finding alternative sources of income all the more vital for you.

The fact is – if you want to be wealthy you need to follow certain principles (as outlined in the book Think and Grow Rich). Even those who have never read the book, but who are wealthy, are unconsciously following its principles all the time.

One of the key principles which I'll mention here a few times is having 'specialised knowledge' in a certain area. That is what the wealth creation experts are going to give you when you meet them this September. When you are armed with their knowledge plus the other key wealth principles you'll discover – there will be no stopping you.

I Have A Special Offer For You:
For a limited time only, you can secure 1 TICKET (valued at $497!) for a measy $47 donation (100% of proceeds will be contributed to one of our Worthwhile Causes)

By clicking on the Order Now button above (scroll up to the top of the page)

** Only 23 Seats Left As Of Tuesday 30th August **
You're At A Fork In The Road Right Now


You can, of course, do nothing. In which case, nothing will change. The same problems you have will be there that are money related and will remain there... And may even get worse over time. Because we always get more of what we are focused on and the mindset we have brings more of the same into our lives.

The other option here is a real no-brainer. Take a risk-free $47 decision right now and create a new life of financial freedom and abundance... Live the kind of life you deserve.

Get the respect and status and freedom that is rightfully yours. Do not let this opportunity slip by.

The wisest man I ever knew told me something I never forgot. He said "most people are too busy earning a living to make money".

Don't take as long as I did to find out he was right. I'm not asking you to believe me, just try it out. If I'm wrong, you have lost nothing. But what if I'm right?


*When You Attend This Highly Educational 2-Day Event, You'll Claim More Than $500+ Worth Of Bonus Gifts Including:*

CONGRATULATIONS!
If You're Still Reading This, You're Almost There...


10 inspirational speakers who made their own fortune. ONE rare event that brings them all together. THIS MAY NEVER HAPPEN AGAIN. When seats are fully-booked, it will cost you $497 to get in, room permitting. Also, all attendees will receive 2 valuable gifts (worth $500+)

SO THINK ABOUT IT: WOULD YOU LIKE TO MISS THIS CHANCE? DON'T SHORT-CHANGE YOURSELF! REMEMBER: IF NOTHING CHANGES... NOTHING CHANGES. YOUR FINAL STEP:

Book 1 ticket (valued at $497!) for only $47 BY CLICKING THE Order Now BUTTON ABOVE (scroll up to the top of the page). 100% of proceeds will be contributed to one of our Worthwhile Causes.

** Only 23 Seats Left As Of Tuesday 30th August **
"This is the best thing I've ever come to – it's top notch. What I found is that this day, it's not just about money, it's not just about that material object... it's a lot deeper than that. I've read books about athletes, I've seen Donald Trump and people that are inspirational but I've never been around someone like Stuart. I'm 100% going to recommend it to anyone that will hear it."   
-- Pierre, NSW
When & Where

Wesley Conference Centre (Wesley Theatre)
220 Pitt Street
Sydney, NSW 2000
Australia

Friday, 16 September 2016 at 9:00 am

-

Saturday, 17 September 2016 at 8:30 pm (AEST)
Add to my calendar
Ultimate TGR Wealth Creation Conference (Special Offer With 95% Booked Out)