About this Event
PART ONE: The Fundamentals to Business Planning
When? Thursday the 16th of May
Where? Albury Northside Chamber of Commerce (6/512 Swift St, Albury NSW 2640)
Who? YOU
What will I learn?
-To create clear purpose by defining your goals
-To identify how to optimise growth, profitability and cash flow in your business
-To implement strategies to ensure your goals are met
-To develop your mission statement, core purpose and core values
**THESE SEMINARS ARE OPEN TO THE PUBLIC**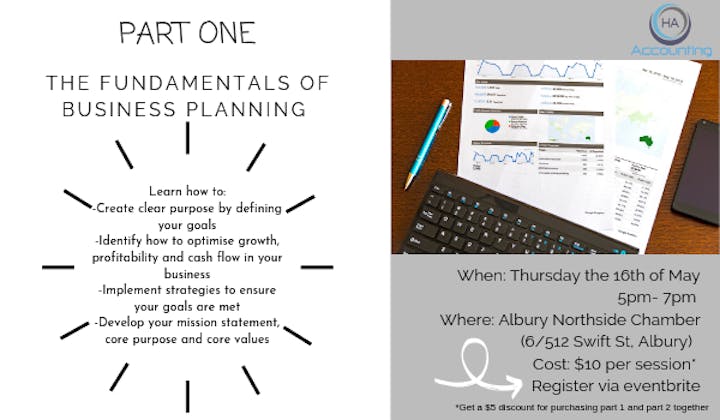 PART TWO: The Fundamentals to Marketing Planning
When? Wednesday the 29th of May
Where? TafeSpace Business Wodonga ( 1/158 Lawrence St Wodonga)
Who? YOU
What will I learn?
-To identify your target market and unique selling point
-To identify how to get the best return on your marketing investments
-To develop a marketing schedule for the coming year
-To implement strategies
-To align your marketing strategies with your brand and target market
**THESE SEMINARS ARE OPEN TO THE PUBLIC**