Description

Discover Fleay's wildlife at twilight and experience one of the oldest living cultures in the world, that of the Yugambeh Aboriginal people. These holidays we'll open after dark for you to enjoy a Jellurgal cultural experience and Park Ranger wildlife presentation.

We have partnered with the Jellurgal Cultural Centre, to take you on a journey of discovery of the Yugambeh Aboriginal people, the custodian owners of the Gold Coast. Without threat or fear, they respected and shared the resources of this beautiful and bountiful coastal paradise for thousands of years before the first European settlers arrived on their doorstep. Join the Yugambeh Aboriginal people as they take you on a mesmerising journey of storytelling, song and dance. You'll learn about their culture, spirituality and society.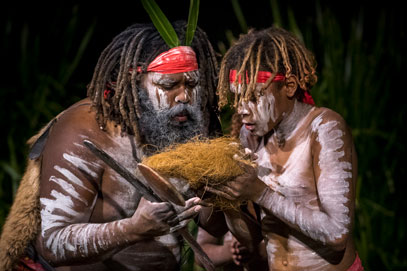 Discover some of Australia's unique wildlife in a Park Ranger presentation. Then explore the park after dark - it is when most Australian wildlife are active. The Nocturnal House will be a hive of activity, with platypus, mahogany gliders and greater bilbies. In the Ring Dam look for the red eyes of the crocodiles under the lights and then wander to the rainforest to see the cassowaries feeding. Night time is when the koalas are also most active.
Established in 1951, by David Fleay, today the park is inspired by the memory of the naturalist and his conservation efforts. Ahead of this time, Dr Fleay insisted that the park animals should be kept in as natural a habitat as possible. Today we are the only Queensland Government owned and operated wildlife park. The natural enclosures you see reflect Dr Fleay's philosophy, research, breeding and education.
Highlights
Visit David Fleay Wildlife Park after dark and discover what Australian wildlife get up to after dark

Enjoy a Jellurgal Cultural Experience presented by the local Yugambeh Aboriginal people, one of the oldest living cultures in the world

Learn about Australia's unique wildlife with a Park Ranger presentation

Explore the park after dark when most of our Australian wildlife are most active

See Australian wildlife in natural settings including koalas, wallabies, crocodiles, dingoes, cassowaries, tree-kangaroos, possums, gliders and snakes
Inclusions
Evening admission to David Fleay Wildlife Park from 6:00pm - 8:45pm

Jellurgal Cultural Experience presented by the local Yugambeh Aboriginal people

Photo opportunity with Jellurgal performers

Park Ranger wildlife presentation

Explore the park at your own pace after dark

Click here to view our Discovery Guide (including park map)

Visit us online at qld.gov.au/davidfleay
Show Times
6:00pm - Gates open

6:30pm - 7:15pm Jellurgal Cultural Experience

7:15pm - 7:45pm Park Ranger wildlife presentation

7:45pm - 8:45pm Explore the park at your own pace after dark

8:45pm - Gates close
Exclusions
Ticket not valid for general admission during the day

Does not include access to any other programs, activities, premium services, including Junior Ranger
Important Information
Ticket valid only for specified date of entry from 6:00pm - 8:45pm

Show commences promptly at 6:30pm

All children under the age of 15 must be accompanied by an adult

Children 3 years and under are free of charge

No cancellations or refunds are available

General Conditions of Entry to the Park apply
Opening Hours
The park opens from 6:00pm - 8:45pm

Jellurgal Cultural Experience commences promptly at 6:30pm

Fleay's Cafe opens 6:00pm - 8:30pm for light refreshments
Location
Located on the corner of West Burleigh Road and Loman Lane in West Burleigh on the Gold Coast. The park is just 15mins from the Gold Coast Airport, 25mins from Surfers Paradise and 90km south of Brisbane

You can drive yourself or use public transport. Trains operate regularly from Brisbane to the Gold Coast (Varsity Lakes) where connecting bus services can be accessed
By Car
Travelling on the Pacific Motorway, take the Tallebudgera Creek Road turn-off (exit 89) - just 2mins from the park entrance
By Bus
From Broadbeach South station on the Gold Coast, take the Surfside Route 756 to the intersection of West Burleigh Road and Loman Lane - about a 330m walk from the park