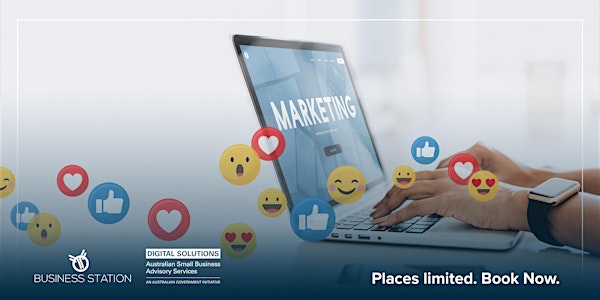 Turning your Linkedin connections into Clients by Sandra [2OW]
Sales Have Ended
Registrations are closed
Thank you for your registration to our ASBAS Digital Solutions Event.
Sales Have Ended
Registrations are closed
Thank you for your registration to our ASBAS Digital Solutions Event.
Linkedin Secrets for your business
About this event
PLEASE NOTE: To register for this event you must be a business (0-19 employees)  and provide your ABN. 
This session will be recorded and sent to everyone who has registered. Register now!
Level : Intermediate
Date/Time:
Thursday, December 16, 2021
WA: 09:00 AM to 11:00 AM (AWST)
NT: 10:30 AM to 12:30 PM (ACST)
QLD: 11:00 AM to 01:00 PM (AEST)
Linkedin is fast becoming the go to platform for many businesses to generate leads, and that is why it is more important then ever to have a strategy in place when utilising Linkedin for both personal branding as well as lead generation.
In this 2 hour workshop, social media strategist Sandra Tricoli will share the tips and tricks to creating a standout profile on Linkedin that will convert your connections into clients. Some things that will be covered in this workshop are:
The Anatomy of your Linkedin
Funnels to getting business
How to optimise your Linkedin page
How to increase your Key word search
How to establish yourself as an authority in your industry
What is the WHY of your business?
Identifying your client avatar
Best times to post
Content ideas for your Linkedin
Understanding the Linkedin Algorithm and how to maximise it
Understanding SEO for social media
How to write effective articles on Linkedin
Copywriting secrets for your Linkedin posts
Understanding hashtags and how to best leverage their power
starting a Linkedin Group and much more
This workshop is brought to you by Business Station and AusIndustry under the Digital Solutions Program.
ABOUT PRESENTER
Sandra Tricoli who is the Director of Savvy Creations PR and Perth Copywriting is an experienced business adviser who has consulted over 2000 business owners during her career. Sandra combines Strong leadership qualities with a strong sense of initiative, flexibility and accountability.
Sandra specialises in mentoring clients from a variety of industries which include Mining, retail, Travel, Government, Non for Profit, Finance, construction and Building and is also very passionate about helping businesses transform in order to generate higher market share and profitability. Sandra is also a regular guest lecturer at the University of Western Australia for both the students and the other lecturers.
Sandras drive and commitment to help her clients become the best in their industry is derived from her strong passion to help others. Being a business owner herself, Sandra is very relatable to other business owners and is able to give real life examples and advice to her clients in order for them to avoid road blocks in their business and to achieve maximum results.
Sandra has a great understanding of the WA business sector as well as a great business network Australia wide.
About Digital Solutions - Australian Small Business Advisory Services
Digital Solutions is one of the most generously supported digital transformation programs for small business by the Commonwealth Government. This iteration of the program has been run by Business Station in QLD, WA and NT for three years and has had a significant positive impact on the small business community.
This event will give you the chance to learn about the details of the program, what's on offer and who can access the free or highly subsidised support, training and resources! Perhaps you will find them beneficial for yourselves, your network or your clients.
To better understand what's on offer, we will encourage each attendee to register themselves to the program before the event, or otherwise by attending this workshop, you will be registered.
#socialmedia #perthsocialmedia #perthbusiness #linkedinadvice #perthb2b #linkedin #perthsmallbusiness #socialmediaworkshops
Important – Participating businesses must be aware that this information will be provided to the Commonwealth Department of Industry, Science, Energy and Resources for program evaluation and reporting purposes; and businesses may be approached by a representative from the Department to complete a survey on the services provided.
Organiser of Turning your Linkedin connections into Clients by Sandra [2OW]
BUSINESS STATION
Business Station is a not-for-profit organisation providing small business services across Australia.
Business Station is run by an energetic bunch of professionals who are passionate about empowering Australian businesses. The core purpose of Business Station is to help small businesses thrive. We facilitate, encourage and promote economic development across WA, QLD and NT by enabling and supporting the establishment, growth and ultimate success of new and small businesses. To find out more about our amazing team of superhumans, visit one of our spaces or explore our programs.
Our visions is to see business owners be successful, individuals flourish and communities grow.
 Visit www.businessstation.com.au for more information.
Aspiring and current business owners are invited to follow Business Station on Facebook, Twitter and LinkedIn @BizStationInc