Turning Point Intensive in Brisbane - The fastest way to create your best year yet (Free Ticket)

Saturday, 18 January 2020 from 9:00 am to 6:00 pm (AEST)
Event Details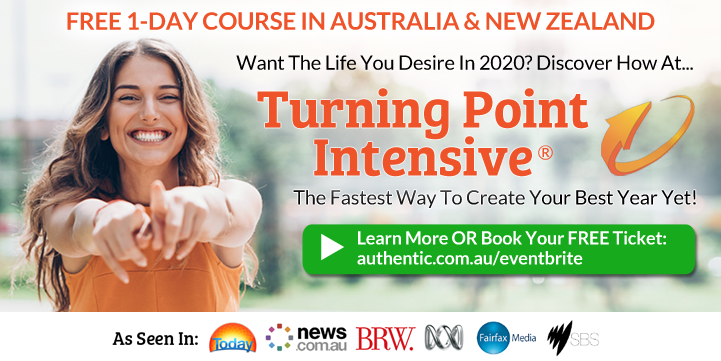 Want the life you desire in 2020? Discover how at… 
"Turning Point Intensive"
 Brisbane Jan 18, 2020 (Sat) 9am - 6pm 
Or... 
Gold Coast Jan 19, 2020 (Sun) 9am - 6pm
 CLICK HERE TO LEARN MORE OR REGISTER YOUR FREE TICKET NOW
Are You Ready To Transform Your Mindset, Wealth And Life?
The "Turning Point Intensive" is Australia's largest personal development seminar and hands down the quickest way to accelerate your results and achieve anything you desire in life.
At this life changing event you will learn the 5 vital actions you need to take to unlock your enormous potential, get clear on what you really want to achieve, and create abundance in your wealth, health and relationships.
Updated for 2020, this powerful event from Benjamin J. Harvey (Co-founder of Authentic Education) will allow you to turn your life around and quickly achieve massive success in all areas of your life.
Get Your FREE ticket to this exclusive 1-Day course with Benjamin J. Harvey, co-founder of 2-time BRW Award Winning company Authentic Education...
This Event Is For People Looking To...
#1: Create Fast & Lasting Change in your mindset, wealth, career, business or life with "The Turning Point Process"
#2: Release Blockages stopping you from living your full potential like limiting beliefs, self doubt, self sabotage or emotional baggage
#3: Find Purpose & Direction especially if you're at a crossroads in life or just know you were born for something greater
#4: Get Energized & Motivated by kicking their life into gear with an inspirational event and supportive community 
  What You'll Learn...
How To Master Your Mindset (And Becoming The Best Version Of Yourself)

As Thomas Edison said, "If we did all the things we are capable of, we would literally astound ourselves".
The truth is true transformation is not difficult. Having trained thousands of people over the years we know the problem is not the PERSON, but the PROCESS.
Once you use the correct framework for achieving results, success not only becomes easy, it becomes predictable.
In order to cut literally years off your learning curve, I will be sharing with you my top 2 most powerful strategies for rapid change.
Once you change the way you think and feel, you won't have to push yourself. Your actions will happen effortlessly.
The strangest thing happens once you change your actions... Your results will also happen effortlessly.
The Financial Freedom Formula
There is a stark contrast between how the rich and poor handle their money.
The problem is most people were never taught wealth creation at school. So it's no wonder people have a pattern of lack and uncertainty in their
finances. It doesn't have to be this way.
The secret is, that poor people work hard for money BUT wealthy people make money work hard for them... and so can you.
The good news is, wealth is a strategy... and strategies can be learned.
Regardless of your age or current financial situation, financial freedom is attainable. Better yet, it can happen faster than you think. If you start now.
Isn't it time to take charge of your financial destiny for you and your family? Other people are living abundantly, so why not you? Why not now?
In this vital wealth creation module, you'll learn how wealthy people think and act so you can...
Have enough money to work on projects you're passionate about

Increase your income, increase your lifestyle and travel the world

Avoid money stress and retire well

… and so much more!
Release Your Roadblocks To Success

Nobody is perfect. We all have certain thought patterns and emotional blockages that hold us back. Quite often, people sabotage themselves in a ways that they aren't even aware of.
In this module, we will cover the common roadblocks that prevent people from reaching their goals.
It's almost impossible to reach your goals in life with one foot on the brake.
But once you release the thoughts and emotions that don't serve you (and replace them with empowering ones) you will quickly see yourself rising above problems of the past and moving much faster towards your goals.
As a result of this module you will find inner balance and learn how to tap into your authentic self to take fearless action on your dreams and desires. You will learn to heal yourself, heal your life and become your own best friend. 
Discover Your Purpose
By the end of this module, you will have discovered your purpose. Just this module alone is worth coming to the course for.
You will also walk away with the answers to the 2 questions below. These questions may seem quite deep, but you will get my guidance each step of the way to make sure you get it right.
Who am I?
Many problems in life come from people not being able to "Know Thyself". When was the last time you set aside time to think about who you really are, what you really value or what truly is most important to you? For most people, never! And that's why they find making decisions difficult.
What will I be most fulfilled by?
What kind of life will you find truly inspiring? While it's different for everyone, I've found there are definitely 3 underlying principles of fulfilment that apply to anyone, including you. I will be explaining these at the event.
Get More Done With Less Effort

Would you love to simplify your life and become the most productive and successful version of YOU?
If you've ever felt held back by procrastination… or you're constantly spinning your wheels being 'busy' but rarely achieving anything worthwhile… then you're going to love this module.
You see your success in life and business is determined by a series of habits, rituals and systems. Most people are unaware of these. But the more effective they are, the less stress and greater success you will have.
In this module, you'll discover the proven systems to use for eliminating procrastination, and automating your success including:
How to use simple but extremely powerful technology to do the heavy lifting for tedious daily tasks

How to replace procrastination, stress and anxiety with your own personal success identity

How to implement the 6 essential tools of the Success Automation System to become super-productive

… and much more!
Secret Bonus Session
We know many people like to hang around at the end of our events, so if you're feeling inspired to stay a little longer then we have some secret bonus coaching content that you're really going to love!
Throughout the day we'll be giving away over $20,000 worth of prizes, so make sure you don't miss out!

  Turning Point Intensive Will Be Held In The Following Cities...
Sydney (weekday) - Jan 9 (Thu)
Sydney (weekend) - Feb 1 (Sat)
Melbourne (weekday) - Jan 16 (Thu)
Melbourne (weekend) - Feb 8 (Sat)
Brisbane - Jan 18 (Sat)
Gold Coast - Jan 19 (Sun)
Auckland - Jan 22 (Wed)
Perth - Jan 29 (Wed)
Adelaide - Feb 10 (Mon)
*Registration Now Open! Click Here To Claim Your Free Ticket.
(Tickets are strictly limited and will be allocated on a first-come, first served basis.)
See you there!
Authentic Education  
Have questions about Turning Point Intensive in Brisbane - The fastest way to create your best year yet (Free Ticket)?
Contact Authentic Education
When & Where

Mercure Brisbane
87 North Quay
#85
Brisbane City, QLD 4000
Australia

Saturday, 18 January 2020 from 9:00 am to 6:00 pm (AEST)
Add to my calendar
Organiser

Benjamin J. Harvey is a Certified Coach with the ICF, Professional Trainer and Founder of Authentic Education (a BRW Fast Starters & BRW Fast 100 Company).
 *Note: There will be no other "assistant" trainers taking over. The entire course will be run by Benjamin J. Harvey. 
Having delivered well over 10,000+ one-on-one coaching sessions and earning over six figures in just the first year of being certified as a coach, Ben now specializes in helping coaches live their love.
Ben has been invited to speak by the Queensland Government and Youth Challenge Australia and holds personal development workshops that blend eastern magic with western strategy.
He has consulted with the largest organisations in Australia such as Optus, IBM and Commonwealth Bank... and more importantly, is passionate about teaching people how to become a life coach.