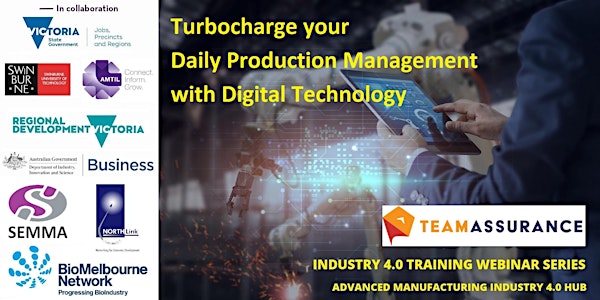 Turbocharge your Daily Production Management with Digital Technology
____________________________________________________________________________
About this event
The AMI4Hub at Swinburne University has been delivering digital technology awareness and services to Australian manufacturing and process related industries over the past 3 years. Through our widespread, diverse and in-depth engagements across various sectors, we commonly see businesses using separate/multiple paper-based and digital databases and information systems (Excel spreadsheets, Word documents, Quality Management System, emails, whiteboards etc) used as part of their daily production management routines and top-down communication.
The sophistication of these routines varies; paper-based (hardcopy-based) systems rely on admin intensive transfer of information onto spreadsheets, documents, emails etc., for communication and updating of status and issues. Up-to-date details are known by select few individuals, information is sometimes questionable, and improvements can be ad-hoc and sporadic. Furthermore, individuals may not be aware of what/how they are contributing towards business goals and can be disconnected or disengaged. Add to this, most production workers are "deskless" and have no direct connection or capacity for effective and regular communication.
To help you overcome these challenges, we would like to introduce you to TeamAssurance, a proprietary software developed in Melbourne. TeamAssurance was built from experience gained from companies such as Toyota Motor Corp, Mondelez International, Atlassian, Aconex, and Pro Medicus. Hear from main presenter Matt Mafrici, TeamAssurance CEO, explain how the cloud-based platform can
consolidate various information systems
create more streamlined workflows
improve visualisation and digitally connect the front-line team
create clear consolidated insights, defined processes, and channels to report, escalate and close the feedback loop
empower and enable your entire workforce to contribute to business success - from shopfloor to top-floor
Matt will also include some case studies as part of the presentation.
Presenter Bio:
Matt Mafrici, CEO at TeamAssurance. 25 years of experience in Operational Excellence, Manufacturing Systems Engineering and business coaching across Manufacturing, Healthcare and Logistics. Matt has successfully delivered sustainable continuous improvements systems into businesses of varying maturity in these sectors.
Who Should Attend:
This webinar is targeted towards owners, Senior executives, senior leadership teams, operations and production managers of small to medium sized Victorian businesses in manufacturing and process related industries (incl. Food & Beverage, Meat processing, Dairy, Agri-business, Defence, Pharmaceuticals etc).
You will be provided with additional information and a link to access the online webinar via eventbrite email prior to the event. Ensure contact details are entered correctly during registration and you are allowing receiving of eventbrite emails. Please check your spam/junk folder in case the emails are diverted there.