Turalla Truffles X Dear Prudence Dinner 2: Last of the Truffle Season
Turalla Truffle X Dear Prudence Dinner: Last of the truffle is a meet the producer gastronomic experience, with expert bev pairings.
About this event
Turalla Truffle X Dear Prudence Dinner 1 had such a great response we were overwhelmed with a waiting list for the night. So we thought it only polite to celebrate truffles once more as we see the season coming to an end.
Turalla Truffle X Dear Prudence Dinner 2 celebrates the last of the truffle season, and expends on our first successful truffle dinner. Expect a gastronomic experience with beverage pairing, guided by the producer himself.
About: Turalla Truffle X Dear Prudence Dinner 2: last of the Truffle Season
What: Pre-ticketed meet the grower and gastronomic truffle dinner with beverage pairing
When: 10th Aug 2021 Tuesday from 6pm
Where: Dear Prudence https://dearprudencebar.com.au/
Who: Damian Robinson of Turalla Truffle, Gerald Ong of Project Enoki, Chester Mok of Dear Prudence
• Meet the grower
Meet the grower Damian Robinson of Turalla truffle farm as he hosts a collaborative dinner that marks the launch of Truffle Week at Verity Lane Market. Turalla Truffles will be used exclusively. Throughout the dinner, learn as Damian talks us through truffles, the ways to appreciate them and the secret nuances and tips only a passionate grower would know.
• Food Offering
Five gastronomic courses highlighting Turalla truffles, prepared by Chef Gerald Ong of Project Enoki. Expect a unique seasonal offering with explosive flavours and unexpected combinations, all in the service of highlighting these winter treasures. This menu is indicative of the Chef's left-of-field approach to seasonality and Modern Australian cuisine.
• Wine Pairing
Chester Mok of Dear prudence takes us through the dinner with his break-all-the-rules wine pairing. Exploring new world and old world wines that serve to harmonise the food offering, Chester will uncover exotic verities, and regional favourites from the vineyards of Portugal, France and Australia.
This dinner is an intimate ticketed event with food & beverage included, limited seating available. You may choose a non-alcoholic pairing on the night.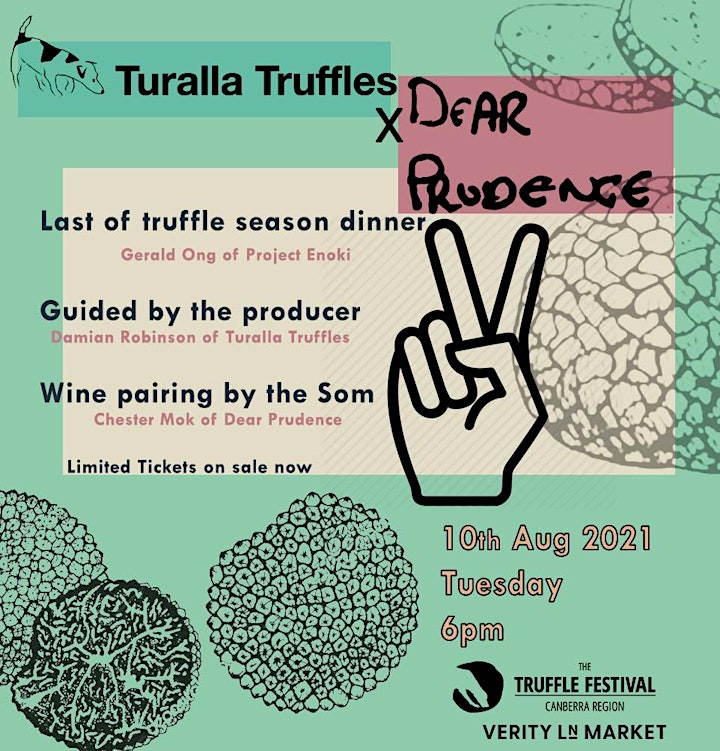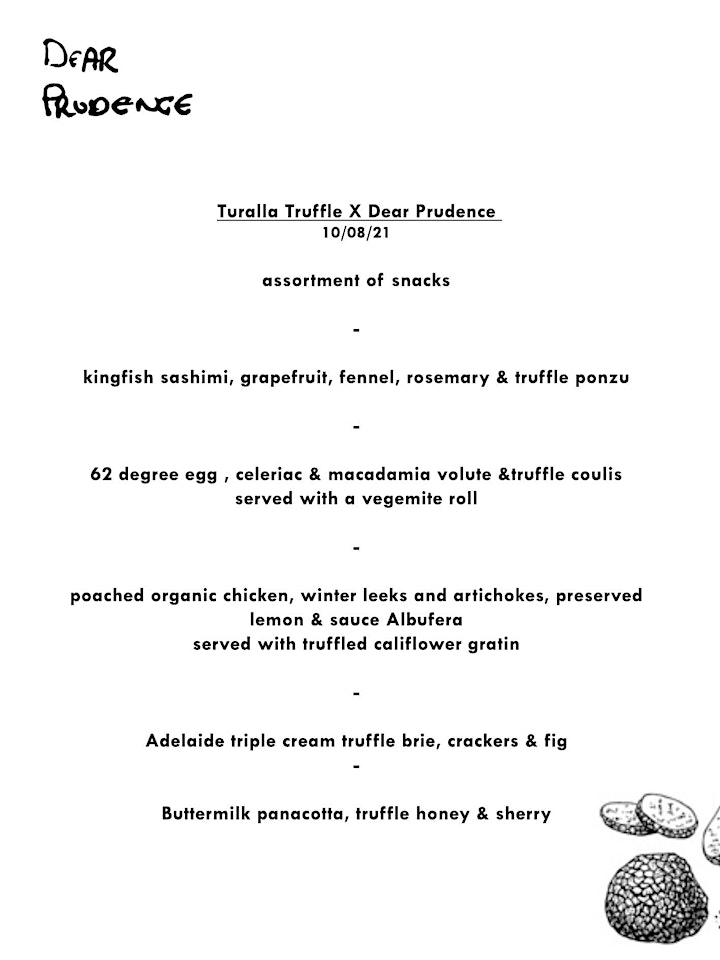 Organiser of Turalla Truffles X Dear Prudence Dinner 2: Last of the Truffle Season