Join our panel as they share their expertise, experiences and tips for successful tube feeding.
About this event
What is this event about?
Although many children in Australia are tube fed because of feeding difficulties, little is known about tube feeding success.
Join this FREE webinar to learn about tube feeding and what successful tube feeding looks like. The members of our panel will share their expertise and experiences as well as their top tips for tube feeding success. There will also be opportunity for audience members to ask questions. Although the event will be recorded, audience members will NOT be recorded.
Who should attend?
Anyone who is interested in learning about tube feeding or receiving or caring for an individual who is tube fed including parents, carers, other family members, clinicians and allied health professionals.
Who is organising this event?
This event is organised and hosted by Western Sydney University in collaboration with ausEE Inc, the Succeed Study Group, the SPHERE Early Life Determinants of Health (ELDoH) Clinical Academic Group, and the University of Technology Sydney.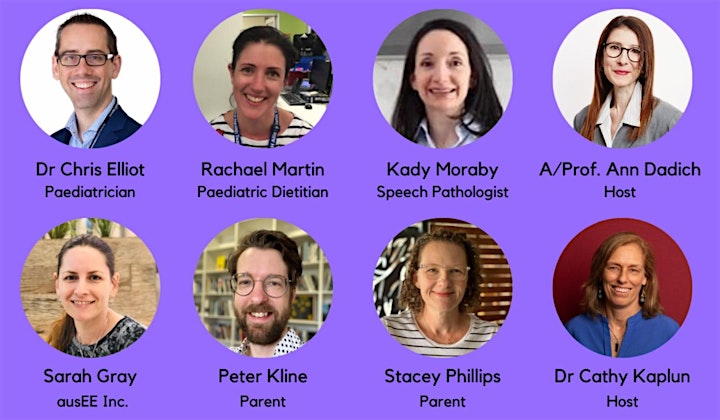 Our hosts
Associate Professor Ann Dadich is part of the Western Sydney University School of Business. She is also a registered psychologist, a full member of the Australian Psychological Society, and a Justice of the Peace in New South Wales. A/Prof. Dadich has accumulated considerable expertise in health service management, notably knowledge translation – that is, the processes through which different knowledges coalesce to promote quality care. A/Prof. Dadich supervises doctoral candidates and teaches undergraduate units on change management, innovation, creativity, and organisational behaviour.
Dr Catherine Kaplun is a researcher at Western Sydney University at the Transforming early Education and Child Health (TeEACH) Research Centre. As a researcher, Dr Kaplun emphasises parents' and children's roles and agency, especially in understanding advocacy and decision-making processes for children's health, development, learning and well-being. Dr Kaplun engages with representatives from government and non-government organisations and local community members interested in improving the lives of children and their families. Dr Kaplun mentors and supports colleagues and students and is passionate about sharing knowledge and understanding of preventative and participatory approaches in transdisciplinary research.