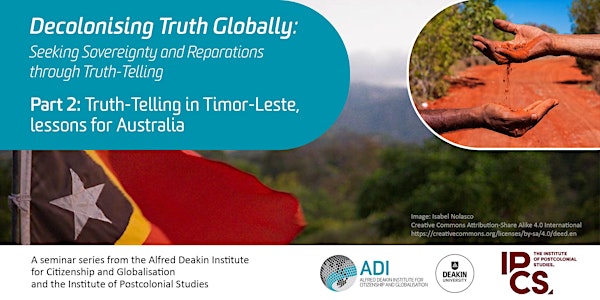 Truth-Telling in Timor-Leste, lessons for Australia
Part 2 of a seminar series on international experiences of truth-telling from ADI and IPCS
About this event
Decolonising Truth Globally: Seeking Sovereignty and Reparations through Truth-Telling
The Alfred Deakin Institute for Citizenship and Globalisation (ADI) and the Institute of Postcolonial Studies (IPCS) are running a series of seminars on international experiences of truth-telling with particular relevance to the unfolding conversation about truth-telling in Australia following the release of the Uluru Statement calling for Voice, Treaty and Truth in 2017.
The seminars are intended to foster a critically important conversation about the possibilities and challenges of truth-telling by drawing on experiences and processes in other global contexts. The series focuses particularly on truth processes that have impacted on Indigenous communities in order to share knowledge that may help inform an Australian truth-telling process.
Thus far, globally, truth-telling has often been linked to discourses of recognition and reconciliation within a multicultural project. While recognition and reconciliation remain important, our series explores what truth-telling with an explicitly decolonial focus might look like. It asks specifically how truth-telling can restore sovereignty and ensure reparations in a practical sense – what initiatives are necessary for this to happen?
Part 2: Truth-Telling in Timor-Leste, lessons for Australia
The Commission for Reception, Truth and Reconciliation in East Timor (CAVR: Comissao de Acolhimento, Verdade e Reconciliacao de Timor Leste) was initially established in 2001 under the UN Transitional Administration in East Timor (UNTAET) to investigate human rights abuses that occurred between April 1974 and October 1999 after the occupation of the country by the Indonesian military. This was the first such commission in Asia.
CAVR was housed in the Comarca, a former Portuguese and Indonesian prison, which today houses the Centro Nacional Chega!, the CAVR archive, and a museum open to the public.
During its work, over 10,000 statements were taken from victims and perpetrators, and public hearings were held which were broadcast on television and radio. The Commission delivered its 2,500-page report titled Chega! meaning "stop" or "enough" in Portuguese, covering human rights violations from 1974 to 1999, to the President of East Timor on 31 October 2005. The President then handed the report to the Secretary General of the UN as required by law, on 20 January 2006.
Chega! found that East Timor had suffered massive human rights violations, including violations of the right to self-determination, killings and disappearances, forced displacement and famine, detention and torture, violations of the laws of war, political trials, sexual violence, violations of the rights of the child, and violations of economic and social rights. It determined that the death toll during Indonesian rule had been between at least 102,800 and may have been as high as 183,000. It also concluded that the majority of deaths had been the result of actions by the Indonesian army, and that violence in 1999 was the result of a "systematic campaign orchestrated at the highest levels of the Indonesian government." The findings of Chega were affirmed in 2008 by the Indonesia–Timor Leste Commission of Truth and Friendship subsequently established by the governments of Indonesia and East Timor in August 2005.
Speakers
Pat Walsh
Pat Walsh worked in Timor-Leste 1999-2014. He was seconded by the UN to help establish and advise the truth and reconciliation commission (CAVR) and subsequently served as senior adviser to the Post-CAVR Technical Secretariat. He was one of the editors of Chega! the English version of the CAVR East Timor truth commission report released in 2014. In 2016 he was engaged by Prime Minister Rui de Araujo to help design a CAVR follow up centre of memory, now called Centro Nacional Chega!, which for which he continues to be an international adviser.
See Pat Walsh opinion piece on the relevance of the Timor-Leste truth process to the Australian context here.
Hugo Fernandes
Hugo Fernandes is Chief executive officer at Centro Nacional Chega! which is the history museum established to house the material generated by the Commission for Reception, Truth & Reconciliation (CAVR) process – documenting human rights abuses from 1974 to 1999.
Hugo Fernandes has more than 20 years of experiences in journalism, transitional justice and public policy. He was the Head of Truth Seeking Department at CAVR and Co-Managing Editor for CAVR's Report, Chega! Prior to this (2005-2008) he was also head of Timor-Leste's Research Team at Commission of Truth and Friendship (CTF), which was a bilateral commission established by Timor-Leste and Indonesia to resolve residual issues about 1999 human rights violations in Timor-Leste. He was also editor of the CTF report, Per Memoriam Ad Spem from 2005 -2008. Prior to CNC, I was Director of Policy and Institutional Strengthening Program at The Asia Foundation in Timor-Leste, from 2008 -2017. I am also a Member of Timor-Leste's Press Council for the period of 2016 -2020.
Lia Kent
Dr Lia Kent from the School of Regulation and Global Governance (RegNet) at the Australian National University has recently been awarded an ARC Future Fellowship for her project Local responses to missing persons and post-conflict peacebuilding. Lia, who was awarded the ARC Discovery Early Career Researcher Award (DECRA) in 2015, has been conducting research on peacebuilding in Timor-Leste for nearly 20 years. In her recent DECRA project on how East Timorese communities are remembering the violence of the Indonesian occupation, she documented the widespread practices of local communities and families in searching for, identifying, and reburying of the bodies of those who died during the 24-year Indonesian occupation.
Galuh Wandita
Galuh Wandita is Co-founder and Director of Asia Justice and Rights (AJAR), a non-profit human rights organization based in Bali since 2012. Previously (2002-2005) she was Deputy Director of the Commission for Reception, Truth and Reconciliation in Timor-Leste (CAVR). From 2006-2012, she was senior associate at the International Centre for Transitional Justice, responsible for programs in Indonesia and Timor-Leste. She is currently a co-convener of the Coalition for Justice and Truth in Indonesia, a member of a "citizen's council" tasked to seek the truth on Indonesia's past crimes.

Organiser of Truth-Telling in Timor-Leste, lessons for Australia
The Alfred Deakin Institute for Citizenship and Globalisation (ADI) is an internationally recognised and highly regarded social sciences and humanities research institute.

Our researchers aim to understand the complex meanings of citizenship, social inclusion and globalisation, and investigate the implications of these forces in our lives and communities.
Visit our website adi.deakin.edu.au