Description
Trusted Negotiator Bootcamp empowers business leaders and entrepreneurs to make a positive impact, build trust and collaboration.

Business, like life, is ultimately human. At it's core, it's an ongoing exchange between people. Hiring and firing. Clients and suppliers. Aligning teams and managing differences. Making offers, counter offers and high stakes agreements. These are but a few of the daily interactions we must all navigate.

Yet most people don't realise that all these conversations and decisions are negotiations. Your choices in these moments are what ultimately determine the outcome of your leadership, your business and your impact.
This 2-day intensive negotiation skills bootcamp is facilitated in a small groups of 12 people by two expert negotiators.
ENGAGE YOUR IQ + EQ + SQ
Successful negotiation employs emotional and spiritual intelligence, as well as strategic smarts. If you understand your own emotional state and how you're conveying it, as well as understanding that very same process in your counterpart, you can use that knowledge to leverage results. And if you truly understand the values and purpose of your own business and those of your partner then you are better positioned to shape consistent and productive "win-with"® negotiations.
Uncovering and developing your skills across these three areas is a matter of expert guidance, real-life practice in a "safe space" and insightful and on-point feedback.The Trusted Negotiator Bootcamp will take you through this process – you'll come out the other side a better-rounded negotiator, with the knowledge and confidence to put your new skills to work.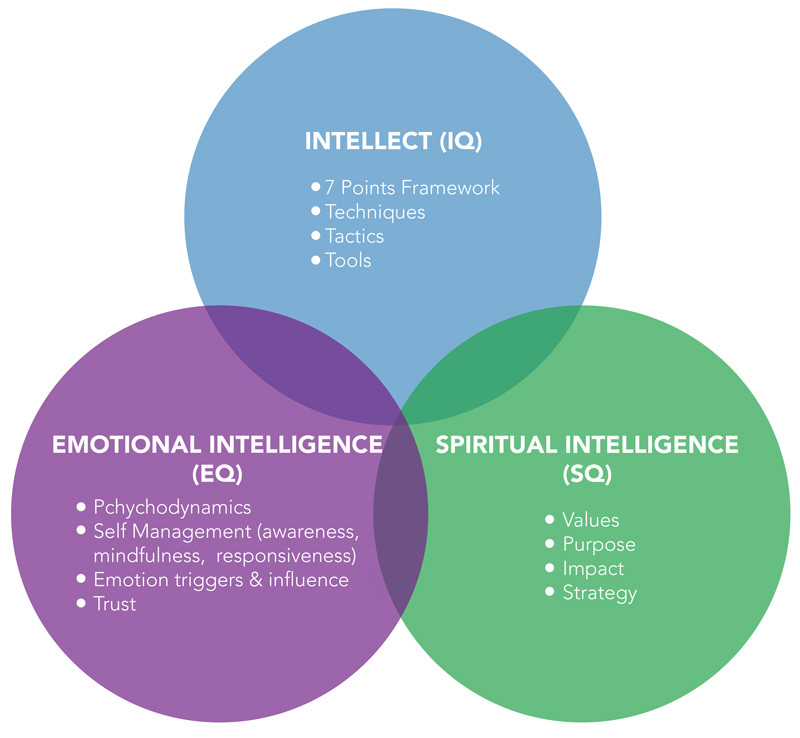 ABOUT THE APPROACH
We learn best by doing, when we feel safe to make mistakes.
Trusted Negotiator Bootcamp is an intensive and fully immersive learning and development environment designed to produce deep understanding of key knowledge, provide practical experience in its application and build confidence in implementation.
Bootcamp is an intentionally designed environment to enable a small group of 12 participants to experientially discover and experiment with tool, techniques, behaviours and ways of thinking in a safe space that is facilitated by two Trusted Negotiator Facilitators. Here you can role play, rehearse and practice in the context of carefully curated and progressively challenging deal simulations, which are designed to surface the learnings that are most important to you and your business.
With the help of a dedicated audiovisual technician, the deal simulations are captured on video and are replayed to the group with an accompanying real-time coaching debrief by the Facilitators, who help identify and unpack the learning opportunities, "catch the good" in participant behaviours in the deal simulations and provide relevant knowledge content.
Prepare to be challenged as well as supported to try new ways of "being" and "doing" things that make the biggest impact in negotiations. The Bootcamp is the essential training and preparation for "the Olympics"of your business life that demand the best of you. By going "all in" during deal simulations, you get the essential practice that doesn't put your busines and your own credibility, value or relationships at risk, so that you can feel confident and fully prepared when it comes to live action.
WHAT YOU WILL LEARN:
Discover and learn how to use the 7 Point Negotiation Framework to gain perspective, clarity, direction and control in navigating what is often a chaotic, intense and unpredictable dynamic

Develop a common methodology to Prepare and align your team for negotiations. Use the Preparation Sheet for internal review and adjustment to progress for optimum deal outcome

Understanding the Anatomy of a Deal and how your business Values, Culture and Leadership impact your negotiation process and outcomes

Learn how to shift from a Negotiation Dynamic from being combative/competitive to being collaborative to unlock more value for each party

Master how to counteract bullying and aggressive behaviours at the negotiation table

Discover how to build Trust to unlock more value in your strategic relationships and how to use negotiation opportunities to realise untapped Value

Gain clarity on how to connect your negotiation outcomes with overall business Strategy to ensure that a "good deal" doesn't get in the way of what's good for the business
Join us at this transformational experince and start your journey to become a Trusted Negotiator.
Watch a 2min Video abou the Bootcamp
If you need more info click here