We have assembled a leading panel to explore the important public issue of trust for the biomedical sciences and the impact of COVID 19
About this Event
Trust underpins relationships between people and their views on institutions. Trust is critical for a healthy, functioning society. It is the glue that allows people and institutions to share and collaborate and to advance human progress. Surveys and polls on the issue of trust indicate that Australians place a high level of trust in science and medical professionals.
The global COVID-19 pandemic has brought biomedical scientists and medical professionals into prominent public view more than any other time in living memory. The public, governments, businesses and medical institutions look to medical professionals to inform them about the nature of the disease and how to keep people and communities safe. This episode has raised the critical issue of people's trust of science and scientists.
Biomedical scientists are actively generating new knowledge, ideas and solutions to treat disease. Examples of important advances include genetic editing of DNA and gene therapies, the growing application of Artificial Intelligence, new nanotechnology-based cancer therapeutics, the 3D printing of human organs, the development of brain-machine implants and other medical devices, just to name a few. Continued public trust in science will be important if this research will contribute to improving the health of individuals.
We have assembled a leading panel to explore the important public issue of trust for the biomedical sciences and what impact, if any, the COVID-19 pandemic may have on this relationship:
Professor Grant McArthur, Executive Director, Victorian Comprehensive Cancer Centre
Ms Kylie Walker, CEO, Australian Academy of Technology and Engineering
Ms Anna Evangeli, Deputy Editor, Health+Medicine, The Conversation
Professor Robert Sparrow, Philosophy Program, Monash University
This event will also streamed live on the Convergence Science Network Facebook site.
OUR SPEAKERS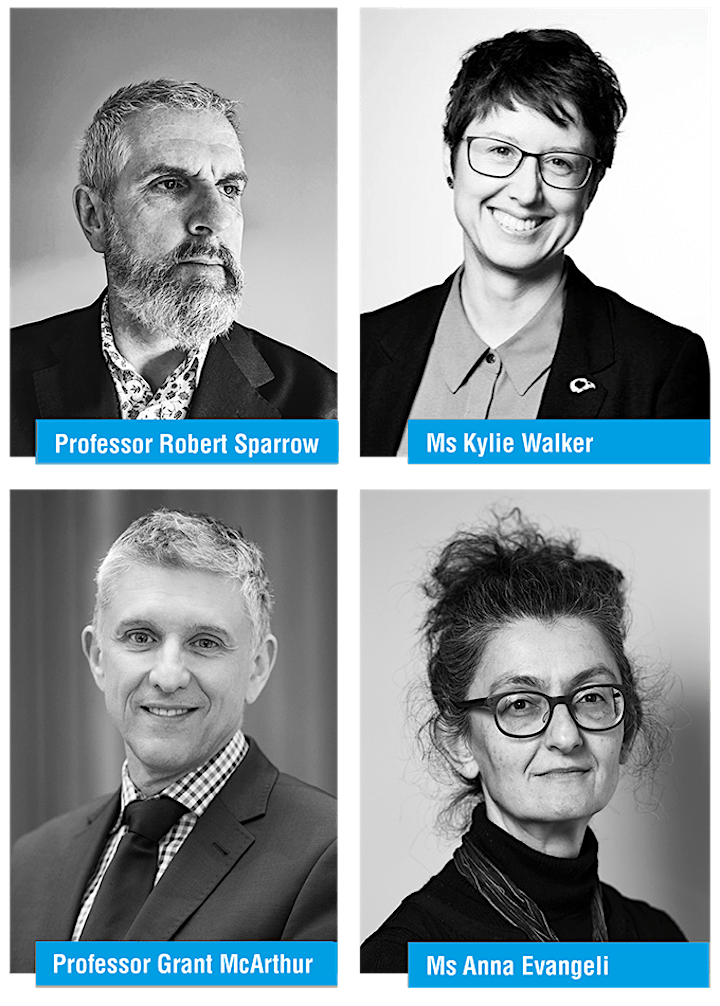 Professor Grant McArthur MB BS (Hons) Ph.D. FRACP FAHMS
Professor Grant McArthur is a Fellow of the Royal Australasian College of Physicians and holds a Ph.D. in Medical Biology. He is the Executive Director of the Victorian Comprehensive Cancer Centre; inaugural Lorenzo Galli Chair of Melanoma and Skin Cancers at the University of Melbourne and is a Senior Principal Research Fellow (NHMRC). He is also Head of the Molecular Oncology Laboratory and a Senior Consultant Medical Oncologist at the Peter MacCallum Cancer Centre.
Professor McArthur was the inaugural winner of the Translational Research Award of the Foundation Nelia et Amadeo Barletta, has held the Sir Edward Dunlop Clinical Cancer Research Fellowship of the Cancer Council of Victoria, was awarded the inaugural Martin Lackmann medal for translational research, received the Medical Oncology Group of Australia's Novartis Oncology Cancer Achievement Award and has been the recipient of the prestigious Tom Reeve Award from the Clinical Oncology Society of Australia.
He has been a national and international study co-chair of a number of clinical trials of targeted therapies. His research interests include discovery of novel drug targets in cancer, targeting oncogenes, immunological effect of targeted therapies, clinical trials of targeted therapeutics, personalised medicine, melanoma, cell cycle control, metabolism and protein synthesis in cancer.
Ms Kylie Walker
Kylie is the Chief Executive Officer of the Australian Academy of Technology and Engineering, where she has a mandate to lead crucial national conversations and strategy towards a thriving, healthy and connected Australia supported by technology.
She specialises in connecting technologists, engineers and scientists with governments, business, media and society – skills built over many years in senior federal communication and advocacy roles in the science, technology and health sectors.
As the immediate past CEO of Science & Technology Australia, Kylie led campaigns to increase investment in Australian research and development, and created the acclaimed Superstars of STEM program, championing Australian women in science, technology, engineering and mathematics.
Kylie is also Chair of the Australian National Commission for UNESCO and a visiting Fellow at the Australian National Centre for the Public Awareness of Science. In 2019, she was named in the 100 Women of Influence list by the Australian Financial Review, for her work on improving equity, diversity and inclusion in STEM.
Professor Robert Sparrow BA (Hons) (Melb.), PhD (A.N.U.)
Rob Sparrow is a Professor in the Philosophy Program, and a Chief Investigator in the Australian Research Council Centre of Excellence for Electromaterials Science, at Monash University, where he works on ethical issues raised by new technologies. He has published on topics as diverse as the ethics of military robotics, the moral status of AIs, human enhancement, stem cells, preimplantation genetic diagnosis, xenotransplantation, and migration. He is a co-chair of the IEEE Technical Committee on Robot Ethics and was one of the founding members of the International Committee for Robot Arms Control.
Ms Anna Evangeli
Anna Evangeli is Deputy Editor, Health + Medicine, The Conversation. She has been a health and science journalist for 30 years, and is also an experienced workshop presenter and  educator. Before The Conversation, she edited science news at the ABC, and taught journalism, media ethics and law, and professional practice at two universities.
Anna has an MA in journalism from UTS and a BSc (Hons) in biochemistry (University of Kent). She is also an award-winning blogger and travel writer.
In her spare time, Anna designs buildings, which she sees as another way of communicating complex, technical ideas, in a creative way, to a variety of audiences.