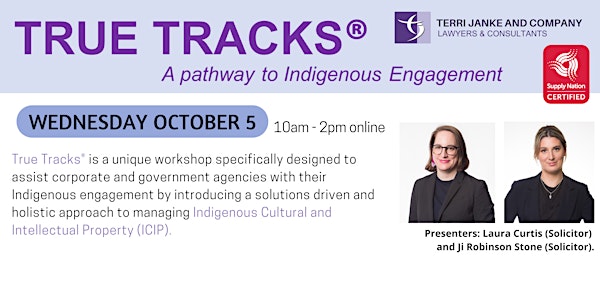 True Tracks®: a pathway to Indigenous engagement (Wednesday 5 October 2022)
Refund policy
Refunds up to 7 days before event
Eventbrite's fee is nonrefundable.
True Tracks® is a unique workshop on Indigenous engagement and managing Indigenous Cultural and Intellectual Property (ICIP)
About this event
True Tracks®: a pathway to Indigenous engagement
True Tracks® is a professional development workshop designed to assist corporate and government agencies with their Indigenous engagement programs, by introducing a solutions driven and holistic approach to managing Indigenous Cultural and Intellectual Property (ICIP).
The True Tracks® method has already been successfully applied to a range of industries and agencies, including; information technology, construction, communication, design, museum & gallery, science, research, arts and education.  At varied levels of federal, state and local government, non-government organisations and ASX listed entities.
Do you need guidance with:
Dealing with Indigenous cultural heritage material (e.g. visual art, plant knowledge, language), but not sure who to ask or how to do it?
Commissioning Aboriginal or Torres Strait Islander artwork, but want to know the best approach?
Recording Indigenous knowledge?
Employing Aboriginal or Torres Strait Islander people?
Engaging Indigenous suppliers?
Wanting to know how lead agencies and top corporates are managing their Indigenous engagement?
Realising a calm, holistic and proactive approach to Indigenous issues will be more effective than an urgent, stressed, band aid approach?
We have the answers!
True Tracks® is a unique workshop that respects the legalities of matters, presents a variety of interesting case studies and provides effective solutions. It will assist you with:
Identifying Opportunities: the true value of Indigenous contributions;
Engagement & Pathways - how to build respectful and productive relationships with Indigenous people;
Indigenous Cultural & Intellectual Property (ICIP) – an introduction;
Policies & Protocols – how Indigenous cultural expression and knowledge can enhance your Corporate brand;
Contracts & Clauses – how to use written contracts and important clauses that every agreement should include;
Disputes - methods for anticipating, preventing and resolving disputes;
Case Studies – learn from the experiences of others;
Where to go for help and advice;
Checklist - the True Tracks 10 Point Checklist.
Wednesday 5th October 2022
10:00am - 2:00pm (AEST) *online*
Your True Tracks® co-presenters will be:
Laura Curtis is a Solicitor at Terri Janke and Company with expertise in legal and policy drafting, governance issues and legal perspective on the management of arts and culture. Laura has assisted a broad range of clients across museums, galleries, government agencies and non-government organisations.
Ji Robinson Stone, Solicitor, is a proud Dhurug woman. Ji is passionate about intellectual property and particularly the use and protection of Indigenous Cultural Intellectual Property (ICIP). Ji has experience working in hospitality, policy management and the media and entertainment industry. Specifically, Ji has worked in the legal practice areas of media, insurance, criminal and intellectual property law.
For more information email tjc@terrijanke.com.au or call +61 2 9693 2577