Experience hai con lân việt kiều (Two overseas Vietnamese unicorns), the first solo exhibition of emerging artist Truc Truong.
About this event
TRUC TRUONG: hai con lân việt kiều (Two overseas Vietnamese unicorns)
4 February - 6 March
4A @ 113-115 William St, Darlinghurst, Sydney, NSW
4A Centre for Contemporary Asian Art presents hai con lân việt kiều (Two overseas Vietnamese unicorns), the first solo exhibition of emerging Vietnamese-Australian artist Truc Truong. Accompanied by a series of playful performances, hai con lân việt kiều showcases a bespoke refashioning of traditional lion dance ensembles. By reinventing the costume, Truong delves into the tradition of lion dancing and how the cultural ritual has come to reflect the diasporic nature of multicultural Australian identities.
The costumes use panels of Truong's own clothing, draping out from beneath traditional Vietnamese lion heads. By utilising material assemblage and fabric bleaching to alter the lion dance costume, Truong articulates the nuances and challenges of assimilation, its impacts on her own familial history and the 'alterations' faced by Asian-Australian migrants in an era post-colonisation. Typically, lion dancing symbolises the removal of unwanted spirits. Here, Truong depicts how the fighting lions can transform and become microcosms of Asian-Australian generational wisdom.
The series of contemporary lion dance performances will be held in Haymarket to herald Lunar New Year. Breaking with tradition, these performances showcase costumes by Truong, embodied and activated by dance performers. Donning a bespoke refashioning of the traditional lion dance costume hand-made by the artist, the performers will perform a celebratory dance that seeks to rid the world of the misfortune of 2020 and welcome a year of prosperity and happiness.
For many, hai con lân việt kiều enacts an unexpected encounter, helping to reignite the Sydney CBD's vibrancy over the summer festival period. In the past, traditional lion dances have been a common occurrence during Lunar New Year throughout Haymarket. hai con lân việt kiều represents an artistic response to the Lunar New Year tradition and the unprecedented changes that have impacted this annual ritual. The project ensures contemporary performance art reaches new audiences in an accessible and captivating way, heralding a new year and celebrating the dynamism of the local, vibrant Haymarket community.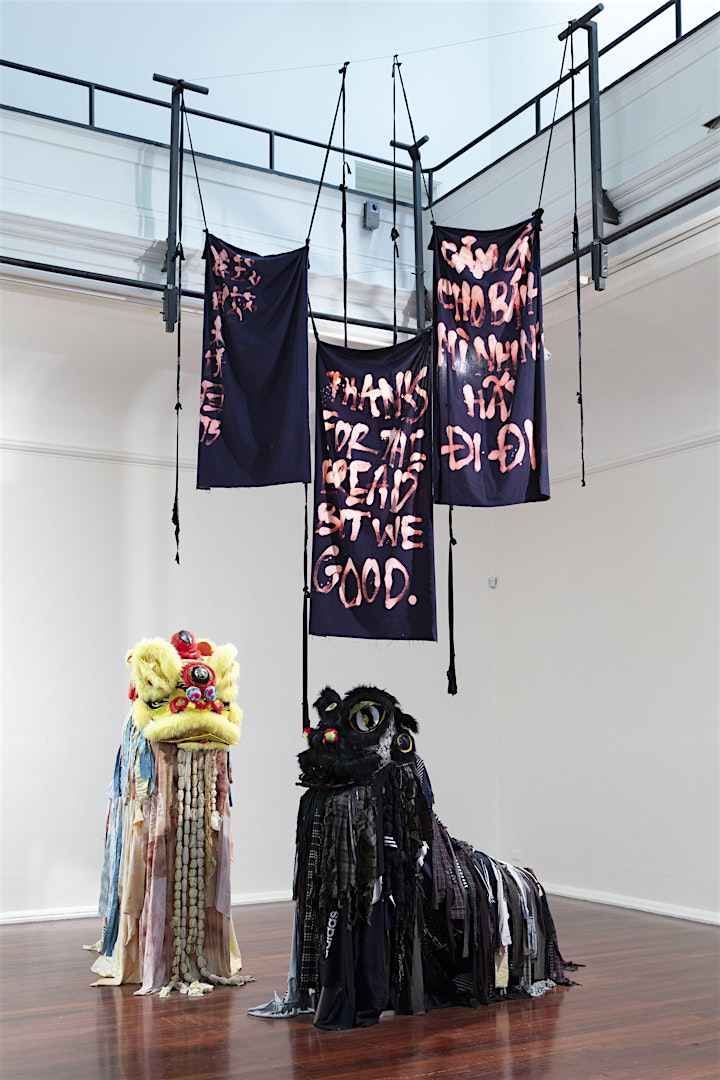 Organiser of Truc Truong: hai con lân việt kiều
4A Centre for Contemporary Asian Art fosters excellence and innovation in contemporary Asian and Australian culture through research, documentation, development, discussion and presentation of contemporary visual art.
We believe that Asian cultural thinking will have an important impact on the future. 4A's aim is to ensure contemporary visual art plays a central role in understanding the dynamic relationship between Australia and the Asia-Pacific region.
4A has a distinctive approach to addressing Australia's cultural diversity through a dynamic program including local and international exhibitions, public programs, workshops, seminars, symposiums and community activities. These have been recognised locally and internationally as having raised awareness of Asian-Australian art and culture and Australia's place in the Asia-Pacific region.