TR!P 18 : TRANCE CLASSICS EDITION
About this event
TR!P 18 : TRANCE CLASSICS EDITION
*** NEW DATE ***
After a smashing 4th Birthday event Trip is back on the Grand Final Long weekend with something a little bit different. At this edition of TR!P take on the uplifting sounds of Classic Trance! Think records produced by Trance legends such as Paul V Van Dyk, Ferry Corsten, Armin Van Buurern, Tiesto, Transa, Above & Beyond, Lange, The Thrillseekers, Mike PUSH to name a few.
These tunes were a staple in most of our lives growing up but have been a bit neglected in the clubbing scene of late, and since TR!P is all about the Classic Vinyl Bangers, we thought we'd do us all a favour and bring them to our home bass of 24 Moons.
We hope you'll join us on this journey as we snap, crackle and pop our way back into the golden years of Trance!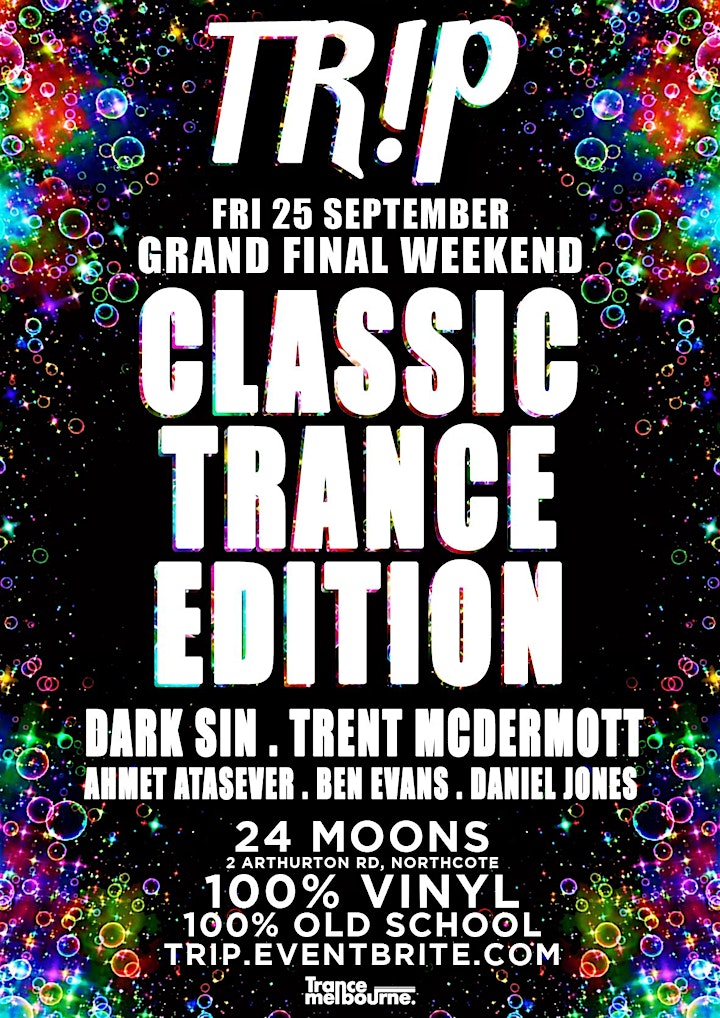 [ f u l l . l i n e u p ] - [ 100% V I N Y L ]
DARK SIN
TRENT MCDERMOTT
AHMET ATASEVER
BEN EVANS
DANIEL JONES
[t h e . m u z z a n i n e ]
To be opened if we reach a minimum number of tickets sold.
[ p r e ' s ]
TBA
[ d a t e ]
Grand Final Long Weekend
Saturday 25 September, 2021
9PM to 5AM
[ h o m e b a s e ]
24 Moons
2 Arthurton Road
Northcote, VIC
[ t i c k e t s ]
Early Birds [ $ 20 ] [ SOLD OUT ]
First Release [ $ 25 ] [ SOLD OUT ]
Second Release [ $ 30 ] [ SOLD OUT ]
General Admission [ $ 35 ] [ ON SALE ]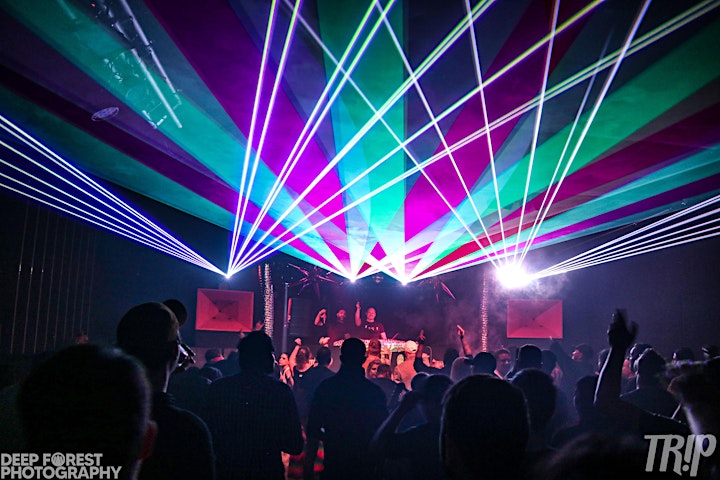 [ t r i p . t r i b e . v i b e . g u i d e ]
TR!P is not just your average club night, and we are not just your average punters. We are a Tribe. Our values lie in being able to experience a wholesome family vibe full of smiles and hugs and laughter amongst the rocking classic tunes being played on vinyl by some of the best in the business.
If you have been to a Trip event before then you will know that every effort will be made to provide you with an experience that you will no doubt come to find is unique with Trip events.
When you buy a ticket to one of our events you are not only getting yourself a rocking night out, you are also supporting a movement.
You are joining a Tribe of like minded individuals who's connections grow stronger by the minute and who's main ethos is to try and reduce the amount of suffering in our community, one bass line at a time.
So on that note, I'd like to welcome you to the family if you are new here, and thank you all for being a part of this journey so far.
Sin.
[ j o i n . t h e . t r i b e ]
facebook.com/groups/wearetrip
facebook.com/TripEventsMelbourne
tripper.club
trancemelbourne.com
darksin.tv
Organiser of TR!P 18 : TRANCE CLASSICS EDITION