Sales Have Ended
Ticket sales have ended
TR!PPERS! Ticket sales have now ended!
Sales Have Ended
Ticket sales have ended
TR!PPERS! Ticket sales have now ended!
TR!P'S 4TH BIRTHDAY | [ THE BATTLE OF THE BOSSES ]
About this event
TR!P 17 : THE 4TH BIRTHDAY
[ T H E B A T T L E O F T H E B O S S E S ]
Trippers, unite! We missed our 3rd birthday celebration last year due to the world being broken so we are making this one extra special by bringing in the big bosses of 4 of Melbourne's most illustrious old school rave families!
All 4 will come together under the roof of the new kids on the block in our Hard Trance scene for a night of banging old school classics the way we used to do it; on 100% vinyl.
[ J A S O N M I D R O ] - [ bass station ]
Join us as we welcome into our Tribe Melbourne's undisputed godfather of Hard Trance, Jason Midro! No name in our city is more synonymous in our scene than the mastermind behind the massive Bass Station brand and the world class Hard NRG CD series that was a staple in the lives of every raver and rocker in the early 2000's.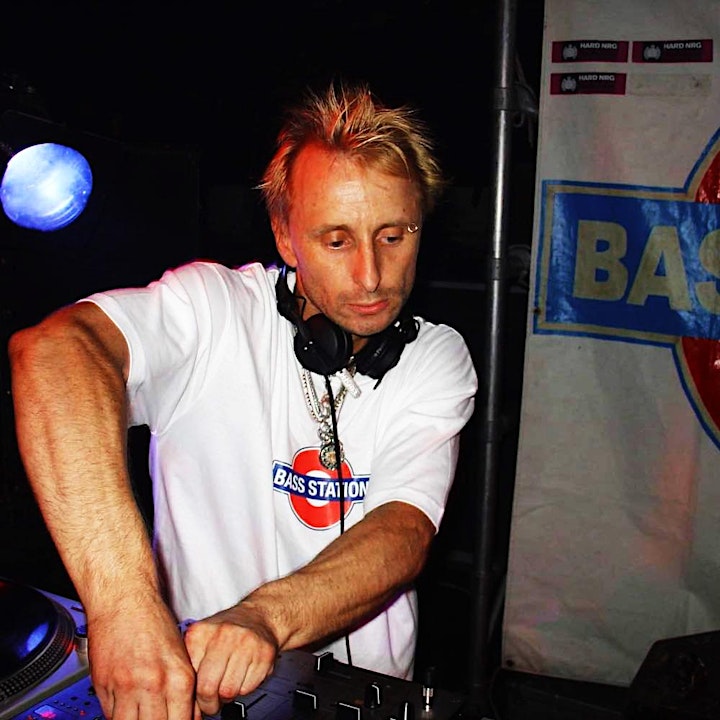 It's with great joy and honour that we welcome Jason into our tribe along with the other other 3 heads of massive Melbourne establishments who have already made their mark on the Tribe in past events, we welcome from HARD KANDY, PURE HARD DANCE & ELEVATION dj's Scott Alert, Soul T & Andy Golden.
[ f u l l . l i n e u p ] - [ 100% V I N Y L ]
JASON MIDRO [ B A S S S T A T I O N ]
SOUL T [ P U R E H A R D D A N C E ]
SCOTT ALERT [ H A R D K A N D Y ]
ANDY GOLDEN [ E L E V A T I O N ]
DARK SIN [ T R ! P ]
Along with these legends we are also very excited to bring you 'The Muzzanine!' The 'Muzzanine' is all about showcasing trip tribe talent and bringing you all a different taste in tunes that you wouldn't usually hear at a TR!P event. On the night we'll have:
BASS CRASHER | BLKDRVGON | MR RELAX | RAZZPUTIN | ROB NOLAN
PLUS KEPLERS YARD OPEN FOR PRE'S FROM 6PM featuring:
PETER APOSTLE
DISCO CASANOVA
6FIVE
[ d a t e ]
Saturday 15 May, 2021
6PM to 5AM
[ h o m e b a s e ]
24 Moons
2 Arthurton Road
Northcote, VIC
[ t i c k e t s ]
Early Birds [ $ 2 5 ] - SOLD OUT
First Release [ $ 3 0 ] - SOLD OUT
Second Release [ $ 3 5 ] - SOLD OUT
General Admission [ $ 4 0 ]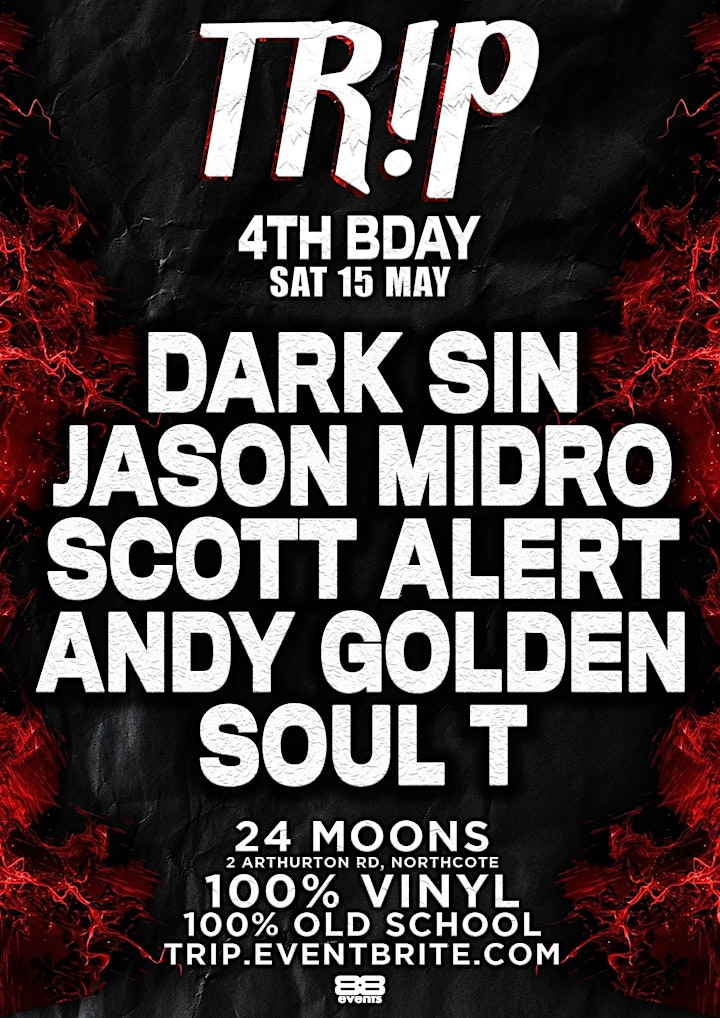 [ t r i p . t r i b e . v i b e . g u i d e ]
TR!P is not just your average club night, and we are not just your average punters. We are a Tribe. Our values lie in being able to experience a wholesome family vibe full of smiles and hugs and laughter amongst the rocking classic tunes being played on vinyl by some of the best in the business.
If you have been to a Trip event before then you will know that every effort will be made to provide you with an experience that you will no doubt come to find is unique with Trip events.
When you buy a ticket to one of our events you are not only getting yourself a rocking night out, you are also supporting a movement.
You are joining a Tribe of like minded individuals who's connections grow stronger by the minute and who's main ethos is to try and reduce the amount of suffering in our community, one bass line at a time.
So on that note, I'd like to welcome you to the family if you are new here, and thank you all for being a part of this journey so far.
Sin.
[ j o i n . t h e . t r i b e ]
facebook.com/groups/wearetrip
facebook.com/88EventsMelbourne
tripper.club
trancemelbourne.com
darksin.tv
Organiser of TR!P 17 : Our 4th Bday feat. Jason Midro