Event Information
Location
Alchemix Recording Studios
24 Brereton Street
#4
South Brisbane, QLD 4101
Australia
Troth (nsw) live at Alchemix Recording Studios in support of their new album 'Small Movements in Radiance' out via Not Not Fun (USA)
About this event
TROTH (nsw)
PHROSE & FECAL PALMS (nsw)
COCK SAFARI (ex-nsw)
REPTILE
Live at Alchemix Recording Studios, 4/24 Brereton St South Brisbane
7PM Saturday 12th June 2021
$10 (+bf) / AA & BYO / Limited seating
---
Troth is a Newcastle (NSW) duo comprising Amelia Besseny and Cooper Bowman (Altered States Tapes). Together they fashion ethereal environs from vocals, electronics, zither, tape loops and sampled percussion & piano.
Troth are touring Brisbane in support of their new album 'Small Movements in Radiance' out via Not Not Fun (USA) with supports from:
Phrose & Fecal Palms (Lismore, NSW) - an exciting new duo collaboration between Phoebe R. (Tralala Blip) & Michael D. (Unwar, 6Majik9, Hashram/MYMWLY)
Cock Safari - Michael L. Grog Pappy label head, one-half Mermaid
Reptile - very rare outing for the duo collaboration between Leif (LG, Slupr) & Ben (Tistriallal Binds, Slupr)
Live at Alchemix Recording Studios in South Brisbane - owned & operated by legendary producer/engineer/artist Marly Luske (Tidy Kid, Disembraining Machine, Oscilloscape et al)
7PM Saturday 12th June 2021. $10 (+bf) entry, very limited seating & tickets. All-ages & BYO.
--
This project is carried out on the unceded lands of the Yuggera and Turrbal peoples. We acknowledge that sovereignty was never ceded and pay our respect to elders past, present and emerging.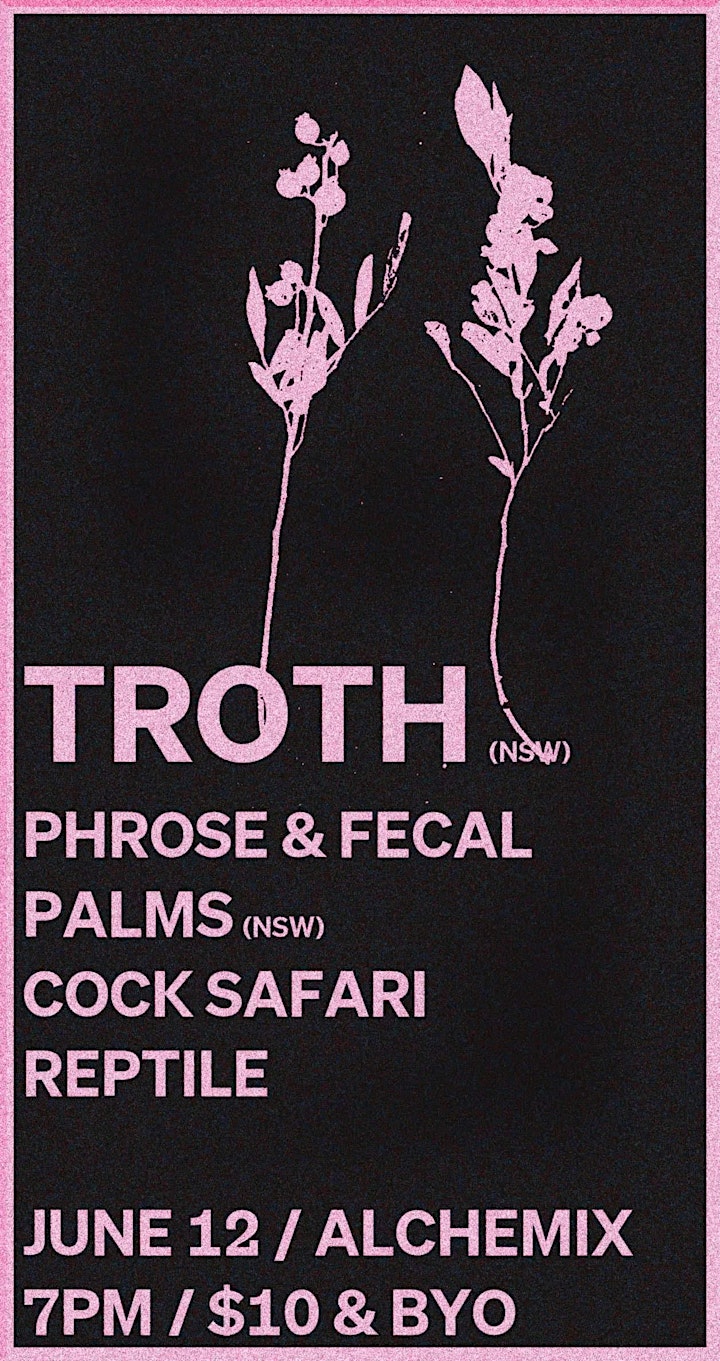 Date and time
Location
Alchemix Recording Studios
24 Brereton Street
#4
South Brisbane, QLD 4101
Australia