Actions and Detail Panel
Tropical Fruits GLAMATRON NYE Festival 2016
Sat., 31/12/2016, 8:00 pm – Mon., 02/01/2017, 1:30 am AEDT
Description
GLAMATRON NYE FESTIVAL 2016

TICKETS ON SALE SEPTEMBER 1ST!


[START TRANSMISSION]
This New Year's Eve marks a break with social order, a radical, cyberpunk-journey beyond binary and into a new dimension.
Glamatron is your sexy, spandex-wearing, laser-eyed cyber host, beckoning you on a ride into the wormhole of sight and sound. Funk, jump and crank in Arena's fluorescent Interplanetarium geode, or jack-in to the stomp and hard circuitry of the Motherborgboard in Trade. Set down in the space opera high glam of Cabaret, or float weightlessly through space in the digitised projections of a world beyond time.
Let yourself be broken down into the data stream. Digitise your body and mind. The future is promised to no one... let Glamatron take you there
[END TRANSMISSION]
DJs
Alex Taylor ~ Amanda Louise ~ Chip ~ Colin Gaff ~ Elschorcho ~ Fradge ~ Kiti ~ Kylie Rose ~ L.Y.D.I.A ~ LADY K ~ Magu ~ Meta Etcetera ~ Papa Tom ~ Platypuss ~ Sandi Hotrod ~ Somerville & Wilson ~ Sveta
... And more to be announced...
Events

Parade: December 29th, 4pm

NYE Party: December 31st, 8pm-6am

Pool Party: January 1st, 10am-4pm

Recovery Party: January 1st, 4pm- 1:30am

Camping and Volunteering: December 27th - January 3rd
Camping ~ Volunteering ~ Cabaret ~ Cafe ~ Bar ~ Art Exhibition ~ Music ~ Parade
About Buying Tickets
Tickets available are:
Earlybird NYE (reduced price NYE, available for a short time only)


NYE

Three Party Pass (granting entry to NYE, Pool Party and Recovery Party)
All tickets are available as:

Member (current financial members of Tropical Fruits only, member number required)

Concession (current student, senior, pensioner, low income HCC, emergency services concessions accepted)

Guest (everyone else- general admission)
To renew or become a member, click here.
Attendees are required to provide proof of membership or concession status when collecting their armbands, or be liable to pay the full price for tickets.
All tickets will incur a service fee and credit card fee.
TICKET PRICES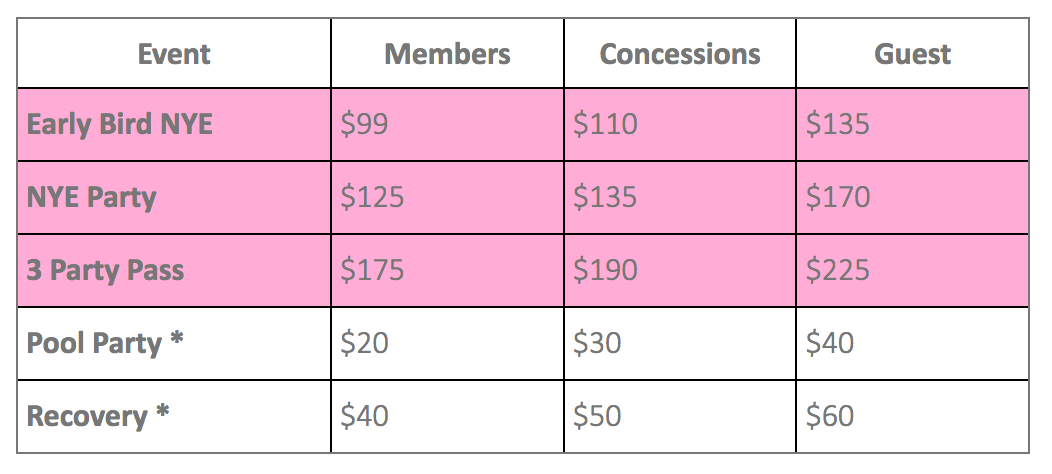 * These Single Party tix only available at the door
How to Book Camping

Camping is available for booking by ticket purchasers only. Once you have selected your ticket types, camping can be purchased per person in the 'additional items' section of the booking form.
For more info about camping click here.
This is a GLBTI+ 18+ Event.