Clark Partners Real Estate Presents WBW Trivia Night, Hosted by Think Trivia, Supporting 2 Brothers living with Duchenne Muscular Dystrophy.
About this event
Welcome Again! To the Annual WBW Trivia Night 2021, hosted by Think Trivia, Presented by Clark Partners Real Estate, join us for a night of brain power, games and laughs. All proceeds from Auction and Raffles to Williams Brothers Wish Inc, supporting the Williams Brothers who live with Duchenne Muscular Dystrophy, in their endeavour to reach their fundraising goal of a Kia Carnival to transport 2 wheelchairs.
Event Information:Teams of 5 or 10 people. Individuals Welcome! (Williams Brothers Wish will assist in finding teams for individuals wishing to participate, please email interest - williamsbrotherswish@gmail.com)
Ticket $30 (includes Free gift). $300 Cash Winning Team, Cash Bar, Auctions, Raffles, Lucky Door Prize, Food available for purchase from Leagues Bistro, Tea/Coffee included.
Thanks for your support!
#williamsbrotherswish #wbw #duchennemusculardystrophy #aranaleaguesclub #thinktrivia #clarkpartnersrealestate #anorafoundations #kidsplayOT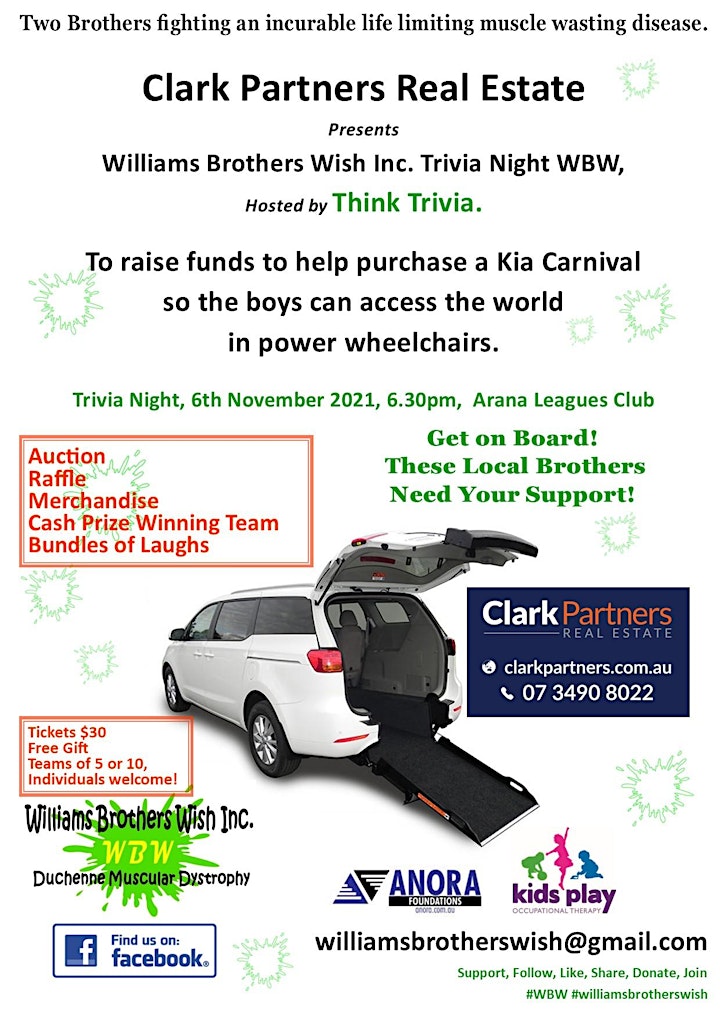 Organiser of Trivia Night WBW
TWO BROTHERS, SHARING ONE INCURABLE MUSCLE WASTING DISEASE AND A FAMILY DETERMINED TO MAKE THEIR IMPOSSIBLE LIFE POSSIBLE AND EXTRAORDINARY. WILLIAMS BROTHERS WISH INC. CHARITY IS THE RESULT.
SUPPORT THE WILLIAMS BROTHERS IN THEIR FIGHT AGAINST AN INCURABLE MUSCLE WASTING DISEASE, DUCHENNE MUSCULAR DISTROPHY.