Description
As business slows down it is time to reflect on past performance and find ways to improve your results.
Are your tender and bid submissions in need of critical care?

Ask yourself this question: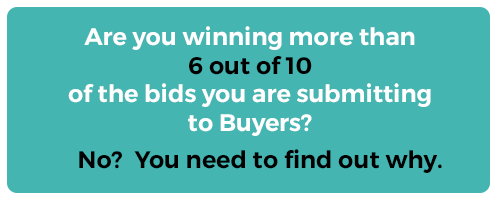 "Triage Your Tender" is a 1 day workshop that will help you improve your tender responses and win more business. Find out where you have been going wrong and what to do about it.


This course is for you if:
you are submitting bids and tenders and have a low success rate

you have had a recent tender (which you thought was going to win) and didn't

you are interested in improving what you already submit

have been to other workshops, but need a practical, real assessment of what you are submitting.

Here's what we will cover:
We will:
show you how the buyer evaluates tenders, and help you conduct your own "buyer evaluation" on a past tender that you bring to the day

demystify what's behind the evaluation criteria, and know what they want in your response

Help you structure your responses so that you meet all their requirements.

Here's what you will get from us:
Gain insights into how your tenders score when they are being evaluated

Real-world applications of what we teach: we can look at your own bids and show you how to increase your chances of success

The skills that will raise the quality of your bids to a new level

Support after the workshop (with helpful guides, templates and special rates to future workshops).

What makes us different:
We run small, intimate workshops - rather than sit you in a room with up to 50 people (where your voice could get lost), our workshops are designed to be more of a 'working lunch' than a classroom. You will have the freedom to ask questions, seek help, and work in a comfortable, safe environment.

We are not salespeople or marketers - our background is in procurement, all aspects of government, ICT, utilities and the resources industry. We know what we are talking about, because we have been on the other side before.

We offer practical help working with your own, real tenders by stepping you through how the Buyer would have evaluated it. But before we get there, we show you an example of what good looks like.


Meet the facilitator for the day - Sue



As a former Director in the Department of Treasury and Finance, Sue led the procurement of whole of government IT&T services before retiring from the public service in 2003. Since then she has worked as a bid manager, supply chain consultant and management consultant.
Sue has developed and run a range of public and private workshops assisting companies develop meaningful requirements specifications and successful tender responses. In addition she lectured MBA students for many years in Marketing Management, Strategic Procurement and Business Performance.
The ultimate goal of BidBuddy is to enable organisations to consistently and successfully compete in the post- boom economy. We do this by providing tender readiness consulting and advice, training, web copy writing, and tender writing services.
In addition to certificates in Supply Chain Management and Project Management, Sue holds a Masters in Leadership & Management (majoring in Strategic Procurement and Marketing), and is a certified Master in Neurolinguistic Programming.