TREND SPOTTING Speaker Series with Multi-Disciplinary Experts @QUTfoundry

Tuesday, 5 March 2019 from 5:00 pm to 7:00 pm (AEST)
Event Details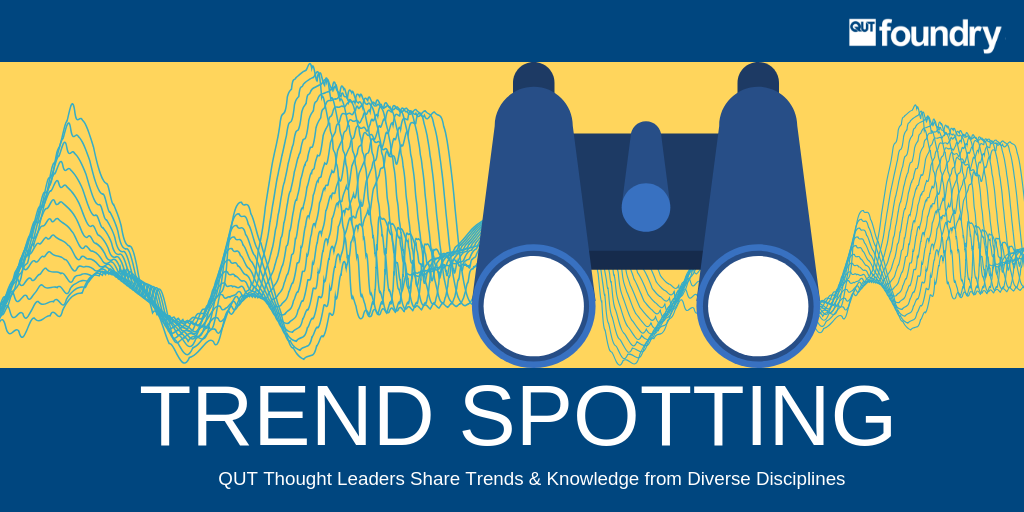 TREND SPOTTING with Multi-Disciplinary Experts 
New knowledge is a foundation for innovation and entrepreneurship.
At QUT we have domain experts with an advantageous early awareness of what's on the horizon, including important signals to heed.
Early knowledge of key trends, technologies & research insights, gleaned from domain experts, can inspire new ideas, new connections, and enable new opportunities.
Join us at the launch of QUT's Trend Spotting speaker series. You will hear from a number of thought leaders, renowned for their disciplinary expertise and real world connections.
Light refreshments will be provided for attendees.
This event, hosted by QUT foundry, is open to the QUT community and wider public.  
GUEST SPEAKERS:

Professor Patrik Wikstrom
Professor Wikstrom is the Associate Dean, Research in the Creative Industries Faculty.  His discipline areas are Communication and Media Studies, Business and Management and Econometrics. Professor Wikstrom uses and develops computational methods to examine the dynamics and regulatory challenges of networked markets, with a particular focus on markets for cultural products.

Professor Matthew Rimmer
Dr Matthew Rimmer is a Professor in Intellectual Property and Innovation Law at the Faculty of Law, at the Queensland University of Technology (QUT). He is a leader of the QUT Intellectual Property and Innovation Law research program, and a member of the QUT Digital Media Research Centre (QUT DMRC) the QUT Australian Centre for Health Law Research (QUT ACHLR), and the QUT International Law and Global Governance Research Program (QUT IP IL). Matthew has published widely on copyright law and information technology, patent law and biotechnology.

Professor Kerrie Wilson
Professor Kerrie Wilson is the Executive Director of the Institute for Future Environments at Queensland University of Technology (QUT).  Before joining QUT in January 2019, Kerrie was the Director of the Australian Research Council (ARC) Centre of Excellence for Environmental Decisions and an ARC Future Fellow at The University of Queensland. Kerrie has two decades of experience leading and conducting research into the science, strategy and policy of conservation. She is particularly interested in applied resource allocation problems, such as how to invest limited resources to protect or restore biodiversity and what sociopolitical and institutional factors influence investment success in conservation.

Professor Remco Polman
Professor Remco Polman is the Head of School, Exercise and Nutrition Sciences in QUT's Faculty of Health. Prior to joining QUT, Remco Polman was Head of the Psychology Department at Bournemouth University, research Professor and Program leader at ISEAL, Victoria University, Melbourne and Professor of Sport and Exercise Sciences and Director of the Centre of Applied Sport and Exercise Science at the University of Central Lancashire, Preston UK. Remco's research interests are diverse and include stress, coping and emotions in sport and exercise, the psychology of (sport) injury rehabilitation; personality and sport and exercise (Mental toughness, Type D personality), exercise psychology (special populations) and healthy ageing (interaction between psychological and biomechanical factors).

Professor Gene Moyle
Professor Gene Moyle is the Assistant Dean, International and Engagement in QUT's Creative Industries Faculty. A graduate from the Australian Ballet School, QUT Dance and after having danced with the Australian Ballet Dancers Company and Queensland Ballet, Gene pursued further studies in psychology completing University degrees including a Masters and Doctorate in Sport and Exercise Psychology. Working across the performing arts, elite sports and the corporate sector, Gene has focused upon the application of performance psychology and performance enhancement within these domains. Gene has supported a number of Olympic Winter sports programs across three Olympic cycles (Torino 2006, Vancouver 2010, Sochi 2014), and has worked extensively within the elite sporting system at both State and National level across Winter and Summer Sports in both service provision and leadership roles. Gene's research focus has centred upon studies across both dance and elite sporting domains.

Bob O'Connor
Bob leads the QUT Graduate School of Business and QUTeX, a multidisciplinary school that specialises in MBA, executive and professional development programs designed to develop leaders with the competence and confidence to succeed in complex, ambiguous, emergent environments. He has led the Graduate School of Business since 2011, building the capability and reputation of the School with innovative MBA, EMBA and executive education programs. In 2017, the QUT EMBA was ranked #1 in the nation by the Australian Financial Review Boss magazine.

Dr James Davis
Dr James Davis is a Lecturer in STEM & Entrepreneurial Education in the School of Teacher Education & Leadership in QUT's Faculty of Education. Dr James Davis has a career background spanning commerce, science and education. As Faculty Entrepreneurship Leader he recently embedded entrepreneurial thinking into the Faculty of Education in teaching, professional development and research. James lectures in STEM and entrepreneurial education. In his PhD, entitled "A Study of the Emotional Essence of Analogical Reasoning in Secondary School Science," he explored the emotional experiences of students when thinking and learning with analogies. This work frames his current research program that seeks to understand the interplay between cognition and emotion in classroom based learning situations.

Astrid Kensinger
Astrid Kensinger is a Lecturer in Interactive and Visual Design, School of Design, in QUT's Creative Industries Faculty.

Professor Anthony Clarke
Professor Clarke is the Director of Research, School of Earth, Environmental and Biological Sciences at QUT's Science and Engineering Faculty. Fresh produce is essential for healthy communities, while horticulture is the fastest growing agricultural sector across the globe.  Unfortunately, in nearly all parts of world, fleshy fruits and vegetables are subject to infestation by fruit flies.  These insects lay their eggs into fruit, where the eggs hatch into maggots which feed in the fruit.  If uncontrolled, fruit flies can destroy 20-100% of a  crop.  I am an acknowledged world leader in researching the biology and management of fruit flies, particularly those native to Asia, Australia and Pacific, which belong to the genera Bactrocera and Zeugodacus. 

QUT foundry is the hub for learning and doing entrepreneurship at QUT, being part of the QUT entrepreneurship initiative of QUT Business School. QUT foundry is here to help inspire, connect, and enable the QUT community to solve problems, shape opportunities, leverage technologies, and realise ideas and dreams to start, build and scale businesses and social enterprises, for economic and positive impact.  We also connect with our wider community! Like and connect with us on social media at @QUTfoundry on Facebook, Instagram and Twitter or LinkedIn and feel free to sign up to our newsletter here.
When & Where

QUT Gardens Point Campus
2 George Street
D Block, Level 2, Room 214
Brisbane City, QLD 4000
Australia

Tuesday, 5 March 2019 from 5:00 pm to 7:00 pm (AEST)
Add to my calendar
Organiser
QUT Entrepreneurship empowers you to bring ideas to life and develop your entrepreneurial mindset, through programs, events and mentoring.
The vision for QUT Entrepreneurship is 'Think entrepreneurship – think QUT' and our mission is 'to provide opportunities for all QUT students and staff to engage in entrepreneurship'.
The QUT foundry coworking spaces are located at Gardens Point and Kelvin Grove campuses and within the Qld Government's Start-up Precinct in Fortitude Valley. Powered by QUT Entrepreneurship in these spaces you will find a community, access to industry experts and mentors and a collaborative environment where you can develop your entrepreneurial capability and create your future.