Description
Suffering from high stress, a huge workload and long hours at work?

This is the reality for so many workers in our high speed, high tech, high pressure world. At work, a culture of "bigger, better, faster" is leaving people feeling more stressed and less satisfied with their jobs.

We're not machines, we're human beings. Excessive and sustained stress makes it extremely difficult to perform at our best, let alone enjoy our work. If we don't take care of our wellbeing we can end up feeling unhappy, unhealthy, and unfulfilled. But it doesn't have to be this way.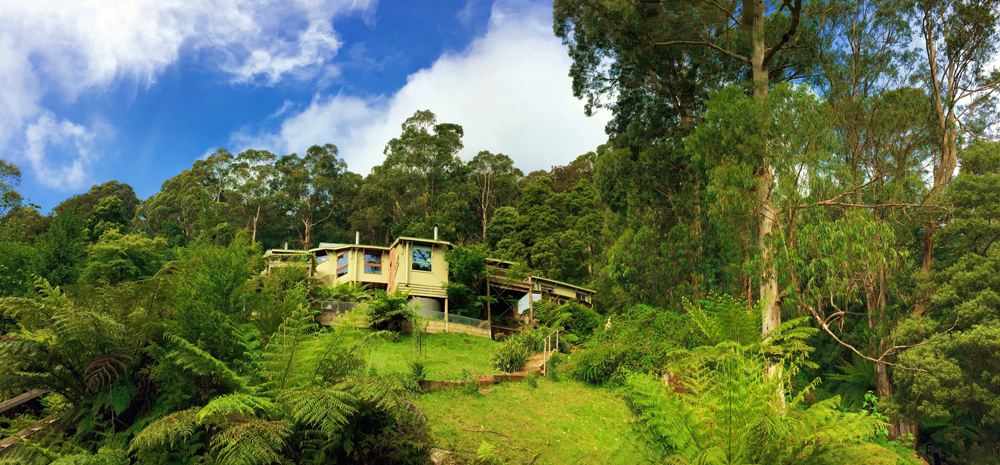 Move beyond surviving and start thriving at work

At treeHIVE we'll show you how to become the master of your own wellbeing, and truly thrive through the ups and downs of life and work.
Hosted in a relaxing and inspiring environment at Amarant retreat, treeHIVE will provide you with transformative experiences, knowledge and resources that enable you to build and sustain your physical, mental and emotional wellbeing.
You'll get plenty of time to rest, recharge and refocus so you return to work with more energy, clarity and motivation. You'll ultimately feel more resilient and capable of dealing with high stress and big challenges.
Discover the power of nature for enhancing wellbeing
Have you heard the new phrase, "sitting is the new smoking"? New research indicates that spending hours sitting at a desk, contributes signfificantly to the incidence of chronic disease. It seems going to work can be a health hazard!

Meanwhile, a growing body of research tells us that being outdoors and in nature is incredibly beneficial for our physical, mental and emotional wellbeing. In fact, it may be essential for a long and healthy life.

We'll explore all the ways you can use the power of nature for reducing stress at work, and build a positive foundation for sustained wellbeing.

Benefits of coming to treeHIVE:

Explore a holistic model of wellbeing you can apply at work and home

Learn how to consciously activate the "relaxation response"


Deepen your sensory connection to nature and learn about the four "principles of natural wellbeing"

Restore energy, vitality and mental clarity


Spend time outdoors enjoying the forest, wildlife and fresh air

Strengthen your mind-body connection

Develop a wellbeing action plan you can implement straight away


Join the treeHIVE community and receive ongoing support

Be nourished by fine food, great company, and a beautiful environment


PLEASE NOTE: A minimum number of participants is required for treeHIVE to go ahead.

LUNCH PROVIDED: A delicious and healthy vegeatarian lunch is included, along with spring water straight from the mountain, organic Pukka teas, morning and afternoon tea including dried fruit and nuts.
EVENT CONTACT: Michael Norton. 0402 280 349. odysee@outlook.com
WEATHER CONDITIONS: treeHIVE will go ahead regardless of weather. The schedule and activities will be adjusted to work around the weather.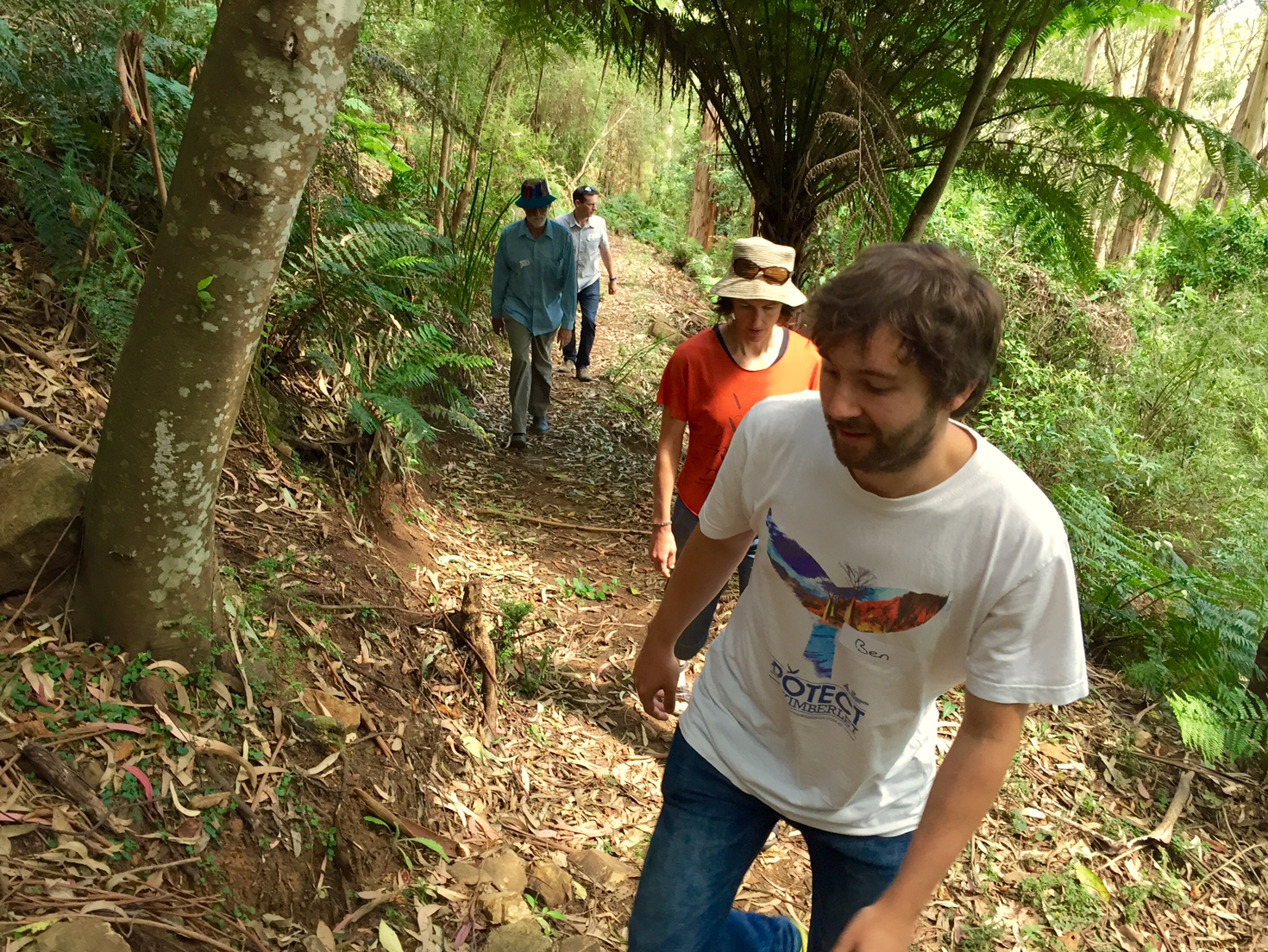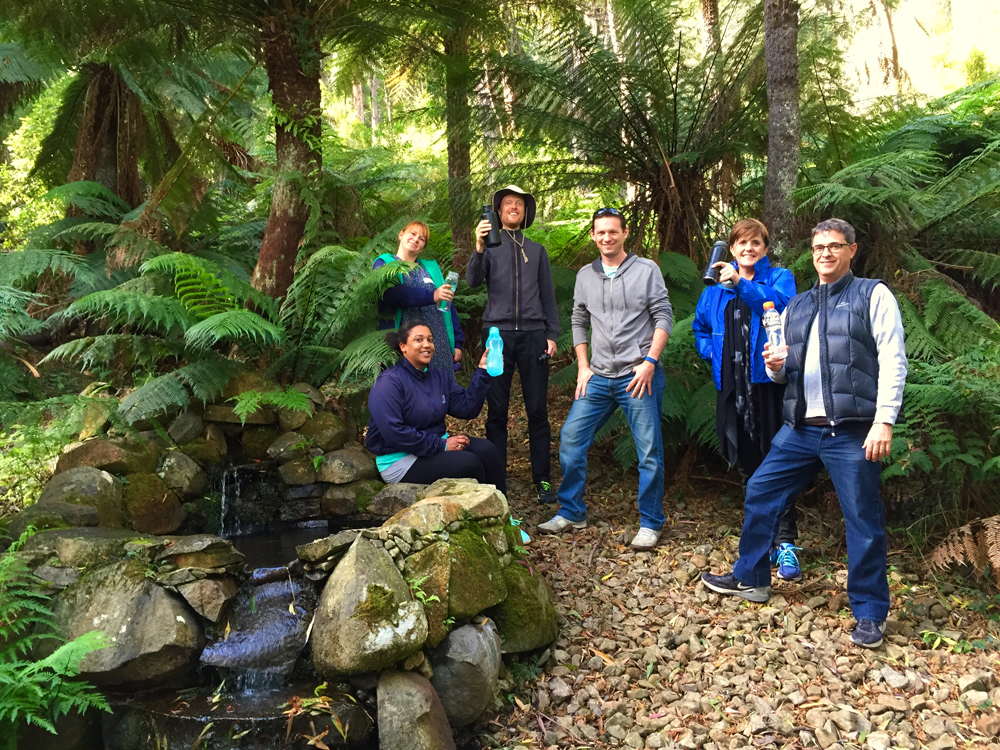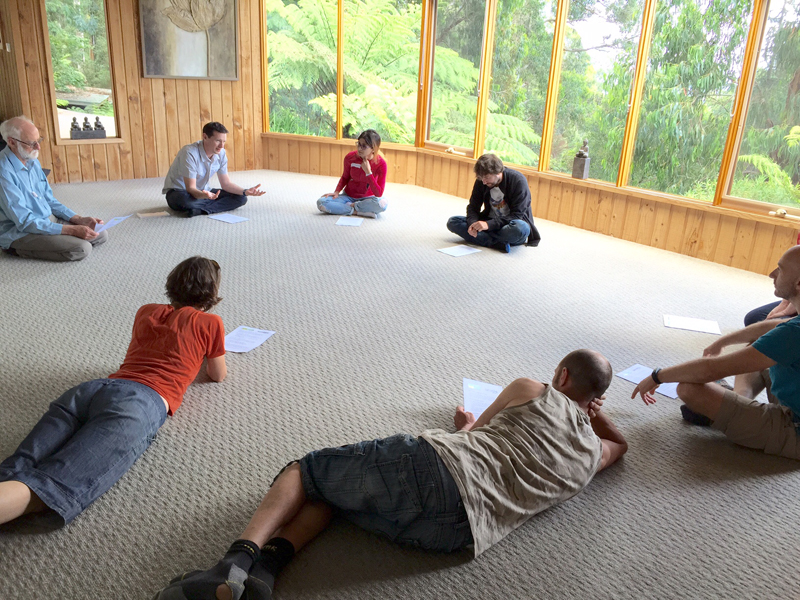 What other people have said about treeHIVE:

"I would highly recommend this for anyone needing a re-charge and for practical tools they can incorporate into reducing stress and reconnecting back into what is important to achieve greater wellbeing in work and life."
- Karalyn Brown, Founder, InterviewIQ

"Time in nature allows a greater clarity and depth of creative thinking that I just cant get working inside - this in combination with the purposeful activities and skilful facilitation that Michael provided, made the day so worthwhile. I left feeling very relaxed and like a weight had lifted off my shoulders."
- Erica Gurner, Facilitator & Educator, HumaNature Connect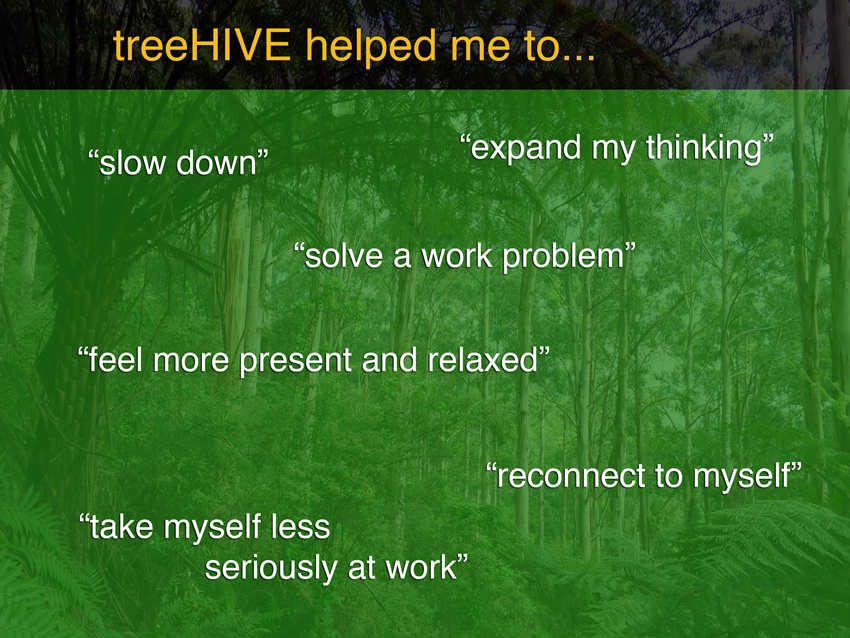 "In the days following treeHIVE I experienced a distinct surge in my energy levels and the clarity of my thinking which resulted in better decisions with less stress. I will definitely be returning!"
- Matt Perfect, Procurement Coach and Founder of Something Great


"My time at treeHIVE was meaningful and productive. I deeply connected with my colleagues and we learned a great deal about each others motivations and challenges at work. The experience quieted my mind and I was able to think more clearly and creatively."
- Ben Campbell, Victorian Community Organiser, The Wilderness Society
"The treeHIVE day was brilliant and Michael was a fabulous facilitator. I didn't realise how much I needed this beautiful day immersed in nature to restore my energy and to help me refocus on what really matters. treeHIVE should be a quarterly "must do" for every worker. I'll be back! Thanks Michael"
- Carolyn Tate, Founder of The Slow School of Business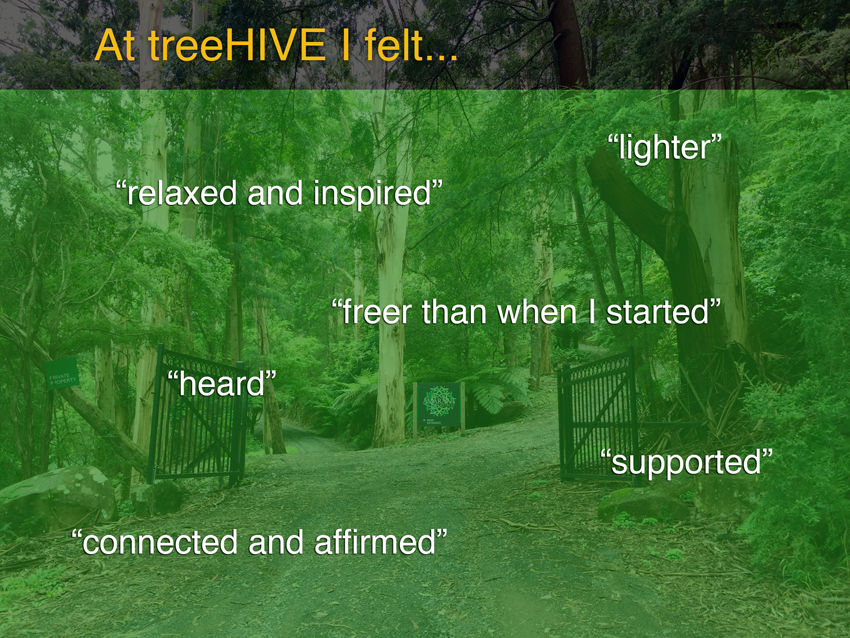 "A great place to go for the day and leave the hustle and bustle of the city behind. A wonderful way to reconnect with nature and reduce your stress levels."
- Lisa Moloney, Connecting with Country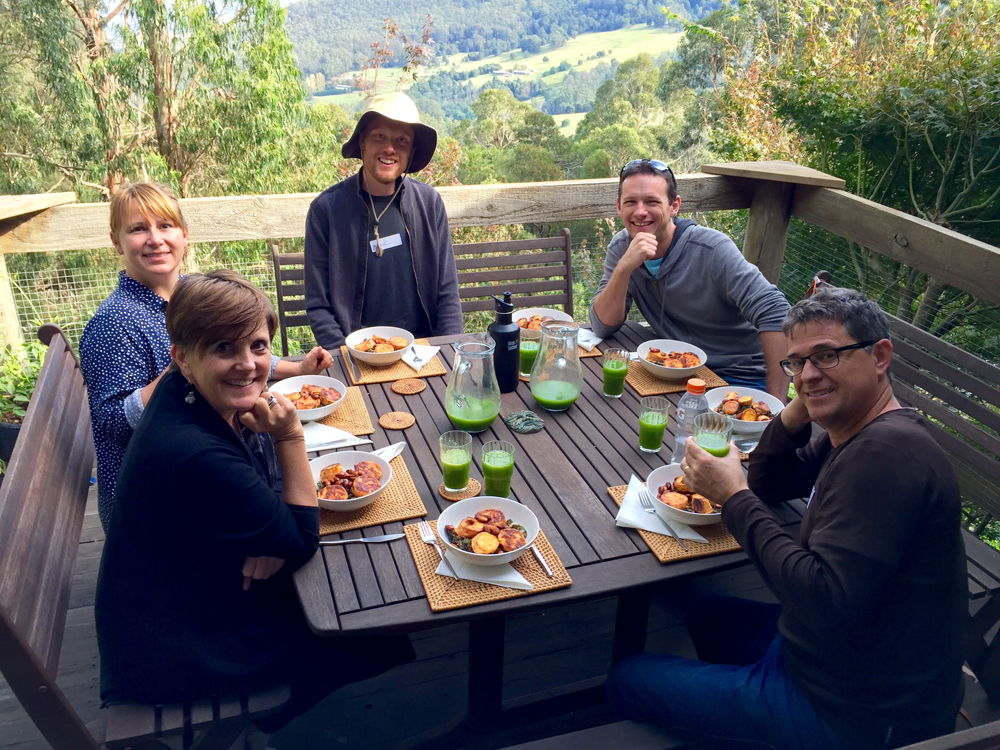 "Beautiful place, great people, wonderfully facilitated, and I'm really feeling the benefits today. So often when we get into 'doing' mode, we feel like we have to stay there to stay productive. I had been doing meditation and other things to manage stress, and it was kind of working. But yesterday really took me back to a much healthier place. Now I'm much more productive than I would have been if I'd kept doing the same routine.
If anyone gets a chance to do treeHIVE in the future, I highly recommend it."
- Michael Cann, Feldenkrais Teacher, Movement is My Teacher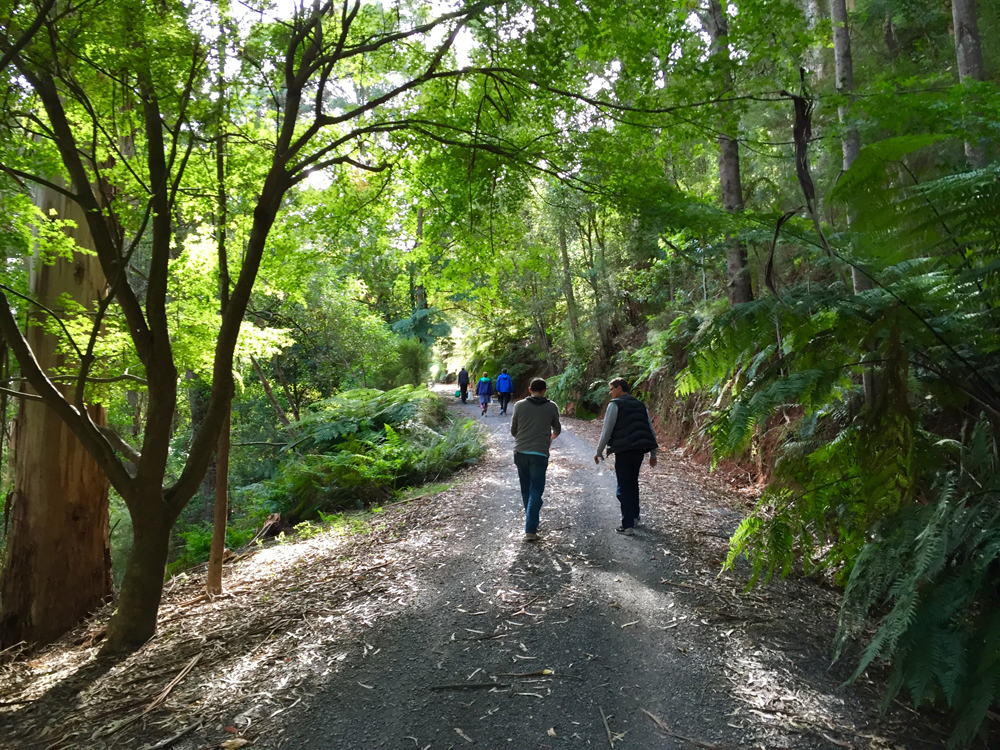 "treeHIVE was a unique experience that exceeded my expectations. It's rare in life that we take the time to be still in nature. Many times we go outside and go for walks, often with others around or we stay in constant motion. It was nice to be reminded how to "just be" and observe and enjoy my surroundings. It was something I will take with me into my work and personal life."
- Nikki Stiefel, Regional Manager, ACSO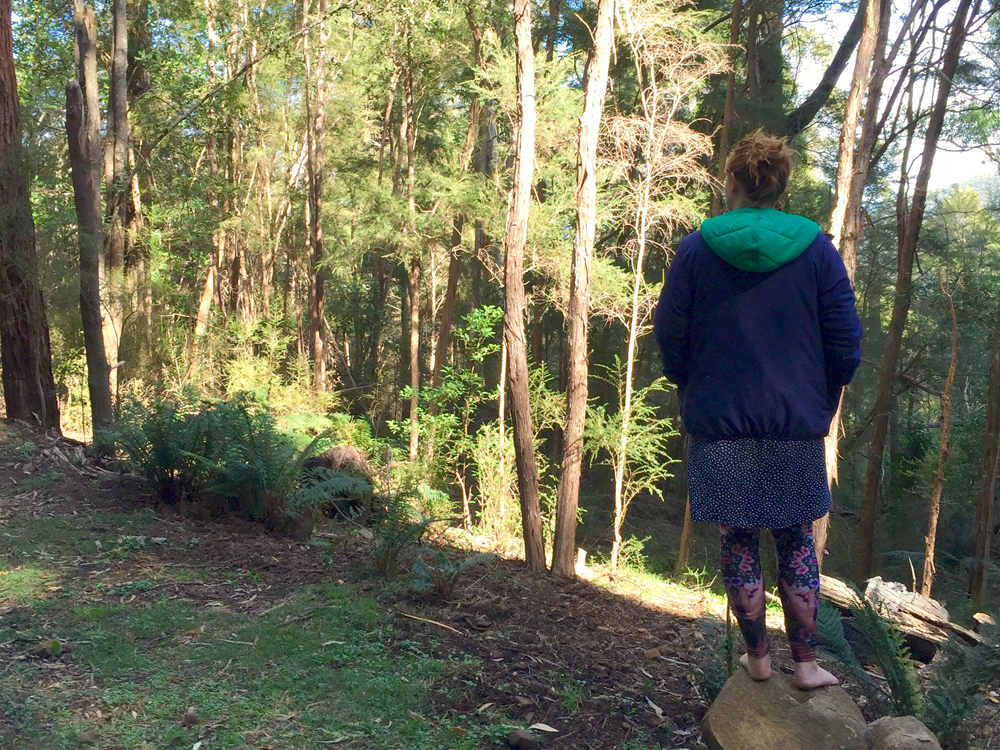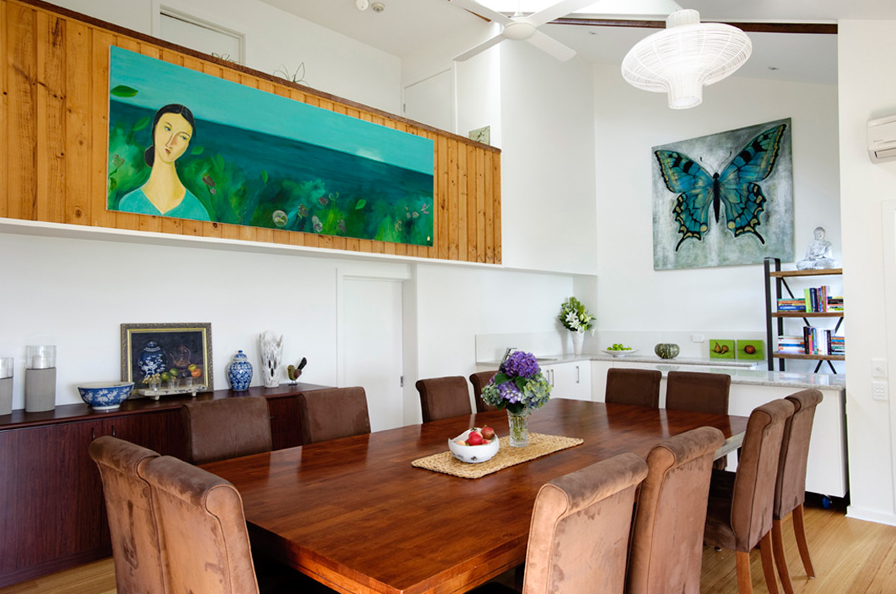 "It was the best thing I have done in a long time. Michael skilfully guided us all through a range of mindful experiences in a beautiful setting. His curiosity, passion and gentle nature allowed us all to truly unwind, tune in to ourselves and relax the mind and body.
Upon returning to the city I felt the ongoing effects of this time away in nature. More importantly, I bought back some new ideas to change and be aware of in my life. It's allowed me to set up my life differently and bought about a healthy perspective. Five stars from me!"
- Gene Elder, Director, Flip Training