Join us to learn more about treatment approaches for people living with BPD, their carers and for those working with them towards recovery.
About this event
Some of the features of Borderline Personality Disorder (BPD) may include Intense emotional distress and low self-esteem and self-worth. Many people living with BPD find self-compassion difficult especially when dealing with high emotions and complex difficulties.
With this, navigating a treatment option to suit you can be challenging.
Jo will be talking about treatment approaches and options inviting discussion and further exploration around what has been helpful.
We value the voice of those with a lived experience; we endeavour to work together to promote a safe and fruitful discussion.
Jo Veltkamp is a registered nurse primarily trained in and with experience in Mental Health. She has been employed by Spectrum for nearly 20 years in a variety of roles including in Spectrum's residential program which closed a number of years ago. Her current role includes offering information and support to people who contact Spectrum and as clinical support to Spectrum's carer consultant, Rita Brown.
She is passionate about learning more from those with a lived experience in guiding approaches and treatment in the field.
Light refreshments will be served. Resources about BPD will be available.
Registrations essential.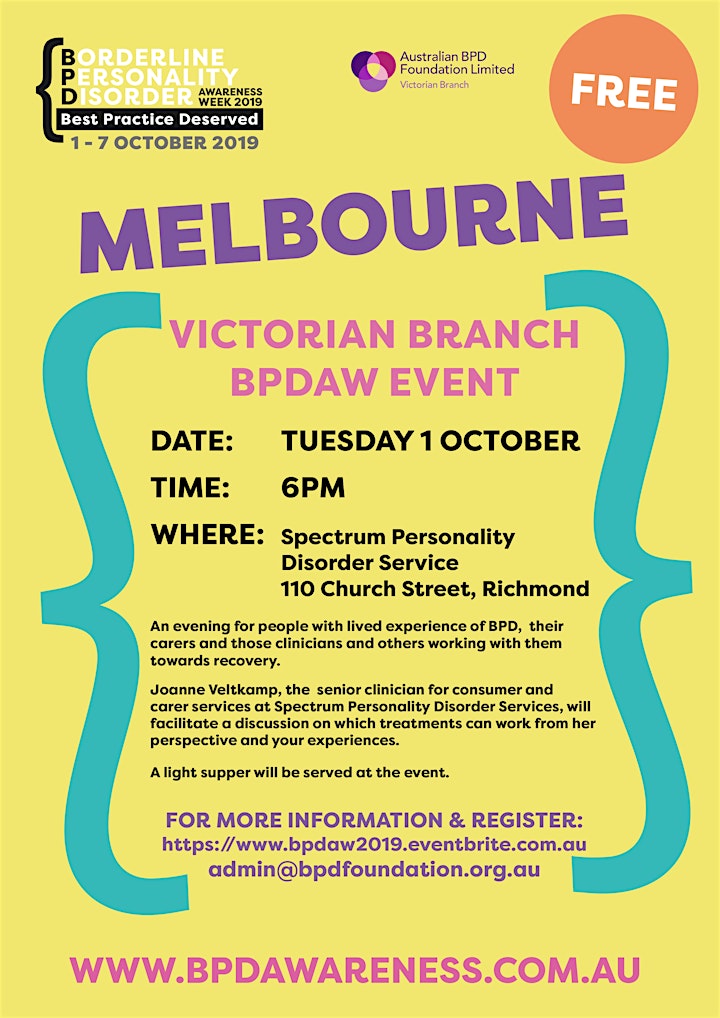 Organiser of Treatment Approaches for BPD
The Australian BPD Foundation is a  group of volunteer consumers, carers and clinicians passionate in encouraging a positive culture around Borderline Personality Disorder (BPD) and promoting the ready availability and accessibility of appropriate services for everyone impacted by BPD.