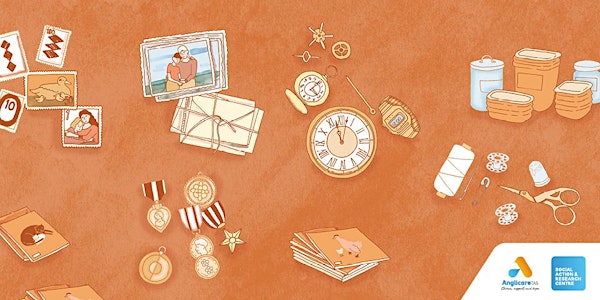 Treasured Lives: supporting older Tasmanians living with hoarding Nrth West
Find out about older Tasmanians living with hoarding, what works to support them and how a professional network in your region could help.
About this event
Anglicare Tasmania is holding Treasured Lives workshops in February 2022 across Tasmania to bring together professionals who want to know more about supporting older Tasmanians to age well at home when they have challenges with hoarding or maintaining a healthy home. These online workshops will explore:
the nature of the challenges older Tasmanians have with hoarding and maintaining a healthy home
what's needed to support older Tasmanians to address these challenges
what a regional network for professionals would look like
interest in forming a network in North West Tasmania.
You don't need to commit to anything! It's a chance to meet other professionals interested in supporting people living with hoarding in your region and to learn about what we can do to support some of our most vulnerable older Tasmanians.
What's Treasured Lives?
This session draws on the second report from Anglicare Tasmania's Treasured Lives project. It examines what we need from Tasmanian policy and services to support our older Tasmanians living with hoarding and challenges maintaining a healthy home to age well at home. The research draws on the experiences of service providers and statutory agencies across the state and examines what happens elsewhere in Australia and internationally.
The report estimates there are around 5000 Tasmanians aged 50 years and over who are at increased risk due to hoarding and/or challenges maintaining a healthy home. Unlike many other Australian jurisdictions, Tasmania has no specialist services supporting this group. The research recommends the State Government appoint a department to lead the development of a policy and practice framework, workforce training and a program of specialist supports for older Tasmanians. It also recommends the establishment of professional networks in each region to case manage and support clients and proposes the development of a digital hub of information for services, family members and carers.
Regional networks: what's in them for me?
One of the key tools to supporting people living with hoarding is having a local professional network that can work together to identify people needing supports and get those supports in place. These networks include a range of social care services, environmental health, animal welfare and emergency services, to make sure that wherever a person is encountered, they can be referred to appropriate supports.
What do I need to do?
If you're interested in participating in the North West Treasured Lives briefing and network, please register your interest here. We will contact you with the online event details shortly.
Need more information?
Contact Lindsey Fidler: lindseyf@anglicare-tas.org.au
Go to the Treasured Lives website