Event Information
Location
France
Paris, Bordeaux, Marseilles, Lille, Lyon
75000 France
France
If you are a Rugby fan and a lover of France wanting to explore the best of France in 2023, you must register your interest now!
About this Event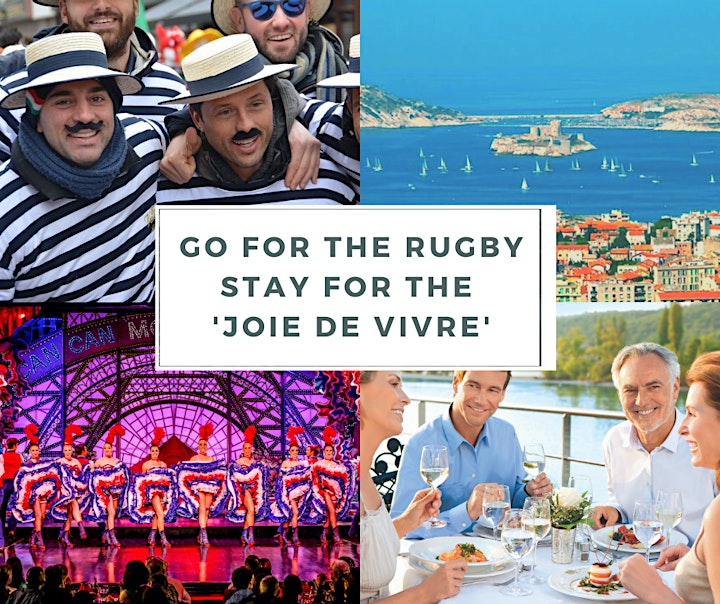 Dear rugby fanatics, friends and lovers of France,
If you're interested in travelling to France in 2023 while enjoying your Rugby, send us your travel game plans and we will make it happen.
France At Leisure is your trusted France travel advisor and experts in boutique hotels, chateaux stay, luxury hotel barge and self-drive canal cruises, outdoor adventures, self-drive holidays, city apartment rentals, small groups or private guided tours and more.
Like in 2007, in 2023, we will be sending hundreds of Rugby supporters to explore every corner of the country while attending the world cup.
We will only tailor itineraries for individual fans wanting to experience the best of France independently. Some of our most popular packages on offer will include French Chateaux stays for groups of friends, self-driving holidays, boutique river cruises, hotel barge and self-drive rental boat canal cruises, Paris apartment rentals or boutique hotels.
We just don't book your holidays with reputable service providers, we offer genuine advice and tips to better prepare your holiday.
Whether you're planning the perfect holiday in Paris staying in an apartment, a self-guided cycling package in the Loire Valley, an Anzac tour to the Somme, a cultural immersion mixing with the locals, a driving holiday through the back roads and most beautiful villages in France, FRANCE AT LEISURE has the experience, credibility. With our French travel connections with local travel partners we offer you the very best.
With these assets, we will be making a great difference to your French travel experience.
A bientot,
Christian BLONDEAU
FRANCE AT LEISURE Founder-Director
__________________________________________
Our packages and travel services are designed around your match tickets or Rugby packages you purchase. France at Leisure is a tour operator and expert on France and not affiliated nor a partner to the 2023 World Cup and has no association with the tournament.

Location
France
Paris, Bordeaux, Marseilles, Lille, Lyon
75000 France
France