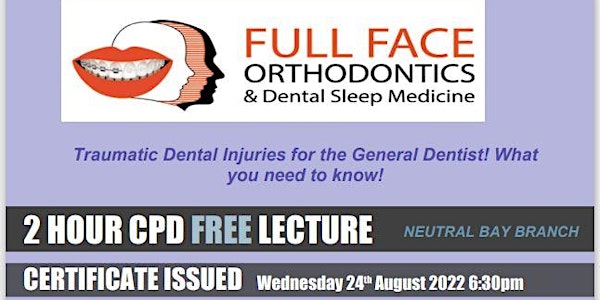 Traumatic Dental Injuries for the General Dentist! What you need to know!
Location
97 Military Rd
97 Military Road
Neutral Bay, NSW 2089
Australia
FREE CPD LECTURE: Dr Mehdi Rahimi
About this event
Diagnosis and treatment for traumatic dental injuries are very complex owing to the multiple trauma entities represented by six luxation types and nine fracture types affecting both the primary and the permanent dentition. When it is further considered that fracture and luxation injuries are often combined, the result is that more than 100 trauma scenarios exist, when the two dentitions are combined. Each of these trauma scenarios has a specific treatment demand and prospect for healing. With such a complexity in diagnosis and treatment, it is obvious that even experienced practitioners may have problems in selecting proper treatment for some of these trauma types. This lecture will review treatment options and lead the practitioner to offer an evidence-based diagnosis and treatment plan.