Description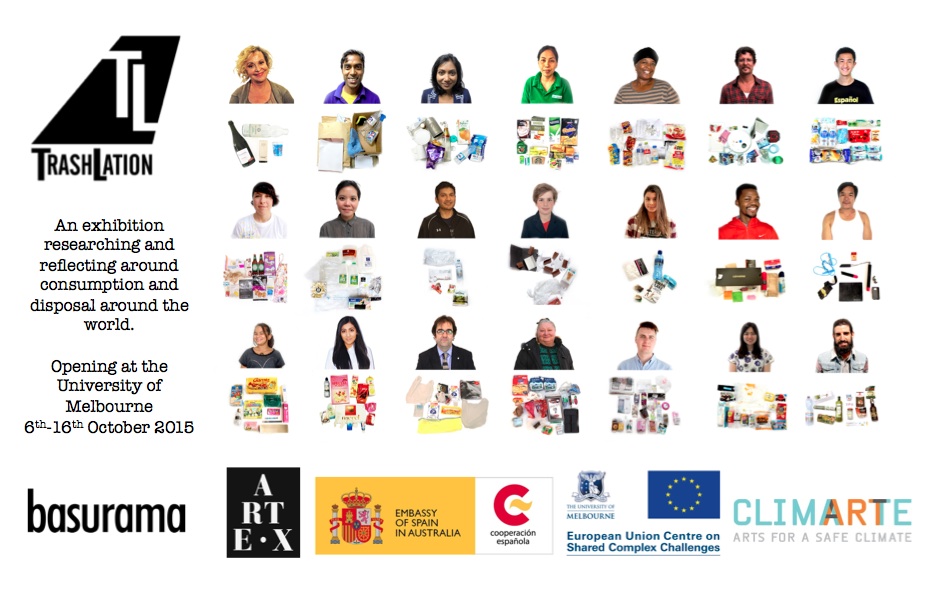 The Embassy of Spain in Australia is pleased to announce the opening of Trashlation. An art project, created by the Madrid-based art collective Basurama, which researches and reflects on the concept of consumption-identity and waste around the world.
Basurama
Basurama is an artist collective dedicated to research, cultural and environmental creation and production whose practice revolves around the reflection of trash, waste and reuse in all its formats and possible meanings. It was born in the Madrid School of Architecture in 2001 and, since then, it has evolved and acquired new shapes. Their aim is to study those phenomena inherent in the massive production of real and virtual trash in the consumer society, providing different points of view on the subject that might generate new thoughts and attitudes.
Their projects have been exhibited in cities like Cape Town, Rio de Janeiro, London, Gdansk, Copenhagen, Bangkok, Istambul, Boston, Seoul...
The purpose of this project is to visualize at world level, how much waste each and every one of us produce regardless of our social class, country of origin or age; to be able to display in images how local and global are closely related; to produce talks about consumption and waste; to see others through what generally remains hidden, their rubbish.
Visit the virtual exhibition trashlation.tumblr.com.
Exhibition launch
When

:

Tuesday 6 October 2015, 6.30-8pm.

Where:

University Hall, Old Quadrangle, The

University of Melbourne, Parkville VIC 3010.

Opening words by the

Consul General of Spain, the

Head of the School of Language and Linguistics, and Basurama.

Light refreshments provided.
*The opening hours of the exhibition are 10am to 5pm from the 6th to the 16th of October (closed during the weekend).
Public Lecture
"Trash and its creative possibilities" by Basurama artists
When

:

Wednesday 7 October, 6:30pm-8pm

.

Where

: Macmahon Ball Theatre, Old Arts Building,

The University of Melbourne,

Parkville , VIC 3010

Suitable for students (Arts, design, sustainability) and the general public.
This project was made possible thanks to the ART-EX program at the Spanish Agency for International Cooperation (AECID).
Sponsored by The University of Melbourne's EU Centre on Shared Complex Challenges , the School of Languages and Linguistics, The Sustainability Team and CLIMARTE.