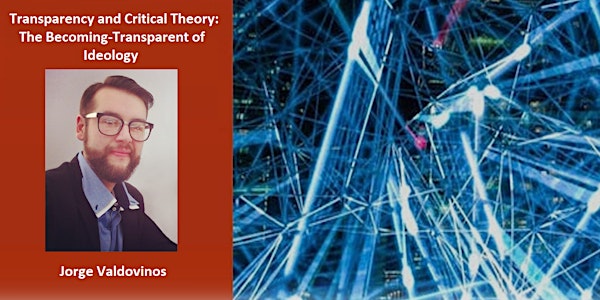 Transparency and Critical Theory: The Becoming-Transparent of Ideology
This talk examines a new book on "Transparency and Critical Theory".
About this event
Abstract:
Conceived as unmediated access to information, transparency has become one of the most relevant key terms of our age. Through its association with positive cultural values such as honesty, openness, and accountability, the term has acquired tremendous socio-political currency. It can be used to generate an aura of authenticity, a sense of objectivity, and an impression of neutrality, and yet at the same time, it can also be used to signify indistinctness, inconspicuousness, and invisibility. In this talk, Valdovinos will review and explain the main arguments of his new book, which takes a critical and interdisciplinary approach to transparency's semantic ambiguity, elucidating its contemporary affiliation with ideology. Tracing the term's evolving semantic constellation through various historical junctures, Valdovinos seeks to expose transparency as a key operator in the revaluation of ideals, sensibilities, and modalities of perception that lie at the core of our contemporary "economy of attention", a new stage in the historical evolution of ideology.
Bio:
Jorge I. Valdovinos teaches media and communication theory and holds a PhD in Social Sciences from the University of Sydney. Working in the fields of design and multimedia communication, Valdovinos became interested in the broader social effects of digital technologies, especially in terms of interfaces and the technological mediation of everyday life. Soon he would turn his attention to ideology, in its broadest sense—as meaning at the service of power. In his latest work, Critical Theory and Transparency, published by Palgrave Macmillan, he combines critical theory, media studies, and discourse analysis, to trace and uncover the conceptual origins of our contemporary celebration of immediacy and our cultural obsession with "access to information".