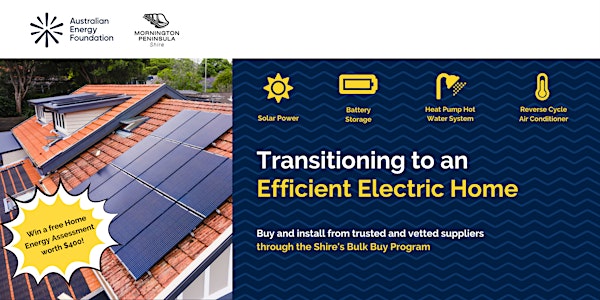 Transitioning to an Efficient Electric Home - Mornington Peninsula Shire
A free talk on steps to transition to an all-electric, sustainable home, run by Mornington Peninsula Shire and Australian Energy Foundation.
About this event
As energy prices increase and more people are looking at ways to reduce their carbon footprint, the transition to an energy efficient home is both financially appealing and a sure way to take action against climate change. Mornington Peninsula Shire is supporting rate payers' sustainable transition with high efficiency products through the Solar & Energy Bulk Buy Program!
This information session will help you understand:
The economic and environmental benefits of reducing your household energy consumption
The steps to creating an efficient, all-electric home that can accommodate electric vehicles in the future
Ways to power your home with renewables, if your household is not able to have solar
Your eligibility for the bulk-buy program and rebates available to Shire residents
This free and independent, online information session is brought to you by Mornington Peninsula Shire and the Australian Energy Foundation.
Get a chance to win a free Home Energy Assessment by attending the webinar!
Attendees to this event will be put in a draw to receive a free Home Energy Assessment (Residential Efficiency Scorecard) valued at $400. The assessment is a government accredited tool which will give your home an energy rating. This allows you to compare your home's energy use with similar homes and quickly see how to save money on your bills or suggest areas that may require upgrades. T&Cs apply. You will have to register and attend the webinar to be put into the draw.
If you're unable to make the session, you can still learn about creating an energy efficient home by visiting the Australian Energy Foundation website. For more information on the Bulk Buy program, visit the dedicated website.
To attend this event, you must have an internet-enabled PC or device and be able to download Zoom. Don't have Zoom? Download it for free. You'll be provided with the Zoom meeting link when you book.
*Please note this event is for Mornington Peninsula Shire rate payers only.