Event Information
Refund policy
Contact the organiser to request a refund.
Eventbrite's fee is nonrefundable.
Transform your Relationships, Mindset, Lifestyle and Wealth with this FIVE-DAY PROGRAM to elevate you through the crazy year that is 2020!
About this event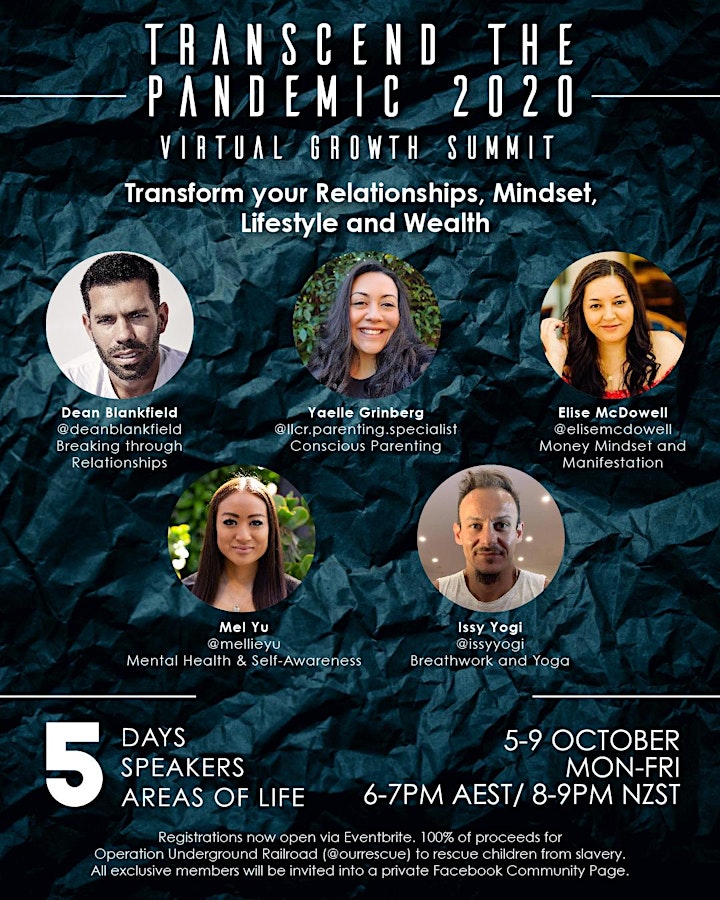 TRANSCEND THE PANDEMIC 2020 - VIRTUAL GROWTH SUMMIT
Led by DEAN BLANKFIELD
What is it and Who is it for?
The world is an uncertain place to live and we're going through the biggest collective and personal transformations of our lives. Messages are mixed, circumstances are overwhelming and it's hard to know which way to turn.
So, if you're feeling stuck or overwhelmed, your finances aren't where you want them to be, your emotions are getting the best of you, and your relationships feel strained, then this is the event for YOU.
This event was designed to guide you through this pandemic whist bringing you clarity in your life and giving you additional tools and strategies to navigate through these challenging times and overwhelming emotions.
With our holistic range of speakers specialising in various areas of life you will love our content and absorb our LIVE webinars like a sponge.
This is also the perfect event to network in an exclusive Facebook Community Group with like-minded individuals.
THE TRANSCENDENCE SUMMIT is a five-day program of grassroots & international wellness experts who'll share their principles, skills & psychology needed to survive and thrive in the current economic climate.
Join DEAN BLANKFIELD, MELISSA YU, ISSY YOGI, YAELLE GRINBERG and ELISE MCDOWELL to transform your Relationships, Mindset, Lifestyle, and Wealth.
Who are the speakers?
DEAN BLANKFIELD has coached people of all ages, careers and walks of life, to reach their greatest potential by unblocking their emotional trauma and gaining clarity on their life's purpose. A transformational life coach and mentor, Dean specialises in relationships and unlearning the unhealthy behaviours we have embodied from childhood into our adult lives.
One of Australia's most influential Young Australian of the Year 2019 nominees, MELISSA YU is a well-sought after mental health and suicide prevention speaker and advocate - she encourages deeper understanding of self-awareness through her personal experiences of losing her late partner to suicide.
ISSY YOGI is helping yogis across the globe align their mind, body and spirit to find their life purpose. He merges his engineering background and biomechanics educations with yogic philosophy to lead his students to a deep journey of themselves and help them to focus on the bigger picture. From beginners level to highly advanced flows, his smart and fun sequences will support you to achieve mental and physical strength levels that you never knew you had.
Through the combined study of psychology, counselling & ten years of working in an alternative school, YAELLE GRINBERG has developed an effective communication and parenting style which can be used in both home and professional settings. Yaelle is the founder of LLCR Parenting. Her work focuses on evidence-based parenting, home education, and helping families find more rhythm and ease in their daily lives.
ELISE MCDOWELL is a coach, mentor and keynote speaker teaching her community more abundance, more freedom, more success, more F*CK YEAH in life. She has delivered and led various workshops and masterclasses for her students to understand that money mindset mentality and manifesting abundance.
100% Not-For-Profit Event - Where your ticketing money goes:
We are proud to announce that this is a 100% not-for-profit growth summit with ALL ticketing proceeds going directly to Operation Underground Railroad (https://ourrescue.org/) to pave the way for the permanent eradication of child sex trafficking and children slavery. Your contribution will be presented to our nominated charity and a gift receipt will be issued once the event finishes to display the total amount of funds raised collectively.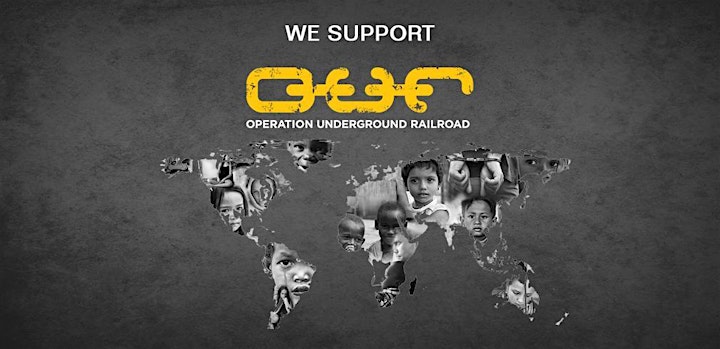 For further information regarding this event,
please email: info@deanblankfield.com
or call us on 0413 185 088 (MCO Events)
Date and time
Location
Refund policy
Contact the organiser to request a refund.
Eventbrite's fee is nonrefundable.
Organiser of Transcend The Pandemic - Virtual Growth Summit 2020
MCO Events is a boutique corporate event management and branding company dedicated to helping businesses communicate their purpose, message or impression to their audiences around Australia.
Our services include event communications, corporate event organization and time management, project management, budget management, event staff management and event marketing and public relations. MCO Events commit to a broad range of events management services such as promotion, communications, consulting and equipment organisation.