Description
Explorer: Tim Flannery
Date: Thursday 14 April
Time: 6pm-8.30pm
Cost: $25 Members and Australian Geographic subscribers, $35 general public
Inclusions: exhibition viewing and drink on arrival (6-7pm) and talk (7-8pm)
---
An evening with celebrated explorer, scientist, communicator and former Australian of the Year
Dr Tim Flannery is arguably Australia's best known scientist and agitator for action on climate change.
From 1984 to 1999, Tim was the Principal Mammal Research Scientist here at the Australian Museum. His work helped extend the Australian mammal fossil record by 80 million years, and his expeditions to remote areas of Papua New Guinea resulted in the discovery of 16 species and many subspecies of mammal, particularly tree kangaroos.
After a stint as visiting chair of Australian studies at Harvard University and director of the South Australian Museum, Flannery wrote a defining work on climate change in 2003, The Weather Makers, and argued for drastic measures to address the rise in greenhouse gases.He was declared Australian of the Year in 2007, appointed chairman of the Federal Government's Australian Climate Commission in 2011 and then leader of its replacement body, the Climate Council, in 2013.
In 2016, he and a team of AM scientists will embark on yet another expedition to the Solomon Islands.
Join Tim for a fascinating evening as he shares highlights of his career and his responses to the recent UN Climate Change Conference in Paris.
---
Trailblazers Talks, presented by Australian Geographic, brings together Australia's greatest living explorers for a series of inspirational events. The 21-weeks series will be held on Thursday evenings at the Australian Museum from 25 February – 14 July 2016.
---
Presented by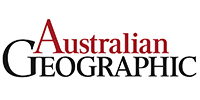 Event Partners