Description
Speaker: John Pickrell
Date: Thursday 7 July 2016
Time: 6pm-8:15pm
Cost: $25 Members and Australian Geographic subscribers, $35 General public
Inclusions: exhibition viewing and drink on arrival (6-7pm) and talk (7-8pm)
---
From the Australia outback to Patagonia and the Sahara the discovery of weird and wonderful new dinosaurs has often gone hand in hand with thrilling tales of adventure. Learn about some of the stories of the fossil hunters and the creatures they have dug up from the depths of prehistory.
John will sign copies of his book after the lecture.
---
Trailblazers Talks, presented by Australian Geographic, brings together Australia's greatest living explorers for a series of inspirational events. The 21-weeks series will be held on Thursday evenings at the Australian Museum from 25 February – 14 July 2016.
---
Presented by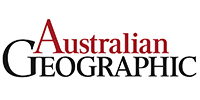 Event partners