Description
Speaker: Dr Julien Brugniaux
Date: Thursday 2 June, 2016
Time: 6pm-8:15pm
Cost: $25 Members and Australian Geographic subscribers, $35 General public
Inclusions: exhibition viewing and drink on arrival (6-7pm) and talk (7-8pm)
---
While exploration is driven by men's desire to discover, historically Science has played a significant role for the best but also sometimes for the worst. Julien's talk will give an insight into the too often untold story of how high-altitude research has helped shape the 'conquest' of the highest mountains on the planet. Neverthteless, at times, it also took human's resilience and shear willpower to prove scientists wrong.
In the second part of his talk, Julien will shed a different light onto high-altitude research, highlighting its contribution to the day-to-day life of the general population and how it can help the scientific community understand better modern pathologies, such as dementia, that are characterized by an impairment in oxygen delivery to the tissues.
About the speaker:
Dr Julien Brugniaux is a Senior Lecturer at Western Sydney University.
He originally enrolled in a PhD focusing on high-altitude physiology to combine his love of climbing and mountaineering with his passion for Science. After his studies in France, Julien worked in Canada and the UK before relocating to Australia. Over the years, he has been involved in various (scientific) high-altitude ventures and has published his work in reputable scientific journals as well as in magazines.
---
Trailblazers Talks, presented by Australian Geographic, brings together Australia's greatest living explorers for a series of inspirational events. The 21-weeks series will be held on Thursday evenings at the Australian Museum from 25 February – 14 July 2016.
---
Presented by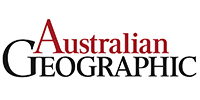 Event partners