Description
Explorers: James Castrission & Justin Jones
Date: Thursday 14 July
Time: 6pm-8.30pm
Cost: $35 Members and Australian Geographic subscribers, $45 General public
Inclusions: Cheeses, charcuterie and champagne on arrival plus exhibition viewing (6-7pm) and talk (7-8pm)
---
Where is the future of adventure and exploration headed? What does it take for the next generation of Explorers to rival the journeys of their predecessors?
On this final night of our Trailblazers Talks you will hear from two of our youngest Aussie Trailblazers, Cas and Jonesy who undertook the longest trans-oceanic kayaking expedition and learn how they completed their arduous journey Crossing the Ditch. They kayaked 3318km, braved 10 metre swells, faced howling winds of over 50 knots, endured severe food and sleep deprivation, wasting muscles and adverse winds and currents to become the first kayak expedition across the Tasman Sea.
And if that isn't enough, it's Bastille day - so pay homage to the French Explorers who came to Australia, like Entrecasteaux, Baudin and La Perouse and enjoy some French cheeses, charcuterie and champagne cocktails.
A great night not to be missed!
---
Trailblazers Talks, presented by Australian Geographic, brings together Australia's greatest living explorers for a series of inspirational events. The 21-weeks series will be held on Thursday evenings at the Australian Museum from 25 February – 14 July 2016.
---
Presented by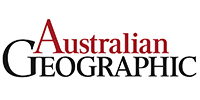 Event partners