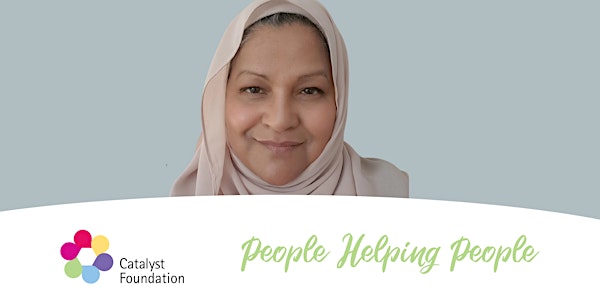 Toward Intercultural Competency for Carers With Azmiri Mian
Esteemed social worker Azmiri Mian discusses intercultural competency for carers.
About this event
In this exclusive webinar with Catalyst Foundation, Azmiri Mian, social worker and Founding Director of AMC: The Change Factor, will speak about the topic of Intercultural Competency for Carers. She will explore the questions: What does 'Intercultural' mean? What is Intercultural Competency? Can we ever be culturally competent? What does a good intercultural response look like? And much more.
Azmiri is an accredited mental health social Worker and passionate about mental health, especially in the workplace. She has extensive leadership and management experience in both the government and non-government sectors. She has worked in health, mental health, Indigenous health, education, aged care quality and compliance and disability employment sectors. Her experience as an Employee Assistance Consultant and Mental Health Clinician enables her to really support her participants to maximise their learning. Azmiri recently completed her own professional development by completing the Aboriginal Mental Health and Suicide Prevention Training with the Indigenous Psychological Services.