" Tourism Whitsundays Domestic Marketing Program" - Whitsundays
Whitsundays - Tourism Whitsundays Domestic Marketing Program Workshop
About this event
As part of the 2020-2021 Queensland Tourism Industry Business Capability Development Program (TIBCDP) Workshops and Mentoring sessions will be held in Whitsundays.
This interactive, engaging and fun program includes a half day consumer marketing workshop allowing tourism businesses to increase their tourism marketing knowledge, gain insights into the latest tourism marketing opportunities, and hear directly from key domestic marketing partners who showcase the Whitsundays.
The workshop will be followed by one on one appointments with domestic marketing partners.
Eligible Businesses:
Micro, small, and medium businesses across all sectors of the tourism industry are encouraged to participate. QTIC membership is not a pre-requisite.
A tourism business is defined as a business that provides a direct service or experience to the leisure tourist and operates within ONE of the following categories:
Accommodation
Attraction
Food and Drink
Events
Tour
Hire
Transport
Businesses that supply to tourism industry businesses are ineligible to participate in the Queensland Tourism Industry Business Capability Program.
For further information email workforcedevelopment@qtic.com.au or call (07) 3236 1445.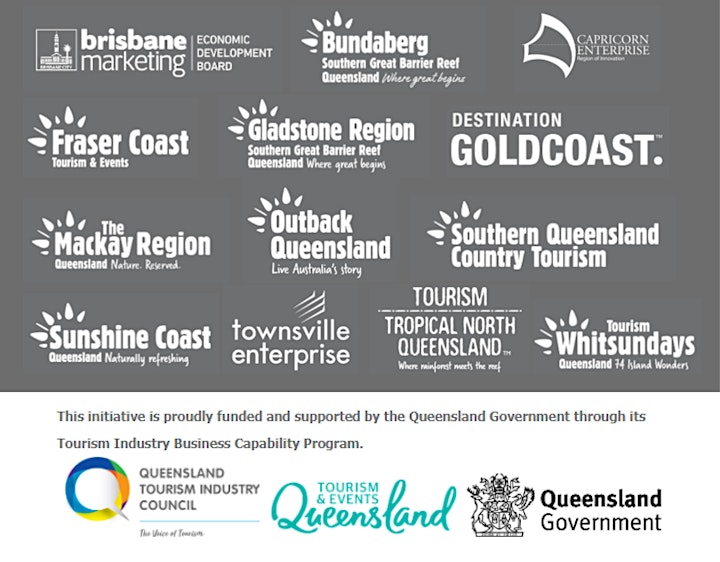 Organiser of " Tourism Whitsundays Domestic Marketing Program" - Whitsundays