In 2022, C3 Cyclists are riding 690km (7700m elevation) from Newcastle to Bathurst to raise $100,000 for Humpty Dumpty Foundation.
About this event
*Due to current restrictions in Australia, this event has been postponed until March 2022, actual date to be confirmed. We will update dates and information when it gets closer the the new event date.
______________________________________________________________________________________________________
This year marks the 10th Anniversary since C3 Cyclists was created (2010). In 2022, C3 Cyclists are riding 690km (7700m elevation) from Newcastle to Bathurst, finishing at the iconic Mount Panorama. This year we are aiming to raise $100,000 for Humpty Dumpty Foundation. So far, through Humpty, we will be able to donate lifesaving medical equipment to Bathurst Health Service (Emergency) to help save kids' lives! More Hospitals will be added as we fundraise.
Click here to find out what equipment we need: C3 Cyclists Humpty Wish List 2021
This year's tour will start at C3 People in Newcastle, NSW (C3 NC, Merewether NSW) and proceed to Denman. On the second day finds us finishing in Mudgee, where we will spend a day touring the area. The fourth day takes us towards Wellington and then on to Orange. On the final day we will ride into Bathurst and finish on Mount Panorama!
Why not join us this year? Challenge yourself, support a great cause and get amongst a great group of people that will become lifelong friends.
What is included in the rego fee?
Once you register, you confirm your spot. All accommodation, all meals (except town-based lunches), vehicle support, assorted riding nutrition and transport during the ride is included in the registration fee. All tour riders and support crew receive a limited edition 10th Anniversary C3 Cyclists Tour T-shirt.
The 2021 Kit:
We are proud to announce we are partnering with PRISM again this year to provide our cycling kits. Purchasing of the kit is open to anyone. These are available from our very own club portal at https://www.prism.bike
All riders are expected to purchase the C3 Cyclists 2021 Kit.
*Note: A minimum of one kit per rider is mandatory, however we recommend you purchase two kits to be able to ride the duration of the tour in your 2021 kit! Other items are available but not compulsory.
Click here to order your 2021 C3 Kit: Prism C3 Cyclists 2021 Kit Order Portal
All riders and support crew are encouraged to fundraise a minimum of $2000. All fundraising goes directly to Humpty Dumpty Foundation. All donations over $2 are tax deductible.
The Route:
The Info: 687.83 km - 7,732m | Est. Moving Time 23:34:30 (Newcastle to Bathurst)
The Days:
C3 Cyclists 2021 Tour | Stage 1 - 157.61km - 1,744m Elevation
C3 Cyclists 2021 Tour | Stage 2 - 145.30km - 1,847m Elevation
C3 Cyclists 2021 Tour | Stage 3 - 109.70km - 1,363m Elevation
C3 Cyclists 2021 Tour | Stage 4 - 184.01km - 1,886m Elevation
C3 Cyclists 2021 Tour | Stage 5 - 93.47km - 907m Elevation
We would like to thank all of our sponsors for the on-going support, new and existing, we can't do it without you! We are excited to partner with you all and can't wait to make a difference together!
FAQs
What are my transport options for getting to and from the event?
The tour bus will be leaving Sydney (location and time TBA). The tour bus will return to Sydney after the event.
How can I contact the organiser with any questions?
You can contact us via our Facebook page or by email: info@c3cyclists.com
Can I update my registration information?
If you need to change any information on your registration, you can simply log back into Eventbrite and update your ticket information.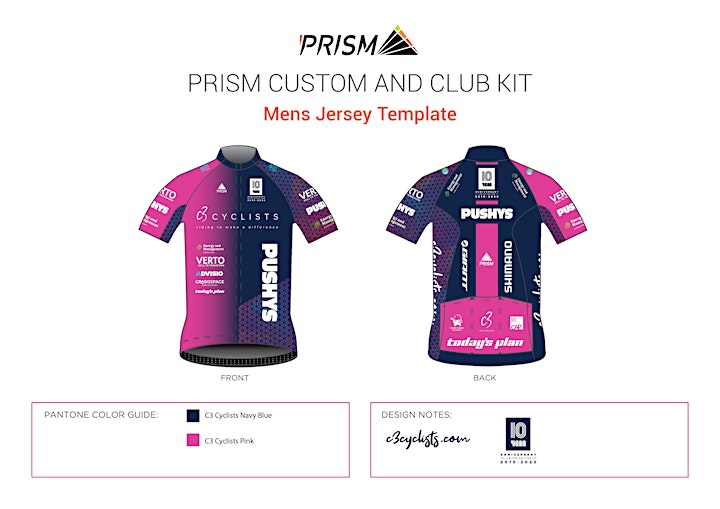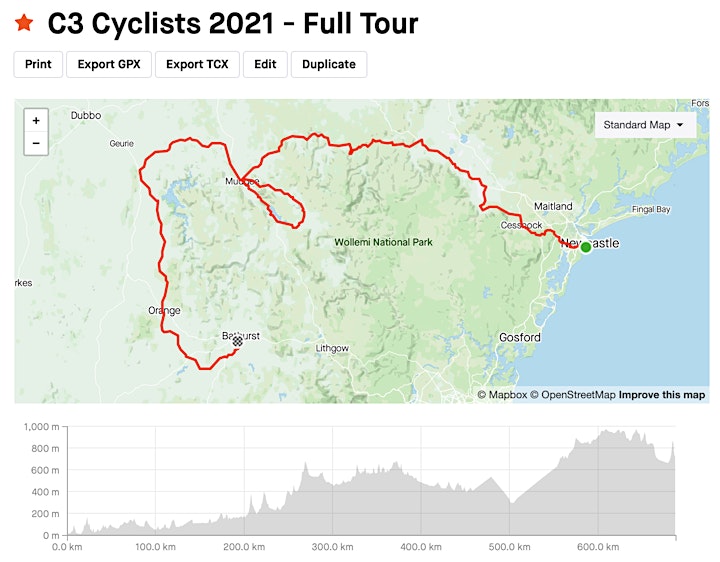 Organiser of Tour De Coast to Country 2022
Cycling. Connection. Community.
C3 Cyclists are an enthusiastic community of people from C3 Churches around the world who love cycling, want to be outwardly focused on helping others, want to connect with other cyclists, want to improve their health and fitness and want to achieve something significant!
C3 Cyclists has raised over $275,000 for charities directly assisting sick kids in need. We believe this is a high impact in the lives of many and is a pivotal influence into the communities we are part of.
​C3 Cyclists is for anyone who can relate to the above. Whether you are male or female, young or old, fit or unfit. Within C3 Cyclists, we are united under the banner of "Riding to make a difference"