TOUCH FOR HEALTH KINESIOLOGY CERTIFICATE introduces you to a truly holistic health care system, acupuncture, meridians & energy psychology
About this event
Katha Jones muscle testing a client in her private practice. Kinesiology is a multi-dimensional process where the practitioner communicates with the client's anatomical structure , energy systems (meridians, chakras, nadis) , nervous system, physiology, subconscious and innate belief systems. Each balance is tailored to a desired outcome that can be measured in many ways. Kinesiology is a truly holistic health care system that identifies the root cause of the symptoms or problem very quickly & enhances the body's innate healing capacity. It also restores proprioceptive function to overworked or injured muscles, ligaments & soft tissues achieving remarkable & fast results in injury rehabilitation, stress management & mental & emotional resilience.
The TFH/Kinesiology Synthesis Certificate is a powerful introduction to learn the art and science of biofeedback muscle testing and balancing the "Functional Neurology" - the interface between muscles, organs and glands for improved postural alignment, well-being, energy & resilience. This accredited course (64 hours with the Australian Kinesiology Association) is the foundation training in Kinesiology and open to lay people & health care providers who are interested in alternative medicine, effective pain & stress management techniques as well as improving mental, emotional & physical performance in life. It is an advanced system of holistic and preventative healthcare based in the science of Applied Kinesiology (Chiropractic) & the ancient knowledge of Chinese acupuncture, energy psychology and nutritional science. Based on the Triangle of Health, we assess a person's structural balance , psychological wellbeing or distress as well as the nutritional habits & diet. Many of my TFH students & clients have recovered from a whole range of acute & chronic health challenges with TFH Kinesiology balances. TFH is taught over 4 weekends (16 hours per level) and each level builds upon the next. There are no anatomical or other pre-requisites to enroll. This is a truly life changing course packed with simple, yet highly effective self-help techniques that will improve your physical ,mental & emotional well-being in profound & lasting ways.
Course dates & times : 9 am - 6 pm
TFH 1: 4/5 September TFH 2: 2/3 October
TFH 3: 30/31 October TFH 4: 27/28 November
Katha Jones has been teaching nationally & internationally accredited kinesiology courses & self development program for 25 years & mentored many generations of Professional Kinesiologists at the peak level. She is the CEO of the International Institute of Kinesiology Australia (IIKA) in Sydney & also runs a busy private practice.
She is an accredited TFH Instructor & TFH Competency Assessor, Kinesiology Master Trainer, Kinesiopractor, Specialised Kinesiologist, Cognitive Behavioural Therapist, Social & Emotional Intelligence Coach with 25 years of clinical & teaching experience in adult education. She present complex topics with clarity, detail & passion and caters for all types of learners in a supportive & dynamic class environment. Frequent class discussions & Q & A forums also enhance each student's interactive learning process . We are also going to have a lot of fun learning 42 muscle test, their associated organs & meridian pathways.
Her students & graduates love her attention to detail & extensive expertise as well as the close, personal supervision they receive from the start of the course until the end . She also provides email support in between classes to answer questions. TFH graduates have the option to stay in touch to exchange balances & continously learn from each other.
ENROLMENTS are now open and close 21 August 2021:
Please submit the filled out enrollment form to office@iikinesiology.com, so we can confirm your spot. If you have any questions prior to enrolling, please feel free to call Katha Jones on 0438 256 738. Thank you.
I look forward to sharing my passion, knowledge and extensive expertise with you & our class over 4 inspirational and life changing weekends.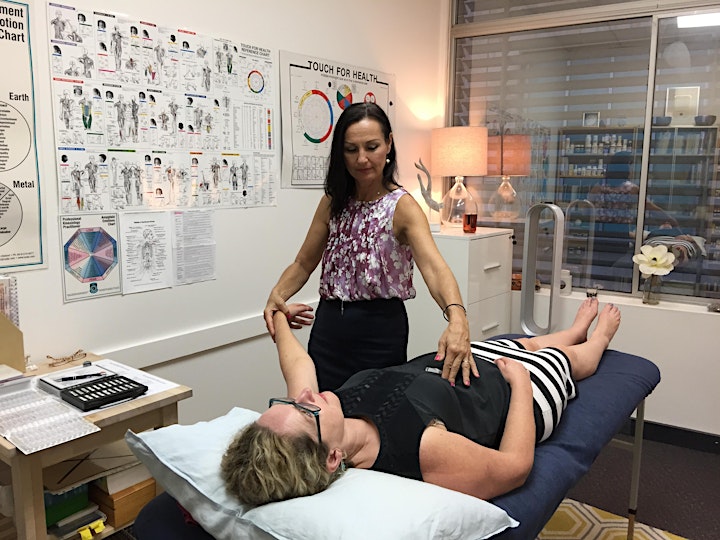 Organiser of TOUCH FOR HEALTH KINESIOLOGY CERTIFICATE: Holistic Healing (4 x weekends )
Katha Jones is the CEO and Founder of the International Institute of Kinesiology Australia. IIKA is an accredited Kinesiology College and Training Provider offering Nationally and Internationally accredited courses for self interest, personal development and practitioner accreditation with The Australian Kinesiology Association and The International Institute of Complementary Therapies. We offer experienced trainers with flexible study options in a friendly and supportive student centered environment. Katha is the first licensed Kinesiopractor® and Instructor of the Int Graduate Diploma in Kinesiopractic® in NSW and has 20 years of clinical experience as a specialised Kinesiologist Functional Medicine Practitioner and Educator. Our students come from all walks of life, and we are the leading experts in specialised Kinesiology education.