Want to know how a Business degree can accelerate your career? Join Torrens University via livestream for inspiration and guidance.
About this event
Join us online for an inspirational evening on career advancement.
Renowned business entrepreneur Bridget Loudon will share her insights into the future of work and the skills you need to develop to stay a step ahead.
As the founder of Expert360, Bridget has won numerous accolades, such as Forbes 30 Under 30, Top 100 Women of Influence in Australia, FutureMakers list of Australia's top 25 Emerging Entrepreneurs under 25, Shoestring's Top 50 Australian female entrepreneurs under 40 and inspired many to shape their own success.
You'll also get the opportunity to hear from Torrens University alumni and students about the importance of a supportive environment and extensive network to springboard your next step to success.
Joining us to talk all things Business at Torrens University will be:
David Addison (Event Management Lecturer)
Daniel Morris (Event Management Graduate)
Paul Grainger (Success Coach)
Anna Sekhar (MBA Senior Learning Facilitator)
Vianney Rouille (MBA Graduate)
Sahira Zevallos (MBA Student)
We look forward to you joining us via livestream.
In the meantime, if you have any questions, don't hesitate to contact us.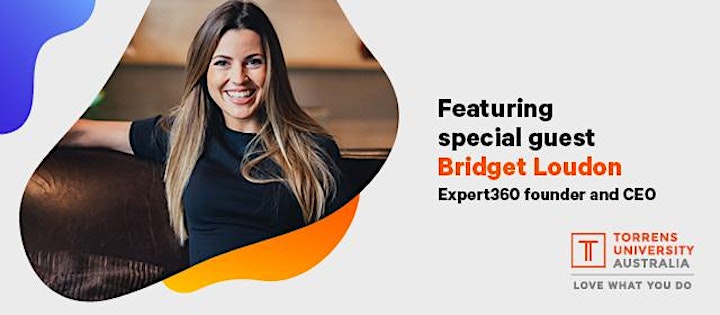 Organiser of Torrens University Business Info Night Livestream