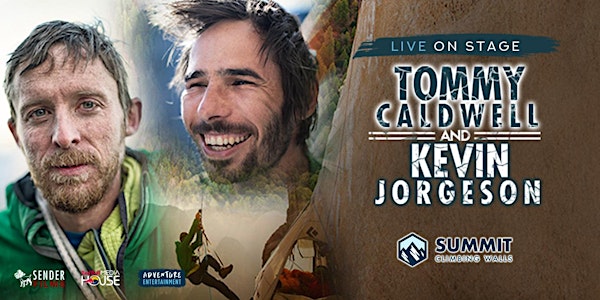 Tommy Caldwell and Kevin Jorgeson Aus Tour - City Summit Gym meet & greet
Event Information
Location
City Summit
26 Harris Road
#2
Malaga, WA 6090
Australia
Come and climb with two of the world's best climbers at City Summit
About this event
Come and climb with two of the world's best climbers at City Summit.
This is an opportunity to meet TOMMY CALDWELL and KEVIN JORGESON up close and personal at City Summit Gym here in Perth. They are in Australia to share stories of their journey that spanned years to achieve what many thought was impossible, the world's hardest rock climb: the Dawn Wall.
You have the chance to meet & climb with these legends at City Summit and then see them LIVE on stage at the Perth Concert Hall.
Purchase a ticket for $80 and you will get entry to both events;
City Summit Social Climb and Q &A on Saturday 27th July 7-9pm
Plus the main event at the Perth Concert Hall 28th July at 3pm.
City Summit Gym Event
We have a great night planned at City Summit where you can climb alongside these legends, enjoy a Weber BBQ, join in a Q&A and even perhaps witness them be the first ever climbers to complete the Dreamcatcher wall! This is your chance to get up close with these guys. It will be a great night that you won't want to miss.
Tommy & Kevin Live on Stage
Relive the critically acclaimed film THE DAWN WALL on the big screen with Tommy and Kevin providing added commentary. Then a rare chance for a hosted Q&A with Tommy and Kevin that will take you behind the scenes and into their minds. There will be opportunities for meet and greet, book signings and more at what will be the climbing event of the year! Don't miss out!
Your Eventbrite QR code will gain you entry to the event at City Summit Gym and here you will be given your hard copy ticket to the event at the Perth Concert Hall. All tickets will be allocated to the Eventbrite ticket holder. If for any reason you miss the City Summit Gym event then get in contact to arrange for ticket collection to the Perth Concert Hall event.
Date and time
Location
City Summit
26 Harris Road
#2
Malaga, WA 6090
Australia