Description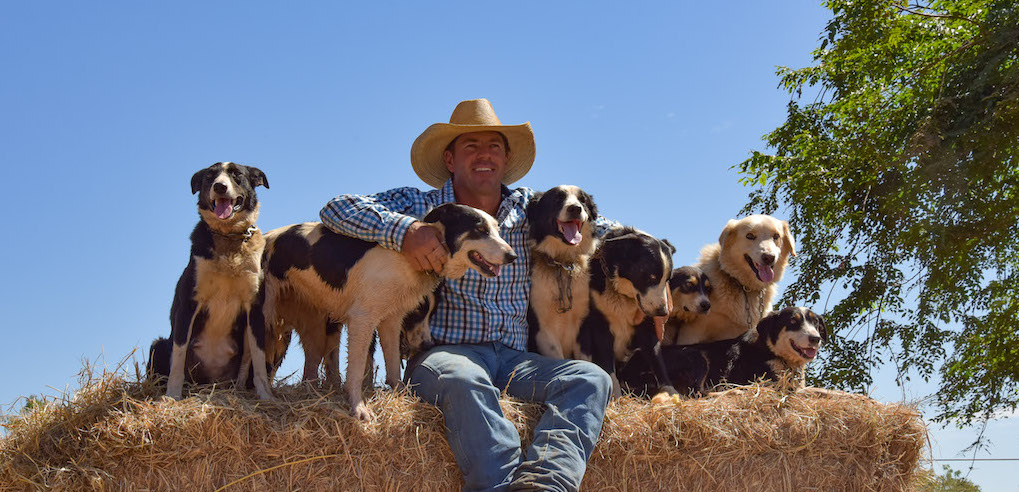 Tom Curtain - We're Still Here Tour is coming to Hay!
World renowned country music artist Tom Curtain is set to perform at the Hay Park on Sunday 2 February 2020 from 6pm. Everyone is invited to come along to see Tom's national award-winning Katherine Outback Experience show of real horse training and working dog demonstrations followed by live music.
Hay Shire Council Tourism Manager Gaylene Stephens said the show is entwined with live music and humorous bush tales suitable for the whole family.
"Guests are given the opportunity to help train the working dogs and learn how horses and dogs are trained for working life on the land," Ms Stephens said.
"But more importantly, the show is an important opportunity to bring everyone together and check-in on one another during these tough times in our community and enjoy some great Australian entertainment," Ms Stephens said.
"Families, couples and singles, no matter your age can enjoy a social, entertaining and supportive night out, and the show provides an opportunity for our community to recognise and realise their own resilience," she said.
MPHN CEO Melissa Neal said she was pleased to be supporting the Tom Curtain- We're Still Here Tour in Hay with the provision of a Murrumbidgee Community Grant.
"We know the impacts of drought extend beyond farmers and their families in rural communities and small rural communities are always very resourceful and innovative when it comes to supporting each other," Ms Neal said.
"I congratulate Hay Shire Council for this initiative and I look forward to hearing about it success," Ms Neal said.
We're Still Here Tour is on at Hay Park on Sunday 2 February 2020 from 6pm. All of the community is invited to attend. By registering for this free event you will also receive a free BBQ meal and non-alcoholic drink.
The Murrumbidgee Community Grants have been made possible with funding from the Australian Government's 'Empowering our Communities' initiative allowing local communities to tailor mental health responses to their own needs. For more information about the grants visit www.mphn.org.au.
On Monday following the performance, all school students are invited to join Tom in a School Holiday program in the War Memorial Hall, Lachlan Street to have the morning with Tom Curtain and his guitar, spreading the anti-bullying Dolly's Dream message.
For more information, please contact:
Name Gaylene Stephens
Title / Position Tourism Manager
Email and phone gstephens@hay.nsw.gov.au 0269 934045
About "We're Still Here" Tour
To celebrate the release of his fourth studio album, multiple Golden Guitar winner and horseman extraordinaire Tom Curtain, will again be hitting the road this summer as part of his 'We're Still Here Tour' with his award winning outback show Katherine Outback Experience (KOE).
With over 40 shows confirmed, the Tour will depart Katherine, NT in late November 2019, winding its way through QLD, NSW, VIC and SA before returning to the NT in mid-March 2020.
The on-road show is entertaining, engaging, interactive and family-friendly, and consists of:
1 hour KOE Show with the horses and dogs
1/2 intermission with live music by special guests
1 hour of live music by Tom Curtain and special guests
Tom is passionate about bringing his show to communities that often miss out on this type of entertainment.
Tom Curtain Music
Tom Curtain is an acclaimed Australian singer/ songwriter. His latest single 'We're Still Here' is the title track from his fourth studio album (released 15 November 2019), and is a salute to the strength and resilience of rural and regional communities and their ability to rebuild time and time again despite the ongoing challenges of droughts, floods and fires to name a few. We're Still Here spent a number of weeks at the top of the Australian Country Tracks Top 40 Chart.
In November 2017 Tom released his third album 'Territory Time' which debuted at No.1 on the Australian iTunes Country Music Charts. The first single released from the album, 'Never Never Land', a duet with Luke O'Shea, went on to win Heritage Song of the Year and Video Clip of the Year at the 2018 Tamworth Country Music Festival Golden Guitar Awards.
Tom was also awarded the prestigious 2018 Australian Independent Country Music Artist of the Year Award together with Male Vocalist of the Year, Album of the Year (Territory Time) and Single of the Year (Never Never Land) at the Southern Stars Australian Independent Country Music Awards.
Tom is also an official ambassador of Dolly's Dream. Moved by the tragic passing of Amy 'Dolly' Everett who took her young life after being bullied, Tom put pen to paper and released the single 'Speak Up' with Sara Storer. To date, over $20,000 have been raised from the sale of the song, which have been donated to Dolly's Dream.
Katherine Outback Experience
Owned and operated by Tom Curtain, Katherine Outback Experience (KOE) is an outback show that celebrates life on the land through real horse-starting and working dog demonstrations entwined with live music and humorous bush tales. In 2018, KOE won Tourism NT's best Tourist Attraction and best Visitor Experience Awards before taking out bronze at the national Tourism Awards.
The show is based in Katherine from April to the end of October over the 'Dry Season' months. Over the Wet Season summer months, the team hit the road, touring the outback show in conjunction with Tom's music.
About this Event
What: Tom Curtain and his Katherine Outback Experience working Dogs and Horse Show. The event will include:
Where: Hay Park, Pine Street, Hay NSW
When: 6pm, Sunday 2 February 2020
Entry: Please register for your FREE ticket to also receive your free BBQ meal and non alcoholic drink
What to Bring: Chairs and Picnic Blankets
---
FAQs
Are there ID or minimum age requirements to enter the event?
Unless stated otherwise, there is no minimum age limit on the event. ID however will be needed where there is a bar. Guests will be issued wrist bands dependent on their age.
What are my transport/parking options for getting to and from the event?
Unless stated otherwise, you are responsible for arranging your own transport to and from the event.
What can I bring into the event?
Unless stated elsewhere, we recommend wearing weather appropriate clothing, and bringing cash/ cards to purchase food, drinks and merchandise.
How can I contact the organiser with any questions?
Please email us at admin@katherineoutback.com.au. We will be on the tour and at times will have limited phone service or be busy running other shows. We will endeavour to respond as soon as possible.
Do I have to bring my printed ticket to the event?
No you do not, in fact we encourage you to save paper by not printing your tickets. We can simply scan your ticket from your phone or look up your booking using the registered name (it takes us two ticks). Note if you book your tickets through Facebook, your Facebook account name will be registered on the tickets.
Can I update my registration information?
You certainly can! Please refer to your confirmation email for additional information.
Is my registration fee or ticket transferrable?
It sure is! It's very helpful for us if you do update the ticket owner information so we can send any important information to the correct person.
Is it ok if the name on my ticket or registration doesn't match the person who attends?
It is okay however it makes our job easier if you update the information!
Performers
Date and Time
Location