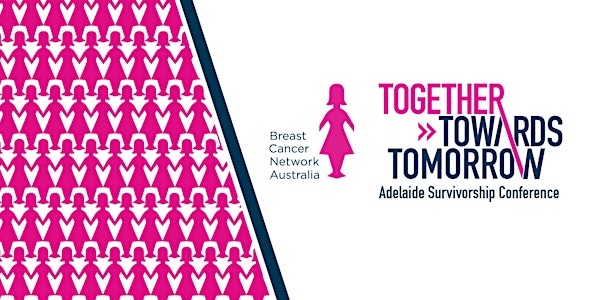 Together Towards Tomorrow - Adelaide Survivorship Conference
Location
Adelaide Convention Centre
North Terrace
Adelaide, SA 5000
Australia
Sales Have Ended
Registrations are closed
Thank you for registering to attend the conference. If you have any questions regarding the event please contact us at conference@bcna.org.au.
Together Towards Tomorrow Survivorship Conference
About this event
Thank you for your interest in the Together Towards Tomorrow Adelaide survivorship conference.
The early breast cancer session is now sold out, you can sign up to the wait list for this session via the Register button.
There are still places available for the metastatic breast cancer conference, if you are interested in registering for the metastatic (advanced, secondary, stage 4) conference please email us directly at conference@bcna.org.au.
We're excited to announce our next Survivorship Conference will be held in Adelaide on Saturday 27 and Sunday 28 July 2019. Join us to learn about the latest in treatment and living well after a breast cancer diagnosis at the BCNA 'Together Towards Tomorrow' Survivorship Conference.
Attendees will have the opportunity to attend three events over the weekend and hear from leading experts.
Saturday 27 July:
Two sessions will run concurrently, one session for people diagnosed with early breast cancer, and a separate session for people living with metastatic (secondary, advanced, stage 4) breast cancer.
The early breast cancer session will include topics such as the future of breast cancer treatments, exercise, lymphoedema, emotional wellbeing, and behaviour change. We will also be joined by Olympian and breast cancer survivor Raelene Boyle who will share her personal breast cancer story.
The metastatic breast cancer session will include topics such as the future of metastatic breast cancer treatments, exercise, emotional wellbeing, behaviour change, guided meditation and a facilitated discussion 'You look so well, when does your treatment finish?'.
Saturday's conference program will be followed by a twilight Pink Lady Tribute Field Ceremony and social drinks and canapes.
Sunday 28 July:
Sunday's program will focus on body image and breast reconstruction.
When registering please select which events you will be attending. You can view the program here.
For more information regarding the event please see the frequently asked questions.
BCNA will be providing free return buses from some regional locations dependent on interest and demand. Please contact us at conference@bcna.org.au to register your interest.
Quest Port Adelaide is kindly providing conference attendees with an exclusive rate when booked through their website using a code. Details of the code can be found here.
Should you require any information about registering or have general questions about the event, please contact us at conference@bcna.org.au.
Travelling and looking after your health
Travelling to the Together Towards Tomorrow Conference will be an amazing experience. It is important to BCNA that while travelling and at the conference you look after your health. Please make sure you are well to travel to begin with and bring all your required medication. Your health care is your responsibility.
BCNA appreciates you providing accurate data during the registration process for our events. BCNA does not pass on your data to any other third-party organisations. Your data input simply allows us to avoid duplicate records in our system. The information you provide also allows us to gather data to inform how we plan and manage future BCNA events. For further information on BCNA's Privacy Statement please see our website.