Sales Have Ended
Ticket sales have ended
Uh-oh! Looks like the time has lapsed before you completed your order! Refresh the screen and go for it again. We'd love to see you there. Check out the FAQ's to answer any of your questions. Or contact us on hello@bebrilliantnow.com and let's have a chat to make sure you're happy when you sign up to join us at our favourite event to share. You will need a brilliant attitude, open mind, an eagerness for fun, transformation and inspiration. Let's do this so you can share your best work with the world and be brilliant now. Can't wait. See you there! Smiles, Jewells Julie-Anne "Jewells" Black "Imagine! Your life is a TV show where you get to "Love fully, live passionately and be wickedly brilliant!" Julie-Anne "Jewells" Black International Speaker | Author | TV Host & Producer Be Brilliant Now Where brilliance begins... 0403 577 553 www.bebrilliantnow.com Let's connect: Facebook: https://www.facebook.com/BeBrilliantNow/ Youtube:https://www.youtube.com/user/bebrilliantnow Twitter: https://twitter.com/JewellsBlack LinkedIn: https://au.linkedin.com/in/julieanneblackbebrilliantnow Instagram: https://www.instagram.com/jewellsblack/ Google+: https://plus.google.com/+JulieAnneBlack/
Sales Have Ended
Ticket sales have ended
Uh-oh! Looks like the time has lapsed before you completed your order! Refresh the screen and go for it again. We'd love to see you there. Check out the FAQ's to answer any of your questions. Or contact us on hello@bebrilliantnow.com and let's have a chat to make sure you're happy when you sign up to join us at our favourite event to share. You will need a brilliant attitude, open mind, an eagerness for fun, transformation and inspiration. Let's do this so you can share your best work with the world and be brilliant now. Can't wait. See you there! Smiles, Jewells Julie-Anne "Jewells" Black "Imagine! Your life is a TV show where you get to "Love fully, live passionately and be wickedly brilliant!" Julie-Anne "Jewells" Black International Speaker | Author | TV Host & Producer Be Brilliant Now Where brilliance begins... 0403 577 553 www.bebrilliantnow.com Let's connect: Facebook: https://www.facebook.com/BeBrilliantNow/ Youtube:https://www.youtube.com/user/bebrilliantnow Twitter: https://twitter.com/JewellsBlack LinkedIn: https://au.linkedin.com/in/julieanneblackbebrilliantnow Instagram: https://www.instagram.com/jewellsblack/ Google+: https://plus.google.com/+JulieAnneBlack/
Description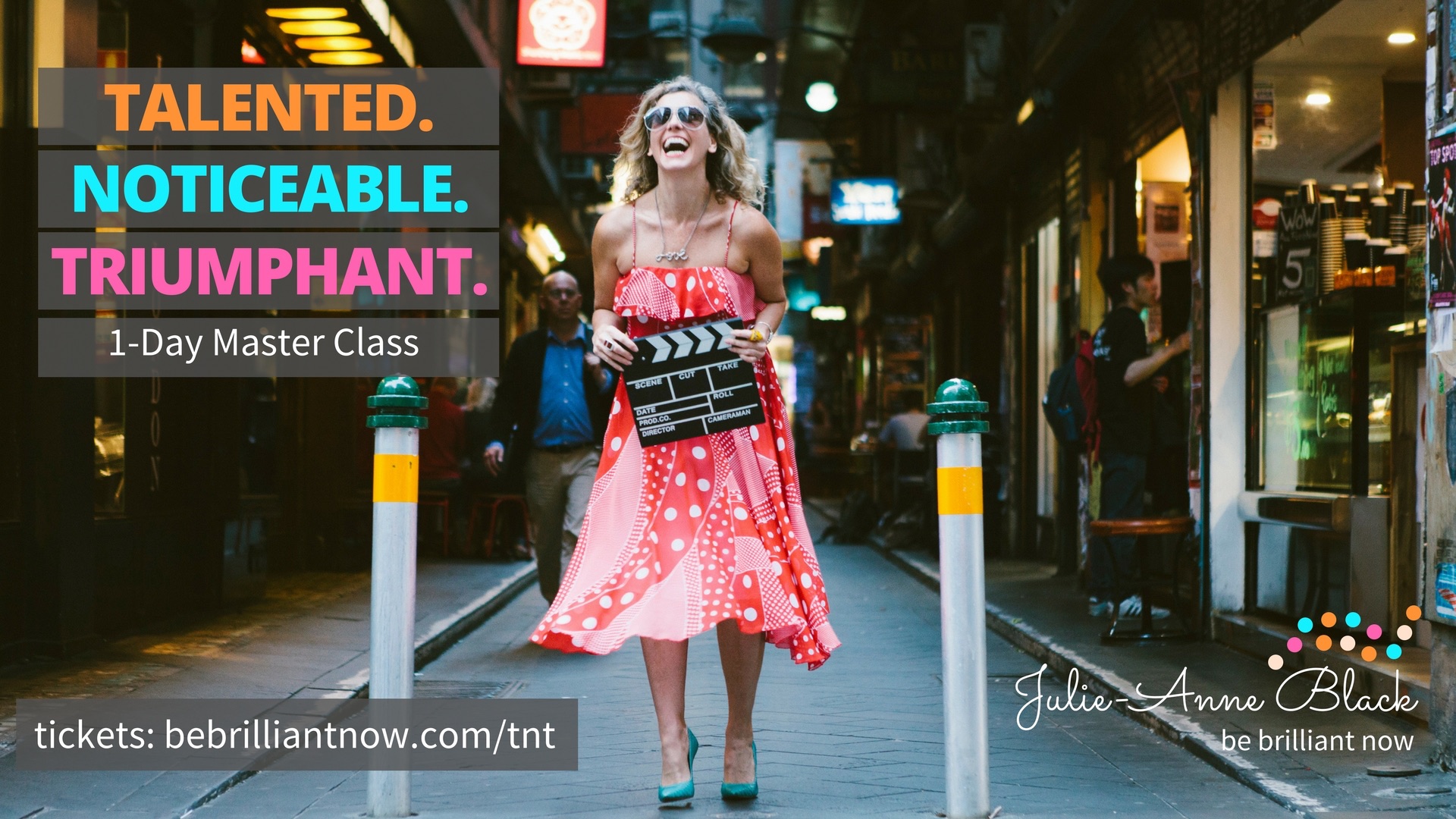 Ever had a repetitive storyline going round and round in your head and not being able to change the script? What about a plot twist that knocks you for six? The feeling like you're stuck in Groundhog Day?
In your life, you can control your personal values, your standards, your stories, your beliefs and your decisions, some of which, up until now, have been unconsciously driving you to make choices that cause you conflict and pain. And although we cannot eliminate all conflict and pain we certainly can reduce its effects on you so you can shine brightly and be the star of your life.
Welcome to our 1-Day Masterclass T.N.T.. Talented. Noticeable. Triumphant. is an explosive day designed to ignite your inner brilliance so you can stop being your own best-kept secret and start sharing your best work with the world! Click here to see more.
Julie-Anne will share insights and strategies to help you spotlight the patterns of thinking and behaviour that may prevent you from achieving your desired results. You'll also better understand the character roles you've needed to play to ensure you stayed protected and safe but now cause more conflict than peace.
Get your ticket today if you're:
Feeling like you're stuck in Groundhog Day

Procrastinating or sabotaging your own success

Lacking consistent confidence and influence

Struggling to achieve the results you want

Tired of giving away your power
Instead, you want to:
Feel more in control of your thoughts

Better understand what triggers you

Know how to manage your moods

Be authentically you in all situations

Share your best work with the world
Click here to hear stories from clients who have traveled the road before you. " REL="nofollow">' target="_blank">Talented Noticeable Triumphant client stories.
Your Host is Julie-Anne "Jewells" Black. Jewells was a Top TV and events producer for 15 years. A production manager for the Sydney Olympic games Opening Ceremony and producer of some of Australia's biggest TV shows, including Who Wants To Be A Millionaire. She's worked with a roster of who's who in sport, entertainment and business Ray Martin, Eddie McGuire, HG & Roy, Julia Morris, Marcia Hines and Larry Emdur to name a few.
It was in these high-pressure environments she became acutely aware of what destroyed the confidence, creativity and performance in both individuals and teams. After all, it's hard to be brilliant when you're telling yourself you're ordinary.
In our experience, our clients struggle for three primary reasons:
You lack confidence which stops you from doing what you love

You lack purpose causing you to feel inadequate and unfulfilled

You feel frustrated because you don't know how to get unstuck and back on track fast.
Jewells combines the secrets she learned as a top TV producer with her expertise as an internationally accredited mindset, body language and NLP trainer, to integrate all the cool tools for creating human change.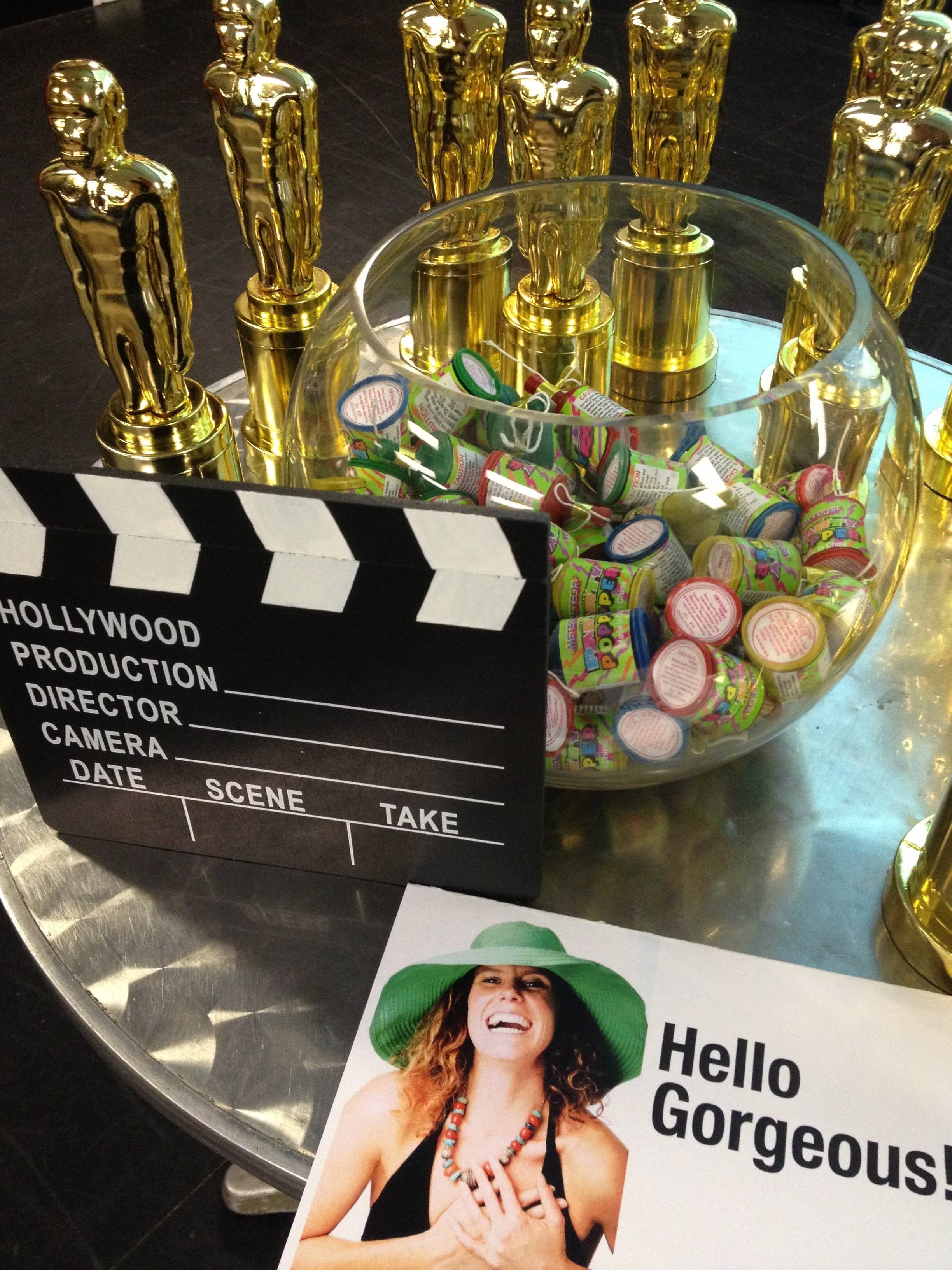 T.N.T. is a method we've perfected to help you ignite 5 key areas:
Vision

Beliefs

Performance

Influence

Results
Our mission with this 1-Day extravaganza is to give you powerful tools you can implement immediately to boost your confidence, creativity and performance so you can be the star of your own life.
On the day and beyond you'll also receive:
Action packed live training hosted by Julie-Anne Black

Comprehensive Action Manual so you can review and revisit ideas, methods and strategies plus pages to ink your own insights capturing every gem along the way.

Unique interactive exercises, discussions and challenges giving you a dress rehearsal to instantly apply the practical tools shared

Ask Me Anything to get your personal questions answered

Exclusive T.N.T. facebook group where VIP members will receive ongoing support and insights. It's a safe space where members can share their triumphs and tough times with each other. A place to come together with the collective intention to be our best. Staying accountable and connected is the quickest, most powerful way to achieve consistent, long-term results.

Premier access to future Be Brilliant Now events - be on the red carpet to hear it first about new programs and offerings.
We believe the most spectacular results in people occur when you love who you are and what you're up to in the world and when you unearth these aspects remarkable things happen.
Jewells is known for producing powerful anchors and inspirational experiences that improve the mindset, attitudes and ultimately the lives of those who have a burning desire to deliver their best work into the world
We promise you'll leave with feeling wowed and inspired about you own capacity to Be Brilliant Now.
Join the revolution because there's never been a better time to produce the life you'll love to live than right now.
So that's your call - be brilliant now - book your seat to this epic event today!
If you'd like to help promote this event to those you feel would benefit from join our affiliate program just go to this link to register:
Word on the street:
"Thank you for a wonderful day of awareness and great tools to take away and so easily apply to my business and personal life". Jenni Mears - Heart Radiant Women
"Fun information and most of all the activities enabled me to muscle tap the information. Julie-Anne has the most contagious energy." Helen Zee - Fertile Cosmos
"Great program" Simon Hampson - Gosh Digital
"So many a-ha moments and insights. I loved this session. Thank you." Julie St Claire - Style and Grace | Beauty for Brides
"Great day, yet again! Thank you. Everything landed - unsurprisingly. Fantastic Jewells! Thank you." Kate Harris
"Thanks for today I will be recommending it to my friends I believe can benefit from it. Thank you." Ebony Young
This event is proudly inspired by:

Phone: 0403 577 553
Email: hello@bebrilliantnow.com
www.bebrilliantnow.com
FAQs
What can I bring into the event?
Bring a pen, water bottle and any snacks for your unique dietary requirements.
Also bring along a brilliant attitude, open mind and the opportunity to delve deeper into your past storyline, plot twists and the character roles you've played and the star qualities you want to embrace and embody.
Also have plenty of business cards too. We're known for the connections you can make in the room. The calibre of like-hearted people in the room is one of our favourite reasons for putting on these events.
Are there ID or minimum age requirements to enter the event?
All are welcomed. The youngest who has attended this event so far has been 14 years old. ;)
What are my transport/parking options for getting to and from the event?
On a Saturday in South Melbourne around the town hall there is free all day parking. Easy access to trams either the 96 on the light rail line or the 12 on the Clarendon Street line. There will also be on-site parking available for the first in best dressed.
What do I wear?
We recommend you wear something you feel fabulous in. Something that allows you to be super comfortable, has some colour and nurtures your soul.
Be mindful to enjoy a restful night the night before so you can be totally present and ready to have fun.

Will there be food?
Yes we will provide snacks, fruit, nuts and lots of goodness. If you need something specific for your dietary requirements, we suggest you bring it with you.
How can I contact the organiser with any questions?
You can contact Team Jewells via hello@bebrilliantnow.com.
Happiness Guaranteed.
Julie-Anne Black and our Be Brilliant Now courses, programs, trainings, coaching, mentoring and support materials are written and produced with the intention to captivate, educate and inspire you to Escape Groundhog Day, direct your future and be the star of your life so you can be brilliant now and share your best work with the world. We intend to inspire you to acknowledge and embrace the greatness that lies within so you can fall in love with who we are and what we're up to in the world. Our materials serve as a 'wake-up call' so you can push the boundaries of your own status quo. There is inner peace, self-love and emotional freedom waiting for you to get off the rollercoaster. In life it's you who is in charge of your own success and happiness there are teachers along the way to help you achieve it in a more harmonious and peaceful way. We do know that during this process it's highly probable that you will be triggered at some point along your healing journey, so it's important that you take ownership of your actions, reactions and results. Our trainings and products have been designed to educate, enhance and support your own process and growth. In the field of healing there are no guarantees, and there are as many routes to healing and health as there are people. We trust that the Julie-Anne Black and Be Brilliant Now materials will inspire and support you on your path moving forward. May your chosen journey be filled with the joy of self-discovery and wholeness. After all, there's never been a better time to Be Brilliant Now.
Do I have to bring my printed ticket to the event?
Yes please. It would help if you did.
Can I update my registration information?
Yes message us at hello@bebrilliantnow.com
Is my registration fee or ticket transferrable?
Yes. Your ticket is not refundable but it is transferable.
Is it ok if the name on my ticket or registration doesn't match the person who attends?
You will need to contact us and let us know who you have transferred your ticket to. Message your new details to Team Jewells hello@bebrilliantnow.com