Tips for Permanent Resident Migration in Australia and Melbourne
About this event
Have you been thinking about migrating to Australia permanently? Or have been thinking about working in Australia but don't know how and if you can. Or you are already working and want to know if you can apply for permanent residency.
If you've answered yes to one or more of these questions, then join Charlene Tan, our MARA registered migration agent and advisor at this session. She and Robyn Vogels, Founder of Personnel Relocations in 2008 will provide you with detailed information about:
Living and working in Australia
Occupations that are currently in demand
A number of visa categories: skilled workers, employer sponsored, family and other visa programmes
Tips including do's and don'ts to avoid making costly mistakes
Practical considerations of interstate relocations
This information session offers a real opportunity to obtain accurate and comprehensive information about Australia with law-based professional visa guidance. Charlene will also discuss the considerations of relocation to other states as a pathway to Australian permanent residency.
**Session attendees will receive $50 off consultation fees (Regular rate $150 per one-on-one session). Consultation fees are deducted from future professional fees after engagement.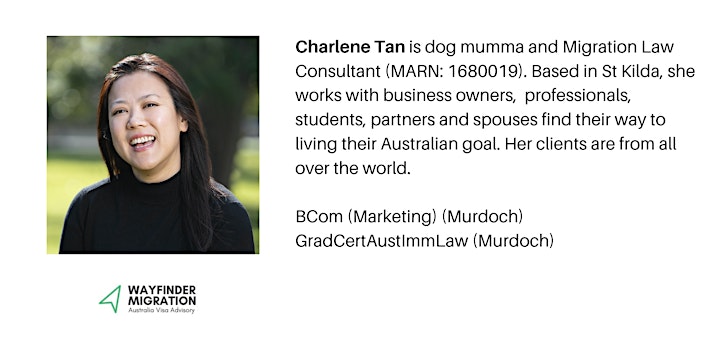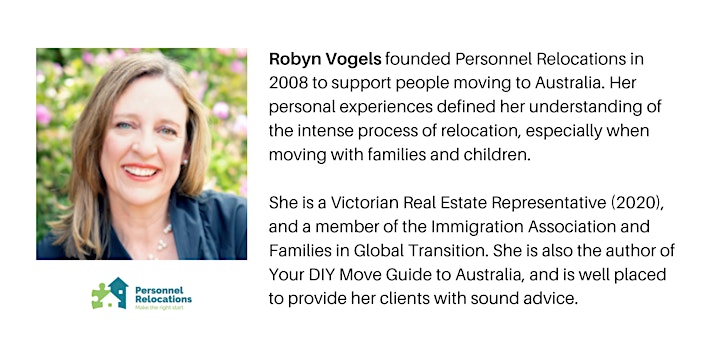 Organiser of Tips for Permanent Resident Migration in Australia and Melbourne