TIM LOW - Where Song Began & The New Nature

Sunday, 23 July 2017 from 2:30 pm to 4:30 pm (AEST)
Event Details
Where Song Began and The New Nature
A talk by Tim Low
Co-sponsored by the Blue Mountains Conservation Society & Science at the Local
Blue Mountains Theatre & Community Hub, Springwood NSW
Sunday 23rd July, 2017, 2:30pm (doors and bar open at 2pm) 
Where Song Began:  Renowned for its unusual mammals, Australia is a land of birds that are just as unusual, just as striking, a result of the continent's tens of millions of years of isolation. Tim explains how our birds came to be so extraordinary, including the large role played by the foods they consume and by our climate, soil, and fire. The story of Australia's birds, it turns out, is inseparable from the story of Australia itself, and one that continues to unfold. 
The New Nature: Winners and Losers in Wild Australia.  Humanised environments are not necessarily shunned by all species and often provide important resources. Tim challenges conventional thinking about nature and conservation by showing that some native species are benefiting rather than suffering from human impacts and exploring how these 'winners' sometimes go on to cause environmental problems.
* Tim will be signing copies of his books at the end of the event.
---
About Tim

Tim Low is a biologist and best-selling author of seven books about nature and conservation.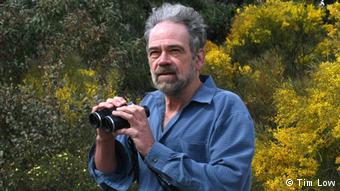 His most recent book, Where Song Began: Australia's Birds and How They Changed the World, became the first nature book to win the Australian Book Industry Award for best general non-fiction. It was praised in the New York Review of Books and recommended by Scientific American. His earlier book The New Nature was praised by Time magazine and listed by Who magazine as one of the books of the year. Tim writes a blog for Australian Geographic magazine and has a lizard named after him.
---
About the Organisers:
Science at the Local - Blue Mountains makes science accessible and fun by bringing current scientific research to the welcoming atmosphere of the local club in Springwood, NSW. Started in 2014 by local science teacher Kevin Joseph and researcher Dr. Hamish Clarke, S@tL is funded by Inspiring Australia, the national strategy for engagement with the sciences.
The Blue Mountains Conservation Society is an incorporated voluntary group of about nine hundred members helping to conserve the World Heritage Blue Mountains region. The mission of the Society is to help conserve the natural environment of the Blue Mountains and to increase awareness of the natural environment in general.
---
NOTE:
You are not required to pre-register or pre-book tickets for this event. Admission is free and seating is on a first-come first-serve basis.
When & Where

Blue Mountains Community Hub
106-108 Macquarie Road
Springwood, NSW 2777
Australia

Sunday, 23 July 2017 from 2:30 pm to 4:30 pm (AEST)
Add to my calendar
Organiser
Co-hosted by Science at the Local - Blue Mountains & the Blue Mountains Conservtion Society