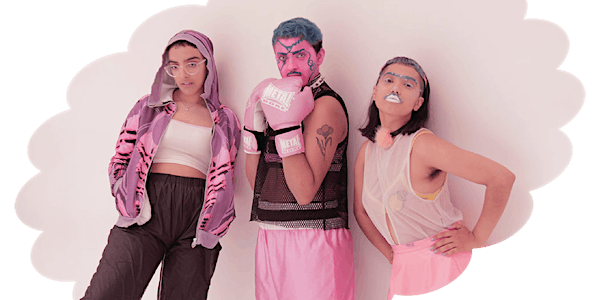 tilde Closing Night - Lupe plus Brown Queers
Description
CLOSING NIGHT: LUPE PLUS BROWN QUEERS SUNDAY 01.12.19 — 5:00PM
DOORS OPEN HALF AN HOUR BEFORE EACH SESSION.
To close tilde for 2019, we bring stories of intersectionality to centre stage.
BROWN QUEERS
UK, 2017, 26 MINS DIR: MICHELLE WILLIAMS GAMAKER
Follows Krishna Istha, Katy Jalili, Natasha Lall and Umber Ghauri, all individuals who identify as queer and brown, who explore current modes of identity through varied personas and styles. Beyond this, complexities related to nationality, race, gender and sexuality play out through their bodies and in the different contexts in which they live and work. 'Brown Queers' poses questions that come out of the layered states of being that embody fluidity, "brownness" and "queerness".
LUPE
USA, 2018, 79 MINS DIR: ANDRE PHILLIPS & CHARLES VUOLO
Rafael, a young Cuban immigrant and trained boxer, is searching for their long-lost sister Isabel in New York City. Against a gritty and often bloody underworld background, Rafael is joined by Elsa who learns of their suppressed transgender identity, and Lana, who serves as both friend and mentor to Rafae while also on her own journey of self-discovery. Together, Rafael and Lana navigate a challenging world that doesn't yet recognise their gender identities while Rafael's search for Isabel continues.
Organiser of tilde Closing Night - Lupe plus Brown Queers
tilde is committed to finding ways to stay connected and remind our community that although physically distant, we are all still here for each other.
tilde is providing a unique space for cinema-loving trans and gender diverse (TGD) communities and allies to congregate (online) and celebrate TGD stories face-to-face. One of only a handful of TGD film festivals in the world, tilde typically erupts onto the social calendar every Summer with four days of shorts, features and documentaries, alongside Q&A's, off-screen parties and performances.
tilde's mission is to challenge gender normativity and amplify diverse representations of gender – which is central to the Festival showcasing TGD filmmaking talent, stories and experiences in a supportive and safe environment.