Tiki-Palooza is an annual music & lifestyle festival with the Australian vintage enthusiast in mind.
About this event
From a thriving local family of musicians, low-brow artists, bartenders, hot rodders, pinups and those who dig a retro aesthetic, Tiki-Palooza has grown to encompass two Adelaide venues. Hades Hula House, our festival birthplace, will continue to be the main hub.
However, this year, we are excited to include Dirty Devil's Car Club and Devil's Tiki Hideaway as a secondary location for Monday's events, including the car show, Mys Tiki 2021 pinup competition and Tiny Tiki Makeke.
The event is held over 4 days, coinciding with the October long weekend (1-4), with both Weekender and Day Passes, available.
Friday 01/10 - Opening Night Luau - A veritable feast for the senses! Enjoy music and entertainment by The Robertsons, Hawaiian style spread prepared by head chef, Jo Cattermole, Meet The Maker Mad Monkey rum symposium, and official Welcome To Country at 7pm.
Saturday 02/10 - Immerse yourself with tiki clay carving workshop by Pottering Around and The Robertsons' Stories Of Samoan Dance symposium, followed by live music by Swinging Surf Sex Gods, and headline act, Velvet Moth!
Sunday 03/10 - Sunday Funday! - Mad Monkey distillery tour, hosted by Australia's burlesque bartender, Just Abby, Sparkke Brewery Meet The Maker beer symposium, and groovy tunes by The Memphis Suns, Moraygun, El Caminos and More Colour!
Monday 04/10 - Car Show - Nestled between the hotrods and pinups, you'll discover two of Adelaide's hidden bars, Dirty Devil's Rockabilly Bar & Tiki Hideaway! The perfect spot for Monday's events, with live music by The 6FT Pelicans and The Silverados, dole whip stand, market stalls, car show and the inaugural Mys Tiki 2021 pinup parade!
Tiki-Palooza 2021 is proudly sponsored by
Hades Hula House
Dirty Devil's Car Club
Nip Of Courage
Mad Monkey Distillery
The Sparkke Change Beverage Co.
DB Records
Dan Glasgow Collective
Miss Curvella
Miss Catalina Mccaw
Maid Of Madness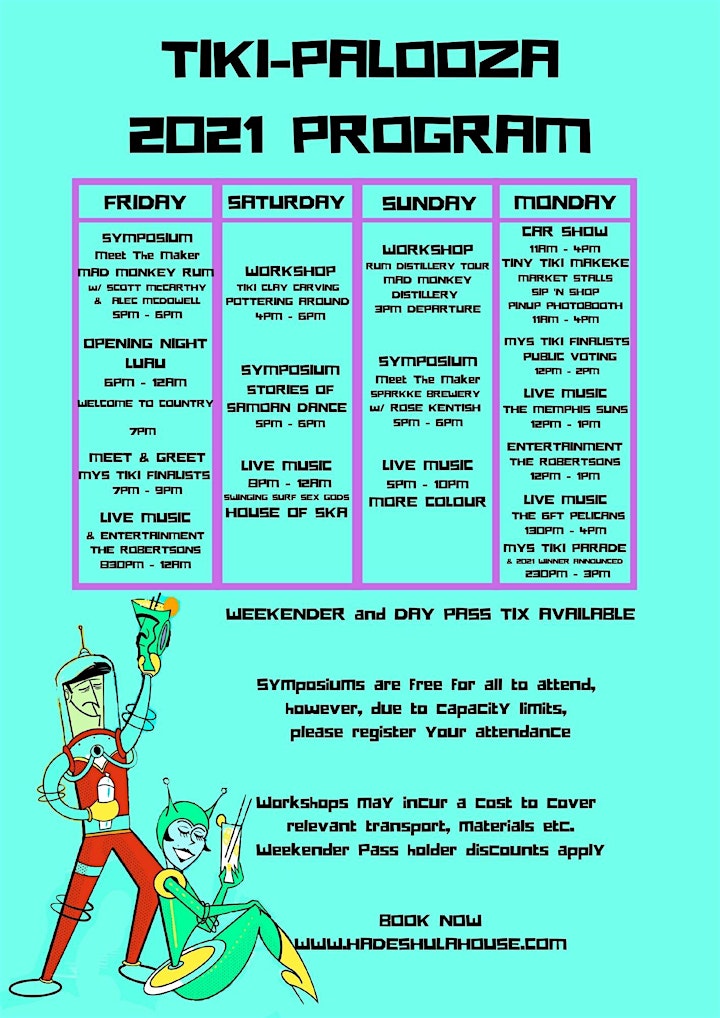 Organiser of Tiki-Palooza 2021